HubSpot is the world's leading inbound marketing, customer service and sales platform. With the help of agency partners it can help you grow your business by attracting, engaging and delighting your users.
We at Aira joined HubSpot's Partner Programme back in 2017, and since then have developed into a full-service inbound marketing agency, and a HubSpot Certified Diamond Partner.
In that time we have contributed to:
How can HubSpot help you?
If you're looking for a HubSpot agency you probably know that HubSpot's all-in-one software allows you to improve the way your marketing, sales and customer service teams work – and vitally, how they work together.
And that the HubSpot CRM allows all your teams to see exactly how users have engaged with your business – from the content they've consumed and the communications they've received to the revenue associated with that contact and company.
But how can HubSpot – with the help of an agency partner – really help your business grow? It's probably a good time to look in more detail at the HubSpot growth platform…
The HubSpot Growth Platform
In the words of HubSpot, their Growth Platform helps you build a 'flywheel for growth'. This flywheel replaces the traditional sales funnel and represents the way commerce is conducted with inbound marketing.
The idea here is that marketing provides leads to sales; sales turns these leads into customers; and the customers' (hopefully) positive experiences help promote your business, driving new marketing efforts and creating new leads.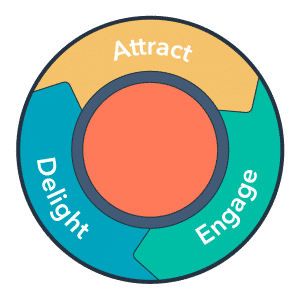 The elements of the HubSpot Growth Platform are:
HubSpot Marketing Hub

You can use this hub to attract more qualified leads by sharing useful content targeting every stage of the buyer's journey, running bespoke ad campaigns and communicating with leads through personalised messages.

HubSpot Sales Hub

The Sales Hub gives your team all the data they need in order to sell in a more personal, efficient and informed way.

HubSpot Service Hub

The Service Hub makes it easier for you to engage with and offer solutions to customers. This in turn helps you turn them into promoters who will help to grow your business.

HubSpot CRM

The free CRM gives everyone in your business a single, shared view of all your customers and their engagement with your company.
Why should you care that we're a HubSpot Diamond Partner?
Well, it means that we are in a great position to help you grow your business, increase your traffic, improve your conversion rate and retain more customers, using the HubSpot platform. The software is great, but it doesn't run itself, so that's where we come in!
The fact that Aira is a Diamond Partner means that we're one of the top HubSpot partner agencies in the UK, and the world! Our status is something we've achieved with measurable inbound marketing successes for our clients – successes based largely on our ability to tailor the platform for each individual client.
Aira's approach involves:
Getting the most out of HubSpot
This can include technical implementations to syncing with software you already have, so that the transition to using HubSpot is as smooth as possible.
CRM migrations from older platforms
Cutting-edge features will give you a better overview of your campaigns, your teams and your visitors.
Using the full breadth of the platform
And getting into the fine details. We use our experience as a HubSpot partner agency and consider all the options that could benefit your business when working on your portal, from designing templates to creating complicated automated workflows.
Improving lead nurturing
Using marketing automation and emails to help users move through their buyer's journey.
Really understanding your needs
We adapt the way we work with your specific portal based on your needs and goals. You may want to focus on your marketing efforts, or perhaps optimising your sales process is what you need to work on right now. We listen to what you tell us and adjust our approach accordingly.
Setting up sales automation
Automating and generally improving your sales process saves your staff time while helping you to win more customers.
What do our clients have to say?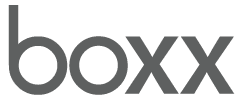 "Our Hubspot Onboarding experience with Aira was excellent…Each workshop was well planned and thorough. The team really took the time to understand our business and make the training relevant to our objectives. Their technical knowledge of the HubSpot platform is impressive and we wouldn't hesitate in recommending them."
Kelly Green, Boxx Communications