What's the hardest part of your job?
When it comes to the hardest part of a technical SEOs job, the most popular answer was getting recommendations implemented which 33% of respondents said was hard for them.
Getting my recommendations implemented
Showing the value of my work
Learning the skills required to develop and be more effective in my role
Staying up to date with the latest updates that affect SEO
Getting buy-in from senior management for SEO
What the experts think…
Concerningly, a huge aspect of the role of an SEO is tied with not only diagnostics and planning but also implementation and impact assessment. The latter, however, are often outside of the realm of control of consultants, which is demonstrated by two main challenges faced by SEOs. Without having recommendations implemented, many consultants might struggle to show the value of their work, despite implementation being a component of their role that is often outside of the realm of their scope of work.
As a freelancer, I've found all of these hardest at various times but keeping up to date (points 3 and 4) for me are probably the trickiest. When I worked at an agency and juggled more clients at any one time, the top two were much harder.
First of all, it's very promising that 'getting buy-in' is so low on the list! That's really great to see.

The fact that 'getting my recommendations implemented' is the top answer is in line with limited Dev resources, which has been a theme throughout the survey responses.
This comes up so often - how do we break down the barriers to getting our recommendations implemented?

I often find myself thinking of ways to integrate my recommendations into other projects and get influence that way. For example getting involved in page redesigns, aligning SEO tasks with overall marketing objectives. Basically becoming as streamlined with other departments' KPI's as possible. This is only possible if there's good communication here though and is not always easy / possible
Quite a few of these are closely linked to one another. Getting buy-in can be easier if you're able to show the value of your work. Having that advocate in the senior management team can make it easier to get recommendations implemented. Getting things implemented is easier if you can clearly explain why, which comes from having a solid, holistic understanding of SEO.

If I could give one piece of advice related to this question, it would be to find the niche of SEO that truly and deeply interests you. Trying to master all the skills isn't realistic and won't be enjoyable. But if you truly enjoy what you do, the rest will fall into place with time and experience.
I didn't expect "showing the value of my work" to come in second place.
This highlights a few issues:

- companies not recognizing the importance of people doing SEO;
- SEOs not being really able to communicate their values;
- SEOs not having real skills to communicate.

In all cases, there's something wrong.
Please rate the following in terms of how important you think they are for a technical SEO to fully understand:
Here, we asked respondents to rate how important certain skills were for a technical SEO to fully understand. Overall, the highest rated skills were data analysis, content strategy and commercial awareness.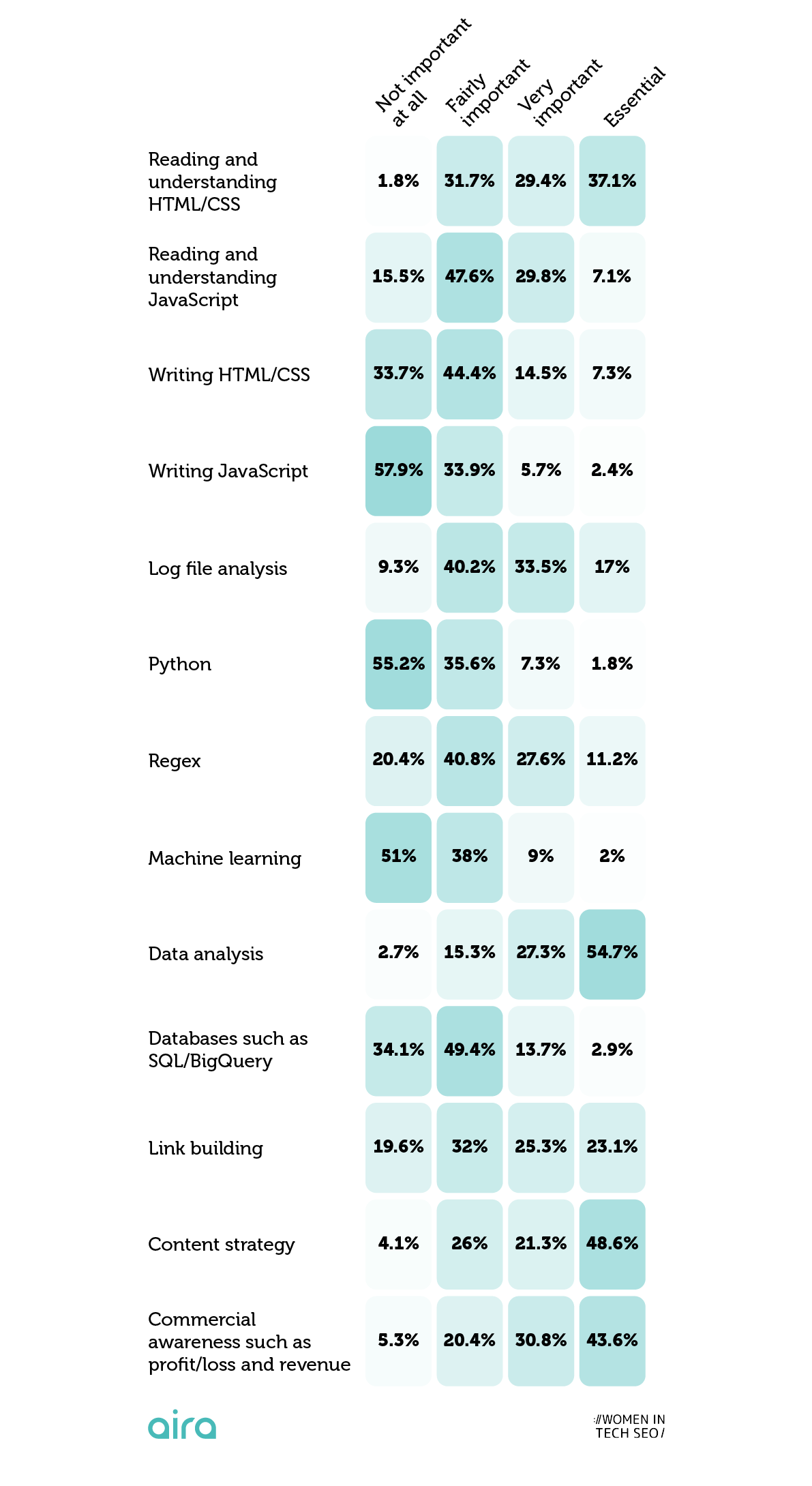 What the experts think…
Interesting to see data analysis so high on this list, but not the particular areas or specialties of data analysis (Python, machine learning, databases) that allow us to perform the most in-depth work. It seems most technical SEOs agree that we need basis data analysis skills but can get by without learning anything too advanced. I'd love to see a shift to more advanced knowhow if we're going to keep calling ourselves "technical."
I'm surprised that reading and understanding Javascript didn't come a little higher up here.

Such a huge quantity of websites use Javascript that knowing how to identify issues with javascript rendering on the page and providing some indication of how to solve issues caused by Javascript is an important skill to have.
It's interesting to see that 'link-building' is the least agreed upon topic.
I'm glad to see that the responses are somewhat fairly split across the board. From my own experience, I wouldn't say that any of these skills are either completely essential or not important at all, because there's no one way to be an SEO.

If a niche skill is essential to the way you do SEO, that's awesome. If you're really great at something that's more common, that's brilliant too. Just please don't read these responses and compare yourself to other SEOs, because that's never going to help you be the best version of yourself.
Super happy to see Data Analysis up high but I'm quite surprised not to see Machine Learning not considered important.
I'm surprised by how low reading and understanding JavaScript scored on this list (5.9% lower than last year) and in the next question. With 97.9% of websites using JS in some way today (according to W3tech's 2022 usage stats) and how much JS can impact critical aspects like indexing, website performance, and user experience, I expected it to have a higher weight for technical SEOs.
Happy to see data analysis, content strategy, and commercial awareness being rated as essential. Some of the replies to previous questions have demonstrated the importance of these skills for the successful execution of different aspects of the role of an SEO, despite those not being the typical skills that one might associate with this role.
Definitely agree that data analysis should be rated very highly as an important SEO skill to have! I think there might be a shift in the need for BigQuery with GA4 coming into play fully halfway through next year. I'd be interested to see if more SEO specialists start using BigQuery.

Really encouraging to see Commercial Awareness highly rated too - at the end of the day we should all be aware of the organisations goals and helping to work towards them
What do you think are the top three skills that a technical SEO should have right now?
Finally, we wanted to get more specific and ask what the top three skills for a technical SEO to know should be.
Reading and understanding HTML/CSS
Commercial awareness such as profitl/loss and revenue
Reading and understanding JavaScript
Databases such as SQL/BigQuery
View More Results
What the experts think…
I absolutely agree with data analysis and with such great SEO resources available there are so many sheets/plugins where data utilises Python without necessarily being required to learn it but you do need to understand and be able to analyse the data.

It's surprising how high content strategy has come out here, generally not considered as technical SEO but it's definitely helpful to know how content relates on a website to fully understand internal linking opportunities that serve the user.

Love seeing commercial awareness so high up, SEOs are much more likely to improve stakeholder buy-in and be able to prioritise tasks accordingly with a better understanding of the overall commercial goals.
It surprises me to see Content Strategy is considered a skill for Tech SEO more than Machine Learning. I may have missed something...
I agree with the top 3 here personally. A lot of the others (such as programming languages) are things I need to do more work on. Though a lot of my SEO work is somewhat generic, so I haven't had to get too deeply into coding.
I believe a good understanding of NLP and Machine Learning will benefit SEO Specialists in the future. Search Engine Algorithms evolve continuously and it helps to stay ahead of the curve.
I personally would have liked to see commercial awareness higher up this list - that's something I consider a non-negotiable when hiring.
Yes, data analysis! Being able to synthesise data and make prioritised action-points based off of that data is exactly what makes SEOs so vital to any organisation.
Data analysis and a good understanding of Google Analytics and GA4 are very important skills for technical SEO. In addition, knowledge of schema is very useful to mark up pages with structured data.