Career Progression
3 minute read
Everyone needs to know where they're heading and what the next step is to get there.
At Aira, we do our best to provide these so that you know how to develop your career. It's not just words though, we've spent a long time working on processes and support systems to help you and the job will never be finished.
Here is what we do to help you excel and grow at Aira:
Clear progression paths
Clear expectations for every role
Core competency guidelines
Let's get into the details

Clear progression paths
At any time, you should know what the next step in your career could be. This could be the next step in your current role or a different area of the business, either way, it's up to us to make it clear what your options for progression are - and explain how to get there.
We start with progression paths for every role which show you all of the roles in your chosen specialty. They'll look something like the example below for our SEO team.
You'll notice that there is a split in the middle which is very deliberate. In most companies, the main way to progress to senior levels is to become the manager of a team of people. Whilst there is nothing wrong with this, team management isn't for everyone. Not everyone wants to manage a team and would prefer to focus on being the best they can be at their specialty.
This is why we offer two routes of progression which allow for this. You can move toward a management track or an individual contributor track.
Figure 1

Expectation guidelines for each role
Every role has what we call an expectation document attached to it. These documents are designed to be as specific as we can about what we expect of you in your particular role. They look something like the image below which is an example of what a Consultant at Aira receives.
Each expectation document lists a few things that you should be trying to nail in your role. It isn't designed to be a checklist of things and we know that everyone is different, but it helps you to know the kinds of things we expect of someone at each level of seniority. In reality, your line manager uses this as a baseline and adapts it for each individual.
They are also role agnostic, meaning that the Consultant document will apply to you whether you're an SEO, Paid Media or Digital PR Consultant. Your line manager will discuss the guidelines with you and help you hit them and more importantly, excel past them.
They also form part of your quarterly reviews, as well as being the basis for 360 feedback reviews which happen every six months or so.
Figure 2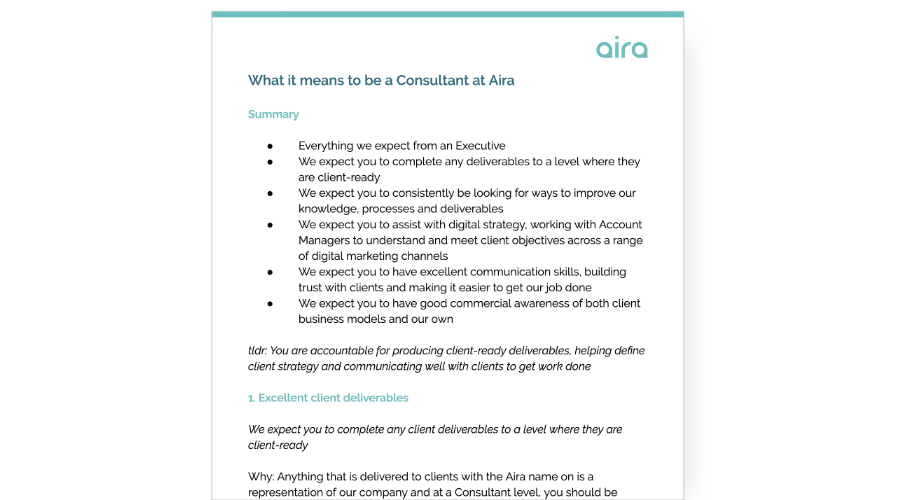 Core competency guidelines
As mentioned above, the expectation documents are role agnostic. To help you with specific skills related to your role and general performance, we also have core competency guidelines which give you concrete areas to learn, see the next image for an example of this.
Your line manager will work with you to identify areas where you want to improve your knowledge and level up your core skill set.
Figure 3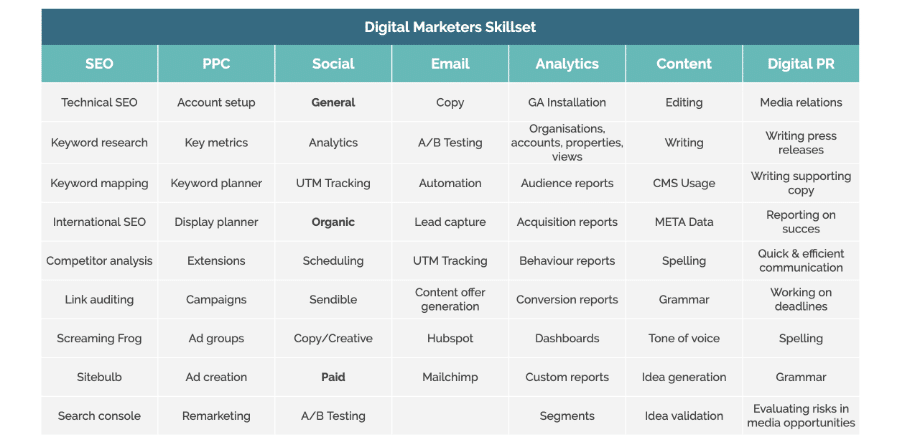 How do we support you and measure all of this?
We don't want everything above to be heard but then forgotten about when you get back into the day-to-day of your role. We want to follow-through and measure everything above so that we know how we're performing and where we can get even better.
We've broken this down

To ensure that everything above stays front of mind and measurable for all of us, we have a few things to help:
Personal Development Plans to outline your goals and objectives
360 feedback every 6 months from your line manager and peers
Your line managers will also work with you to help you:
Understand the expectations of your role and how you can meet and exceed them
Put together your personal development plans, including objectives that will help you develop your career
Carry out 360 feedback every 6 months so that you receive regular, structured feedback and know what you need to do to improve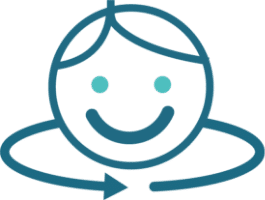 Want to receive more content on company culture?

Yes Please!