How Aira Helped Apteco Improve Search Visibility and Increase MQLs by 72% After a Website Migration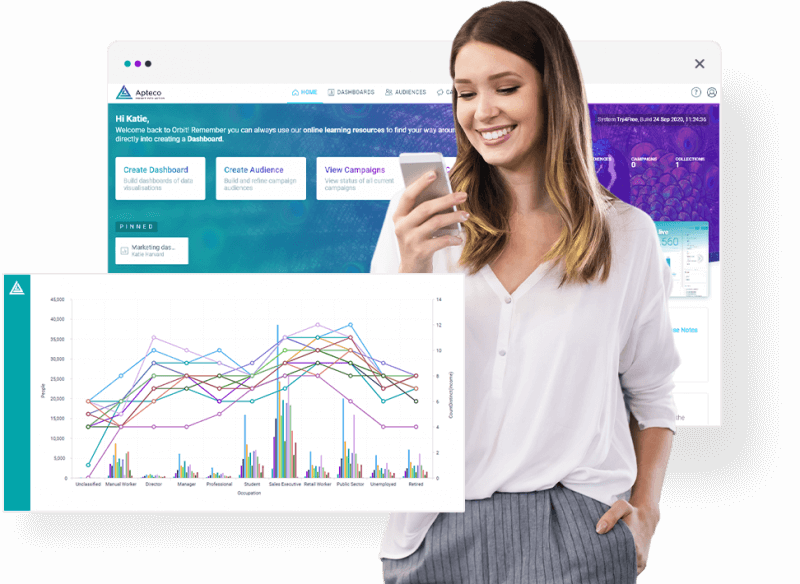 Increase in organic leads in the last six months
Increase in MQLs through paid media YoY
Apteco is a software development company specialising in marketing data analysis and multi-channel campaign management solutions.

The Challenge
Regaining their lost search engine rankings after a website redesign
The team at Apteco was excited about their company's complete website redesign: They were moving away from their old product-oriented content to a website that would be more valuable for their customers.
The new website was focused on the solutions people were looking for and the problems they were trying to solve.
But the website redesign also got rid of a lot of their previously high-ranking content. This led to a few challenges, as Melanie Davis, Apteco Group Marketing Manager, explains:
'We went from a website that was very product-specific and had a lot of detail to something that was more high-level and solution-led,' Melanie says. 'As a result, we lost a lot of our nitty-gritty content.'
Losing this detailed content eventually led to a drop in search engine rankings, which in turn led to a drop in website visitors and page views. Left unchecked, this would affect their entire sales funnel.
'We weren't top of the search results anymore. Fewer people were finding us, and it had the potential to damage our brand recognition,' Melanie says. 'Ultimately, it would have had an impact on sales volumes and the number of leads we would have been able to pass through to our sales team.'
To make matters worse, the new website launched in December 2019 – within a few months, the company was also dealing with COVID restrictions and new UK data protection laws that made it easier for people to opt out of cookies, which made remarketing more difficult. It was a 'triple whammy,' Melanie says:
'Everything happened at the same time, and that made it really hard to work out what was going on,' she explains.
Apteco realised they needed to invest more into SEO and pay-per-click (PPC). And to do that, they needed to find experts who could help them build their online presence, capture more leads, and climb back up to the top of search engine rankings.
They needed Aira.
'We weren't top of the search results anymore. Fewer people were finding us, and it had the potential to damage our brand recognition.'
The Solution
A specialised team of SEO experts
When Apteco started working with Aira, they started small and quickly increased their services as trust was built.
'We really appreciated the fact that they were willing to work with us on the budget that we were prepared to spend at the time, and then slowly build us as a client as we became more confident in their services,' Melanie says.
Aira started with a full technical audit to identify technical problems caused by the site migration and redesign. They spent the first 12 months of their partnership optimising the website's backend for SEO, as well as optimising content and linking on existing pages to start building organic traffic and leads.
During the audit, Aira realised that Apteco's website had a lot of bottom-of-the-funnel (BoFU) blog content written for customers in the decision-making stage of the buyer process, but not a lot of ToFU content for customers in the awareness stage. They began researching and writing top-of-the-funnel content to widen Apteco's sales funnel.
'We didn't have a lot of content aimed at people just initially researching our solutions or who just wanted to understand the different marketing concepts that our software supports,' Melanie explains. 'Aira did research for us and suggested writing blogs on topics like customer profiling and customer modelling, so that people can find us when they searched for those topics.'
Throughout the process, Apteco and Aira built a solid collaborative relationship.
'Our developer and the technical team at Aira built a really nice relationship,' Melanie says. 'They had several meetings together to go over the results of the technical audits and what they needed to put in place.'
Aira's proactive communication is one of the team's biggest strengths, Melanie adds.
'They're particularly good at keeping us in the loop,' she says. 'They often bring in representatives from other teams within Aira when we need to talk about different topics, like pay-per-click. Every six months they set up in-depth reviews to look at strategy and plan for the next six months. We're always very clear on what's being worked on and when.'
'They're particularly good at keeping us in the loop…We're always very clear on what's being worked on and when.'
The Results
46% increase in leads
After working with Aira for over two years, Apteco has seen improvements across the board – in spite of the challenges that the pandemic and website migration initially presented.
Melanie credits Aira's in-depth technical expertise, especially when it comes to SEO and PPC.
They've brought a real expertise to the table that we didn't necessarily have in our organisation,' Melanie says. 'They have valuable experience of what an SEO strategy should look like and the theory behind it, and how to put it into practice. We're now seeing a lot more of our traffic coming in from SEO and pay-per-click.'
Aira also helped Apteco set up better tracking and reporting, so they can get a better understanding of how their website is performing and catch any new challenges that appear.
'Another important point is how well they track everything,' Melanie says. 'They've set up all of our tracking and reporting, so we can always see what's happening. We were less confident in that before.'
In the last six months alone, organic leads have increased by 46% and organic MQLs increased by 28%. Both leads and MQLs from paid media have also increased: MQLs in particular have increased by 45% year-over-year (YoY).
The team at Apteco is thrilled with the results – and with their partnership with Aira.
'I don't think anyone knows SEO quite like the team at Aira does,' Melanie says. 'They're really giving us the confidence to grow and bring lots more people to our website because we know that the right content is there and that we can monitor resulting leads effectively. They're just a fantastic team.'
'I don't think anyone knows SEO quite like the team at Aira does. They're really giving us the confidence to grow.'