What do you think is the biggest risk to technical SEO success?
The answers here were pretty close but a lack of resources was the most popular answer with 27% of respondents citing this as the biggest risk to technical SEO success. Second in the list with 25% was technical debt, followed by a lack of buy-in/authority at 16%.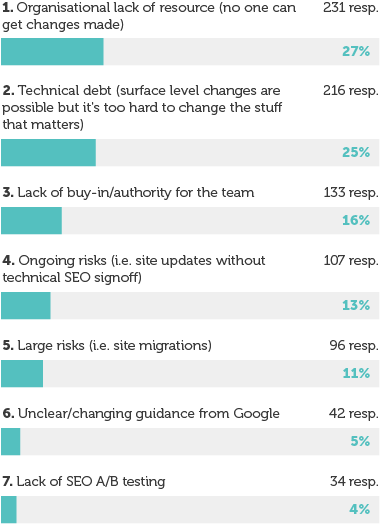 What the experts think…
Resource is the word on everybody's lips right now. If you are an agency with resource to spare you'll be hitting 2022 in a really great position.
Companies repeatedly lack the standard operating procedures describing how SEO changes or new ideas should be executed on the website. Similarly, the rigid workflows hinder their abilities to approach technical issues differently. Technical Debt is not spoken much among the SEOs. Technical debt not just restricts a company's capability to innovate, adapt and grow but also prevents SEO teams from intensifying numerous opportunities.
Fully agree with this. From the SEOs point of view there's usually a lack of understanding from client teams that it's fine to want to have SEO help, but not all fixes can then be implemented by SEOs OR their content teams. Having lack of dev and project management resource on the client side (including when you're in house) really does hinder our progress. More teams need to understand that when buying in SEO, they also need to ensure that there's other, supporting resource available (doesn't need to be full time/fully dedicated).
I have been working in SEO for many years, both client and agency side. Unfortunately I still see a lot of technical changes have not been implemented due to a lack of resources.

I have found one way to get past this is to have more buy-in from the top managers. Once they realise the impact of the technical changes (and how it impacts the bottom line), resources are allocated to working on those issues which is great!
What metrics do you measure SEO performance on? Select all that apply.
Here, we asked respondents which metrics they used to measure their performance and the most popular answer with 90% of the votes was organic traffic, followed by rankings (82%) and conversions very close behind at 81%.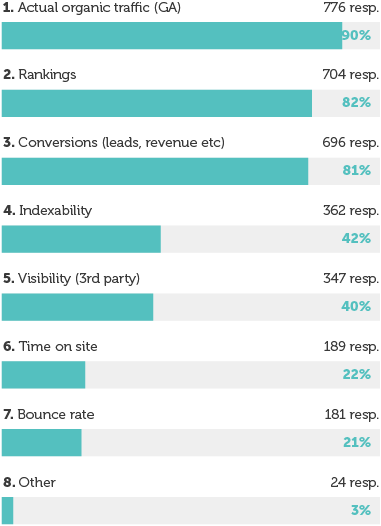 What the experts think…
It's great to see that 81% of respondents voted for conversions (leads revenue etc) as a metric to measure performance. However, I would have loved to see that number at 100% above the organic traffic vote because traffic is just a vanity metric if it doesn't convert.

One of the greatest barriers to getting buy-in for SEO is showing ROI in other to combat this, we need to be more commercial-minded and focus on metrics that Stakeholders understand and are most concerned about.
We know that increases in organic traffic are an essential KPI when measuring how well a website is performing, but being able to tie this back to increases in keyword rankings that your work has directly influenced is something that not all agencies do effectively. One of the best ways to do this is to ensure that both you and the client have an agreed set of keywords that your activity will focus on. I like to ensure these keywords are incorporated into digital PR campaign landing pages through a strategic internal linking plan.
With Search Engines getting smarter and fully meeting the users' intent directly in the SERPs, should we, as an SEO community, still have website traffic as our number one KPI?

I guess the same can be asked about rankings in a world where there are so many rich snippets types to "steal" away the click from #1 or where #1 is not even in viewport anymore.
I find it slightly surprising that SEO performance based on conversions only came in third behind rankings. Even though very closely.

My assumption is that this is the case due to the higher complexity of measuring and attributing conversions in most cases vs evaluating rankings and traffic.
Very interesting that rankings remain an important KPI when there has been a lot of discussion over the past 7+ years that "rankings are dead", with the advent of SERP features.
This really aligns with what Alice Logan spoke about at Brighton SEO controversially calling 'revenue' a secondary metric and not really a KPI. If we're doing our jobs correctly, rankings and traffic should naturally convert as long as we're targeting the most relevant keyword visibility.
Very glad that the bounce rate is at the bottom of the chart. It is very subjective especially if you are optimizing content-focused websites, where users will land, consume content and leave. They don't typically make an action on such websites. Similarly on single-page websites, bounce rate is a meaningless metric.

Google has retired this metric in GA4. It would be ideal for us not to put this as a metric to consider as we advance.
No surprises in the top three here. I was surprised that indexability wasn't considered a core metric by more respondents, however it might be the case that the reason for this is the type and size of site that people are working on. I guess it's likely that indexability is a core metric only for larger sites.
When setting expectations with stakeholders, how long do you say that it can take for technical SEO changes to have an impact on traffic?
41% of technical SEOs set the expectation that it can take up to three months to see an impact on traffic from technical SEO work. Next up was up to six months with 31%.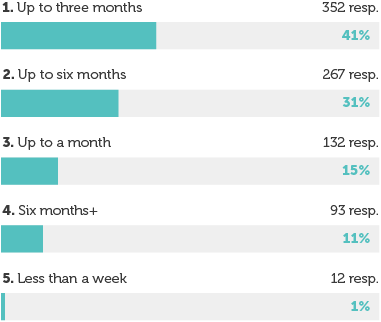 What the experts think…
I find these answers interesting. Personally (and I could be wrong here) I find it harder and harder to set timeline expectations.

Generally speaking, I'd say it's reasonable to expect that changes take at least 3 months to show results, positive or not. But I've seen much shorter time frames around algo updates (assuming here that the changes went live when a section was being re-evaluated by G and was picked up faster than usual?) and much longer time frames too (for example initiatives rewarded months later, post algo-update after a website re-evaluation).

It definitely makes things a little harder and I think ensuring short-term KPIs live under a long-term (12 months +) objective really makes sense here. Quarterly or monthly key results should really be seen as signals for a long-term objective, not used as isolated short-term targets.
Would love to see this breakdown relative to the size of size that those SEOs work on.
This really depends on whether the question is asked before of after the SEO has a good grasp of the allocated resources. Up to 3 months is incredibly ambitions considering the time it takes to get buy in from stakeholders, priority, work completion and the time it takes Google to index the change.
This is very typical of what we say to clients too. It's more about expectation setting and trying to under-promise and over-deliver as we all know some changes can have an almost instantaneous impact.
I'm actually quite surprised that there were actually people saying less than a week! My!