eCommerce
5 Essential Revenue Generating Strategies Ecommerce Retailers must Adopt in 2024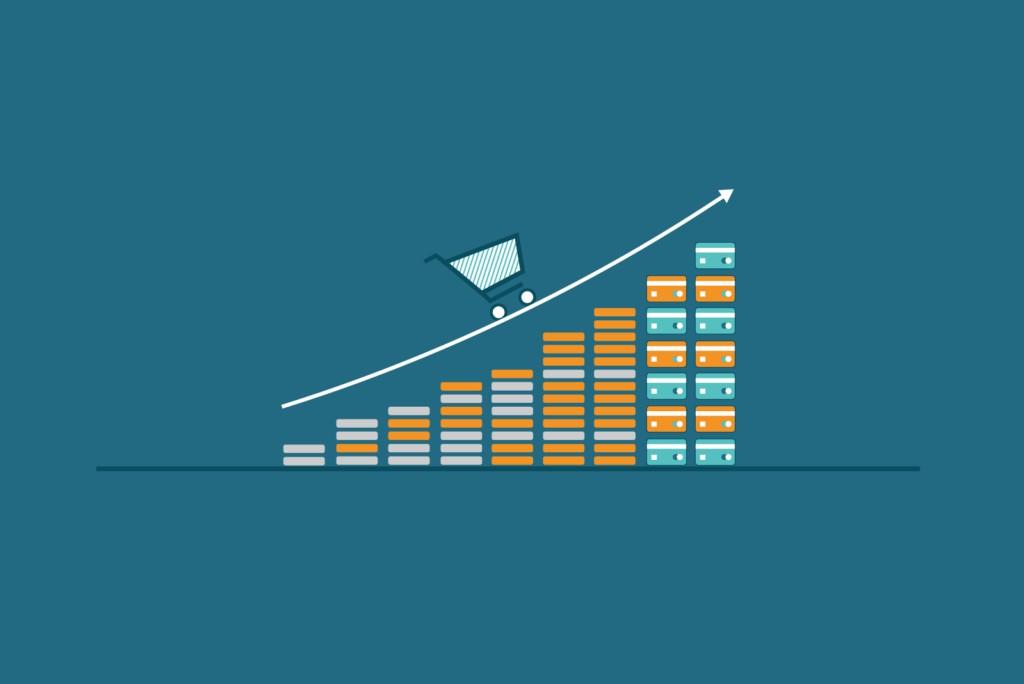 If there's a single 'universal' business truth from the last three years, it's that the Covid-19 pandemic has significantly impacted growth. In many sectors, that impact has been negative.
But that's not the case for ecommerce.
Nationwide lockdowns had a big effect on the wider economy, with many businesses putting the brakes on planned investment, but with consumers stuck at home our online purchases skyrocketed: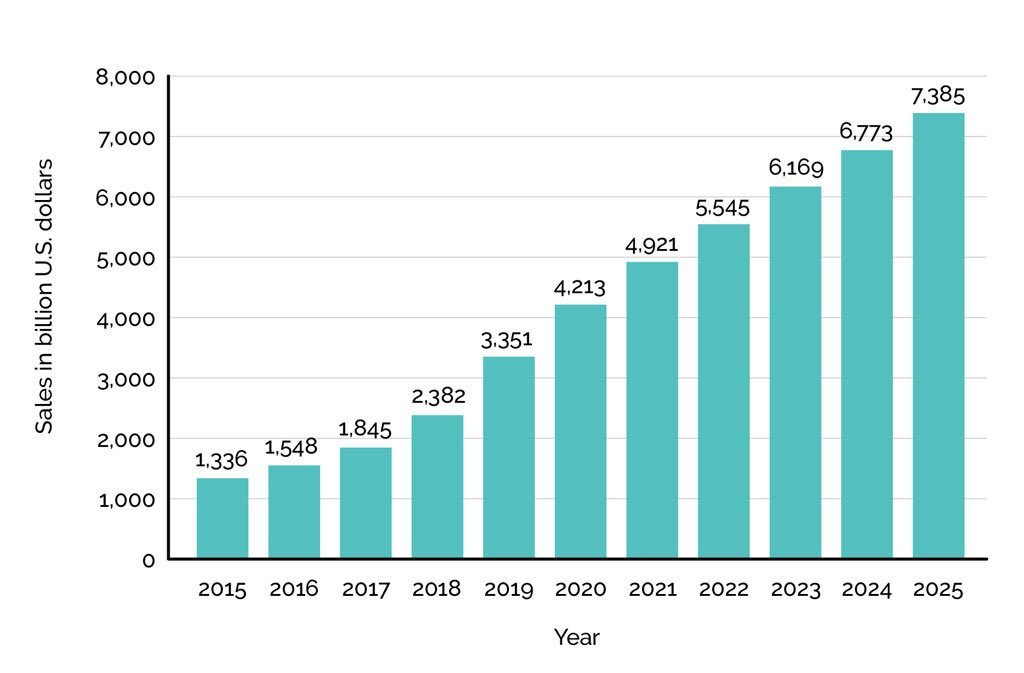 Global ecommerce sales grew by an average of 20.33% year-on-year from 2014 to 2019, and by just 12.37% from 2018 to 2019. However, in 2020 online sales increased by 25.72% to $4.2 trillion.
Ecommerce sales increased by a further 22.66% in 2021, but the pace of growth slowed in 2022, rising by just 9.71%.
The sector is projected to grow by 10.37% this year, another modest increase compared to the boom of 2019-21, but ecommerce remains bullish despite the current economic landscape.
Of course, just because the sector is continuing to grow during tough times, that doesn't mean your ecommerce business is seeing the same results.
With consumer spending power reduced by inflation and businesses being more cautious with where they invest their money, there's a good chance that you're seeing sales volume fall—despite what the macro statistics might be saying.
These five strategies can drive increased ecommerce revenue in 2024
The economy is in bad shape and the giants of ecommerce are piling on the pressure, but that doesn't mean you can't succeed in 2024 and beyond.
Last year, Brightpearl's annual Lightning 50 table identified the UK and US' fastest growing ecommerce retailers. In the UK, the top five were Pinter, Progress JJ, Passenger, Kick Game and Wild Cosmetics. These brands aren't yet household names, but they're making waves in a competitive ecommerce marketing landscape: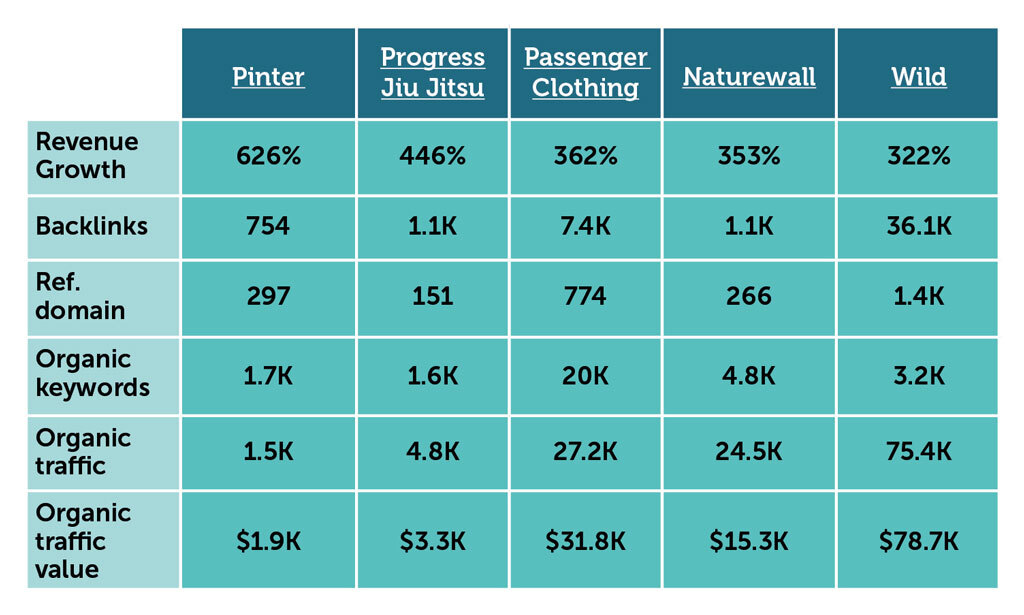 In order to emulate these ecommerce brands and grow your revenue next year, you need to be across the following five strategies—and challenge your marketing and customer service teams to build them into their planning.
1. Adopt a multi-channel approach
Research by the Harvard Business Review found that a massive 73% of shoppers will browse several channels before buying a product, which means you need to be maximising your visibility with an omnichannel approach.
Another interesting statistic to come out of the HBR study was that these multi-touch point customers were more valuable compared to single channel customers, spending on average 4% more on every shop in-store and 10% more online. The study also revealed the impact of pre-purchase research, with 'deliberate searching' leading to greater value purchases. Without an omnichannel presence, the only touch point you control during this research phase is your own website.
Further evidence of the benefits of an omnichannel strategy can be found in an SAP study in which companies reported increased sales, increased customer loyalty, a better competitive advantage and a better customer experience.
We'll look at the threat the likes of Amazon pose to smaller and independent retailers later in this article, but sometimes if you can't beat them, join them.
Amazon is the world's largest marketplace, so like it or not, if you don't have a presence there you'll be missing out on a lot of product searches. In fact, 66% of consumers from the EU5 countries (UK, Germany, France, Italy and Spain) and the US start their search for products on Amazon rather than search engines. Selling into the US market? Almost nine out of ten (89%) of US consumers say they're more likely to buy products on Amazon than any other ecommerce website.
Ultimately, you've got two options: treat Amazon as a competitor or embrace the platform as an additional revenue generator.
Who's doing this well?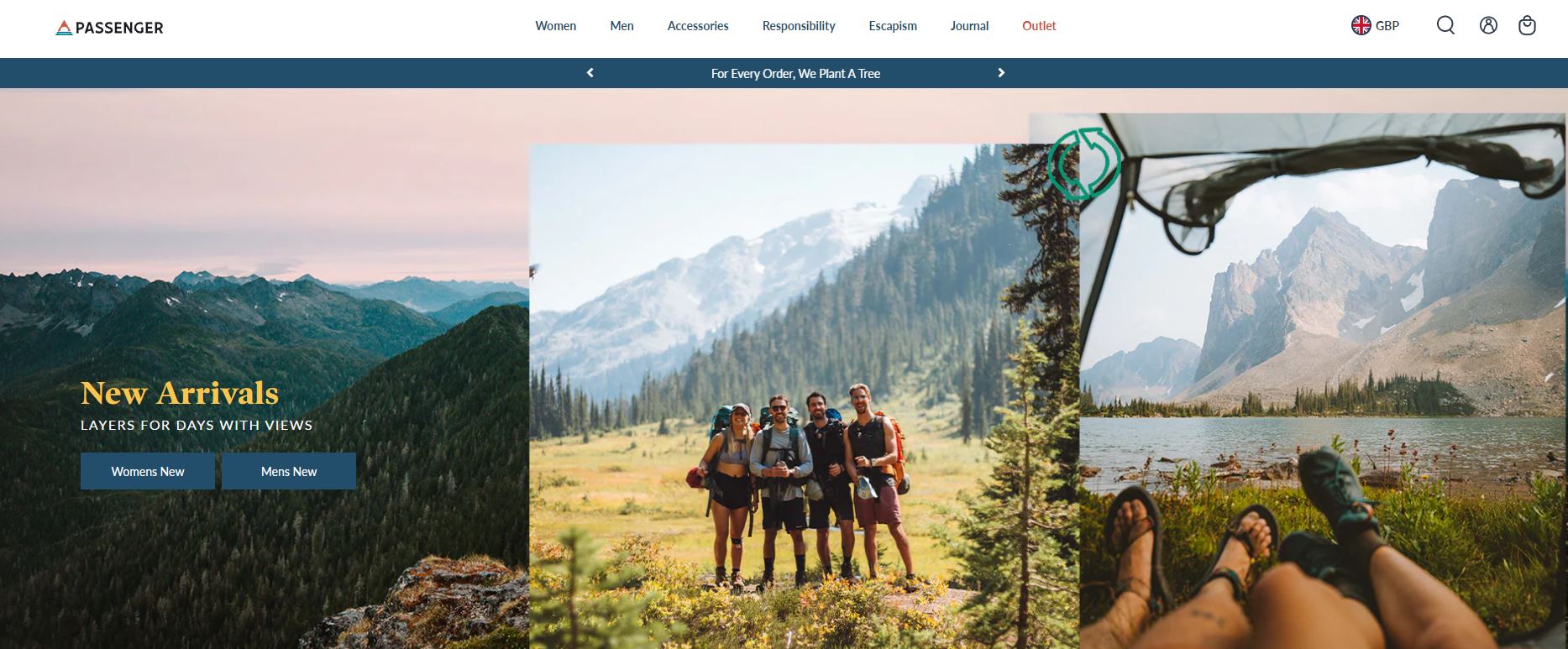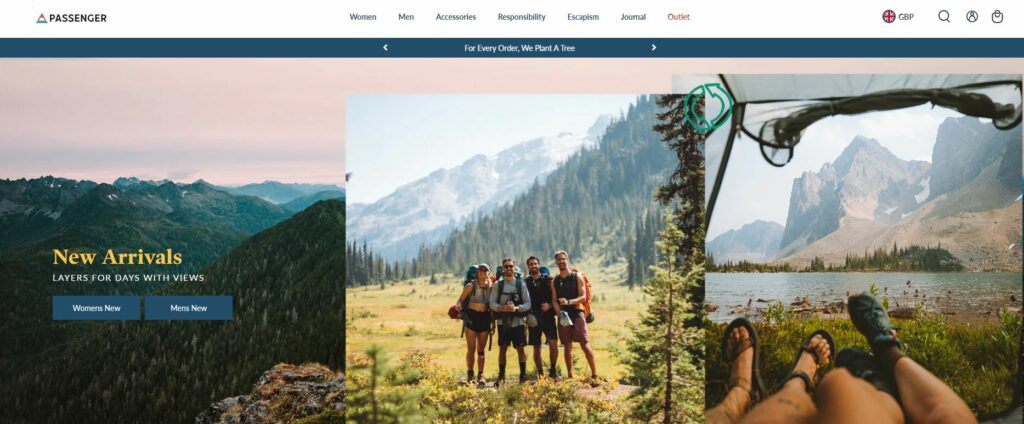 Passenger Clothing (#3 on the fastest growing ecommerce brand list) fully embraces the multi-channel approach.
Passenger's range of outdoor apparel and footwear can be found on numerous online stores, including Amazon, John Lewis, Cotswold Outdoor and OPUMO.
Their full range is available directly from Passenger-Clothing.com, but if they were restricted to just selling to their estimated 27,000 monthly website visitors, they wouldn't be among the fastest growing ecommerce retailers in the UK.
2. Acquire zero and first party data
In order for you to grow and hit your revenue targets you need to expand your customer base, and this requires data.
However, this is getting harder to come by.
With web browsers dropping the use of third-party cookies, regulations around privacy—such as GDPR in the EU and the UK's 2018 Data Protection Act—as well as increased consumer awareness about how their data is being used, you need to get better at acquiring first and zero-party data in 2024.
| Zero-party data | First-party date | Second-party data |
| --- | --- | --- |
| Data the consumer intentionally and proactively shares with you, which can be collected via website forms, polls and surveys. | Data collected directly from your audience, including from previous purchases, website analytics and social media platforms. | Data you didn't collect yourself, for example via a trusted partner. |
While second-party data can still be useful, privacy laws have made it more complicated to leverage, particularly in a B2C market. What's more, the sheer volume of marketing messaging consumers receive into their email inboxes and on social media has made it less effective.
This is why it's so important to leverage the data your customers and potential customers have actually provided to you directly—and be better at acquiring it.
As Fatemeh Khatibloo, VP principal analyst at Forrester, said during an interview with Wayin, "zero-party data is gold."
"When a customer trusts a brand enough to provide this really meaningful data it means the brand doesn't have to go off and infer what the customer wants or what their intentions are."
Of course, the challenge is in acquiring this data in the first place…
Who's doing this well?
Fans of your brand might not need much encouragement to sign-up for your newsletter to receive new product updates, but new customers need an incentive.
Both Progress Jiu Jitsu and Naturewall offer just that, offering discounts in exchange for potential customer data: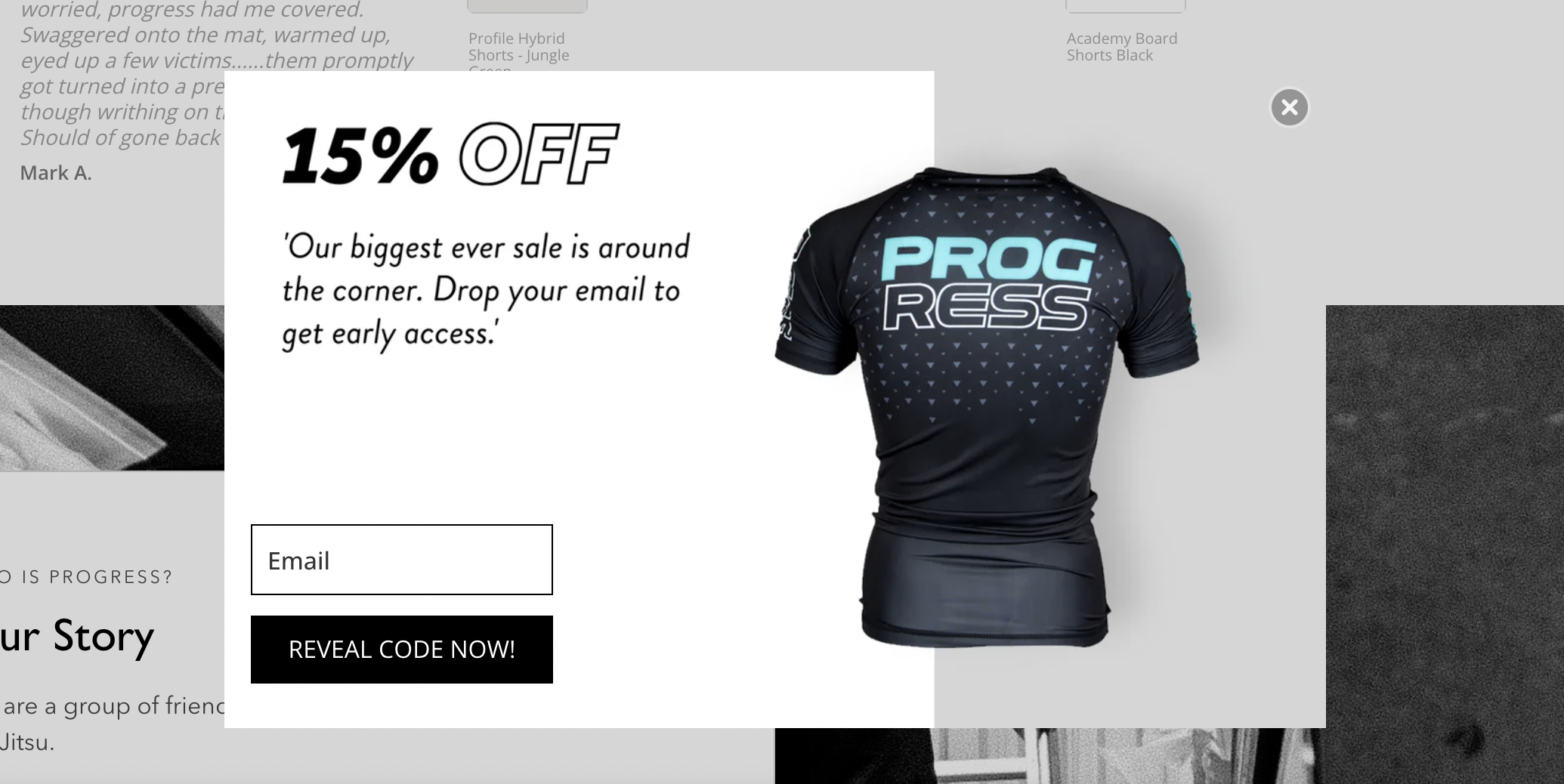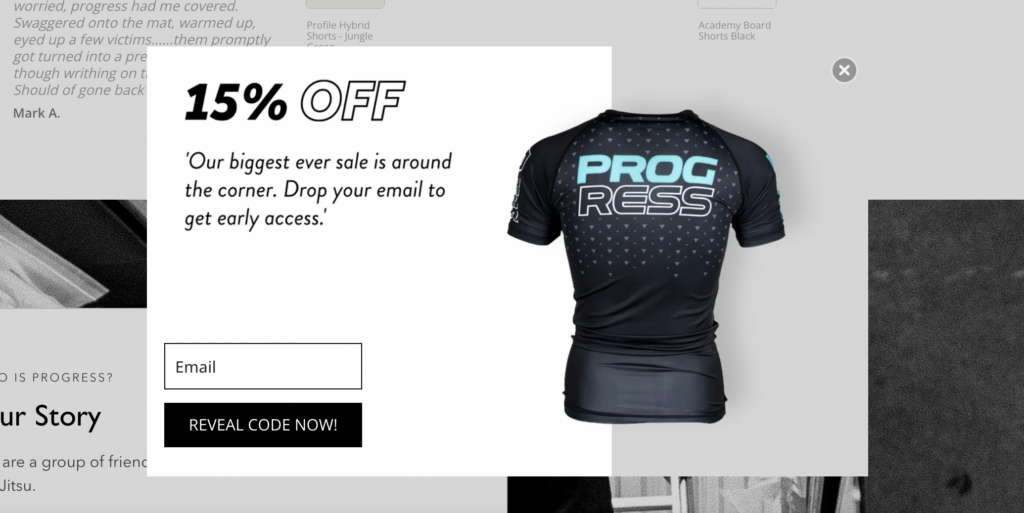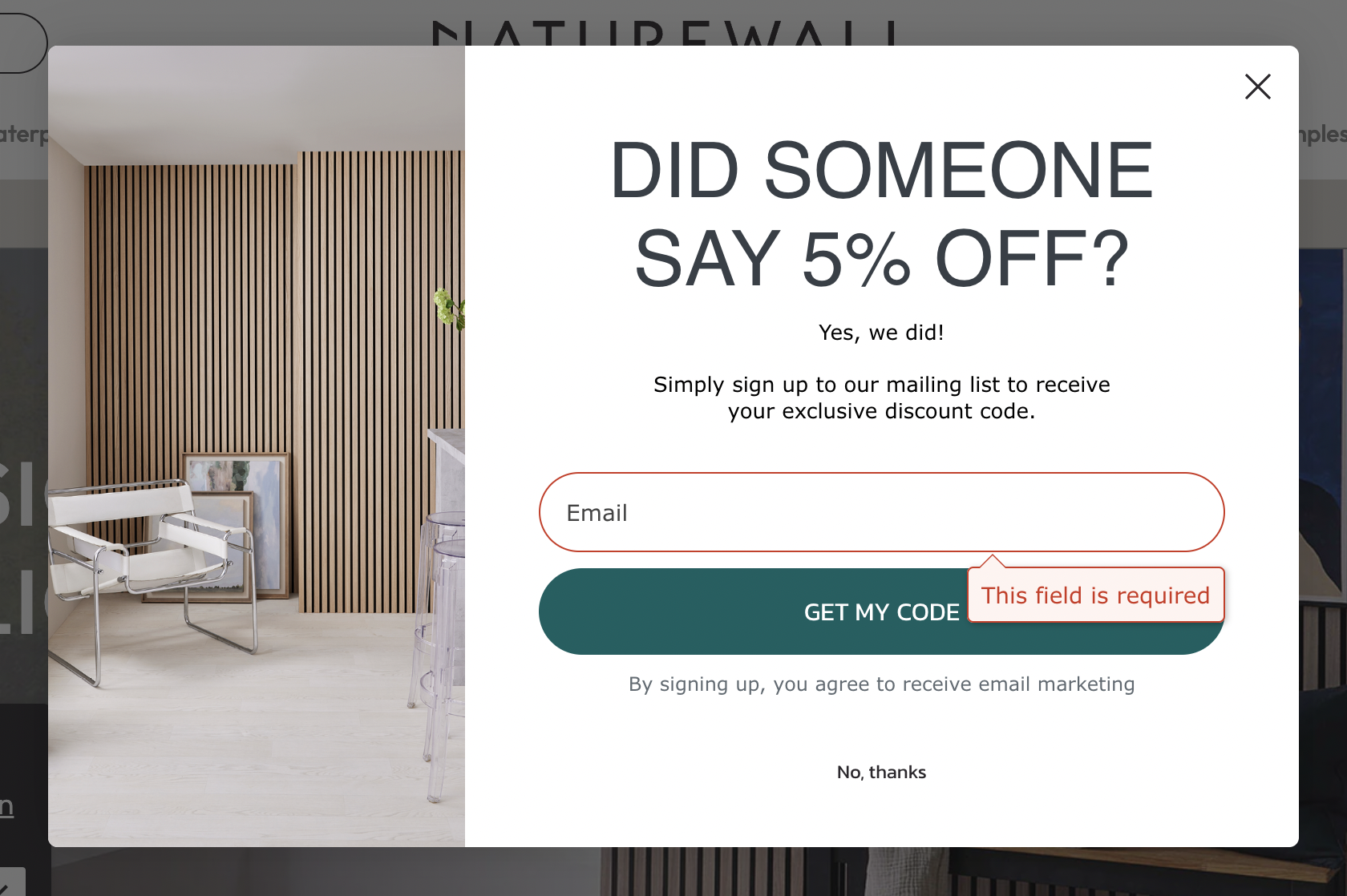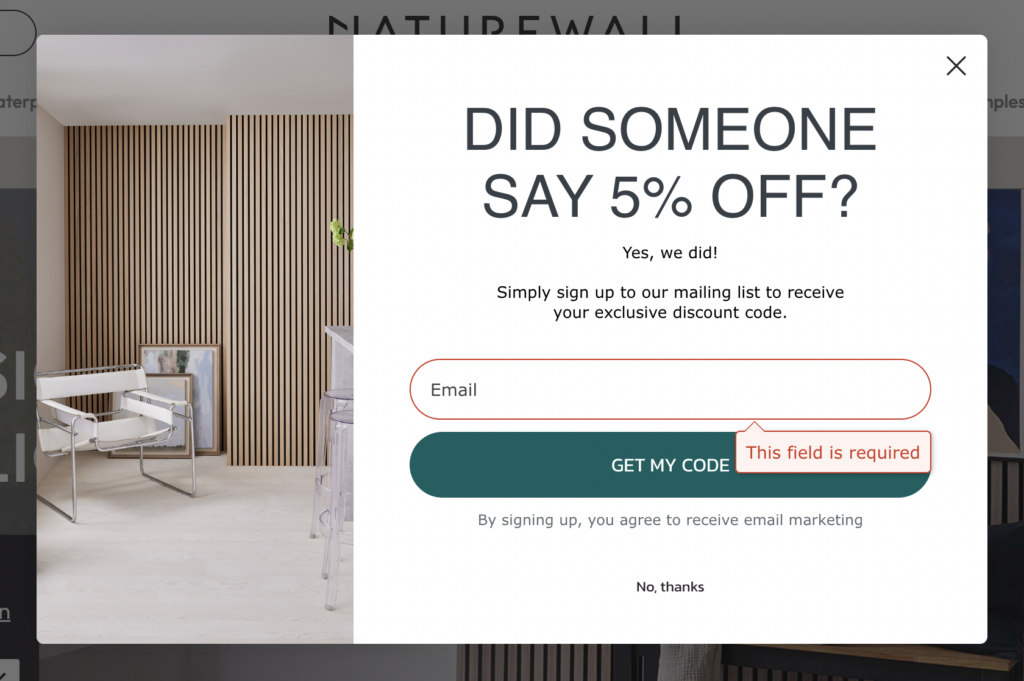 3. A social commerce strategy is vital to capture the next generation of consumers
It's important for ecommerce retailers to adopt an omnichannel approach in 2024, but some channels are more important than others, and social should be a top priority for you next year.
First and foremost, your social media strategy should be informed by your target market, so if you typically sell products to the over-50s you probably don't have to worry about your TikTok presence right now.
However, if you're selling to a millennial or Gen-Z audience, these channels are no longer something that can be neglected. In fact, a 2021 study found that social media was the preferred shopping channel for these demographics in the US market.
"Younger generations find authenticity and trust in different places than older generations," said William Margaritis, senior VP of digital and ecommerce at Reprise Digital, during an interview with The Drum.
"Predominantly, they trust their peers and they trust influencers. As brands reduce spend and are less present in the shopping conversation, peers and influencers will rise.
"Social commerce and live commerce have already become regular means of shopping in Asia and are rising rapidly in Latin America. The US and Europe won't be far behind."
'36% of shoppers would be more likely to buy on social media if they had the ability to purchase in-app.'
Executed correctly and your social channels will build trust, drive brand awareness, customer engagement and sales.
The reason social commerce can be so effective is in its convenience, eliminating steps from the purchase process and allowing a consumer to go from product discovery to purchase within seconds.
Instagram Shopping is a great example of social commerce, with your customers able to browse and purchase items directly within the platform, without having to be redirected to your website—and this is powerful. A study by Curalate found that more than one third (36%) of shoppers would be more likely to buy something they discovered on social media if they had the ability to directly purchase in-app.
Pinterest is another platform that offers ecommerce brands a revenue opportunity. Nine out of ten Pinterest users have used the platform for purchase inspiration, while almost all of them (98%) have tried a brand they discovered there.
Pinterest's Product Pins have been optimised to make purchasing through the platform as easy as possible, with a little price tag in the corner indicating that the item is available to buy. When clicked (or tapped), they show info only available on Product Pins, including product description and brand name, as well as boasting a larger product tile.
4. Customer lifetime value will be one of the most important success metrics in 2024 (and beyond)
Ecommerce competition is increasing and it's getting harder to attract new customers—especially in the current economic climate—and this is why it's so important to put an emphasis on increasing customer lifetime value in 2024.
When your customers return more consistently you have more flexibility in terms of what you can spend to acquire them, but maximising LTV requires first-class customer service.
However, customer service 'skimpflation' is on the rise according to a Ujet.cx report.
The study found that two thirds of consumers had experienced brands cutting back on customer service in the past six months, specifically in the areas of quality of service, wait times, and expertise and helpfulness.
Consumers take this seriously, with 87% reporting that they'd spend less or stop shopping altogether with an ecommerce retailer if they cut corners with their customer service.
Maximising LTV isn't just about customer service though, and there are marketing strategies you can adopt that will stimulate more frequent orders, and increase average order values.
What's the state of your post-purchase follow-up with customers? Are you making sure you stay top of mind and using their purchase history to share relevant discounts and product offers?
Are you doing analysis to see which products are frequently bought together and cross-promoting them at the checkout?
Growing sales volume and bringing in new customers is great, but increasing customer LTV and AOV is going to be crucial to growing your revenue in 2024, while these are the metrics that deliver stronger revenue results over time. Make sure you're challenging your marketing team to put work into growing these metrics and report on them frequently.
Who's doing this well?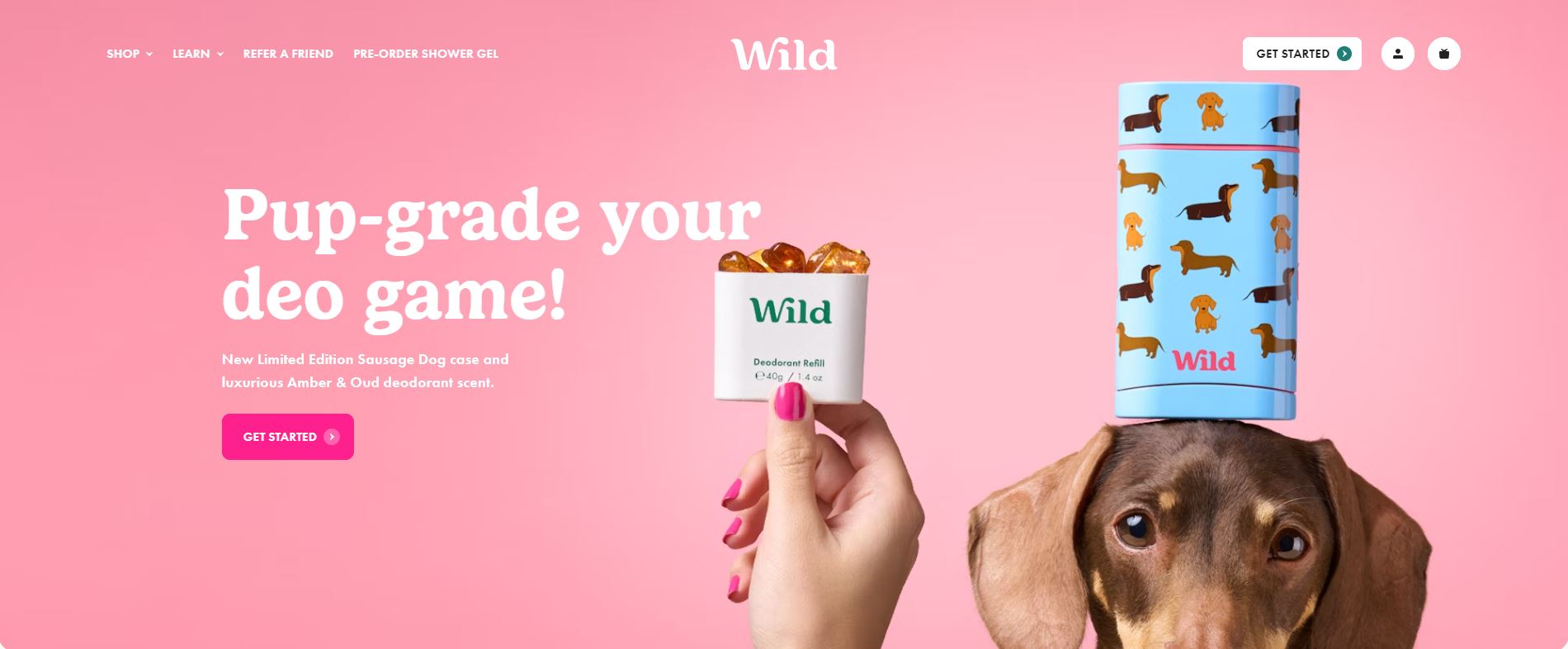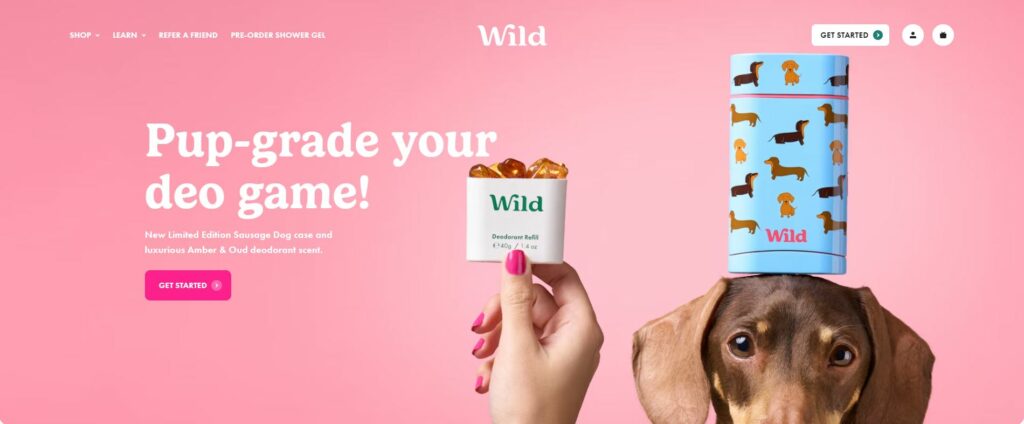 One of the main drivers of Wild Cosmetics' (aka Wild) success (#5 on the fastest growing ecommerce brand list) is their exceptional reputation for product quality and customer service—and this helps to maximise LTV.
Wild boasts a Trustpilot score of 4.7 from 28,600 reviews, with many of those reviews calling out the brand's excellent customer service.
Wild offers customers the choice between one-off purchases and a subscription model, while their cancellation/refund policy is also highly customer-centric. Subscriptions can be cancelled at any time (customers aren't locked in for any set period) and new customers get a 30-day satisfaction guarantee, ensuring a complete refund if they're unhappy with the product.
5. If you're not mobile-first, you'll never be ahead
Retail mcommerce (ecommerce sales on a mobile device) is expected to account for almost half (43.4%) of all retail ecommerce sales in 2023, so if your online store's mobile experience hasn't been optimised you will be losing out on a huge proportion of your potential revenue.
Of course, the need for a strong mobile presence isn't anything new. The difference now is that ecommerce businesses need to be mobile-first, and if you neglect this you're going to see a significant impact on mobile sales. One survey of UK consumers found that two thirds would abandon purchases on a mobile device if the process was too difficult. If retail mcommerce is indeed responsible for almost half of all ecommerce sales, you can't afford to risk 66% of those.
A mobile-first approach doesn't just mean the website homepage fits nicely on a smaller screen. The experience has to be fast, have a streamlined layout, be easy to navigate and have a simple and straightforward checkout process. You also need to design the website with touch screens in mind, with buttons and links large enough to tap easily without misclicking.
Who's doing this well?
Footwear and apparel retailer Kick Game (#4 on the fastest growing ecommerce brand list) embodies the mobile-first approach.
The homepage is sleek and uncluttered, their category pages are clearly laid out with lots of breathing space afforded to different sections, while the specific product pages are easy to navigate with large images of the products.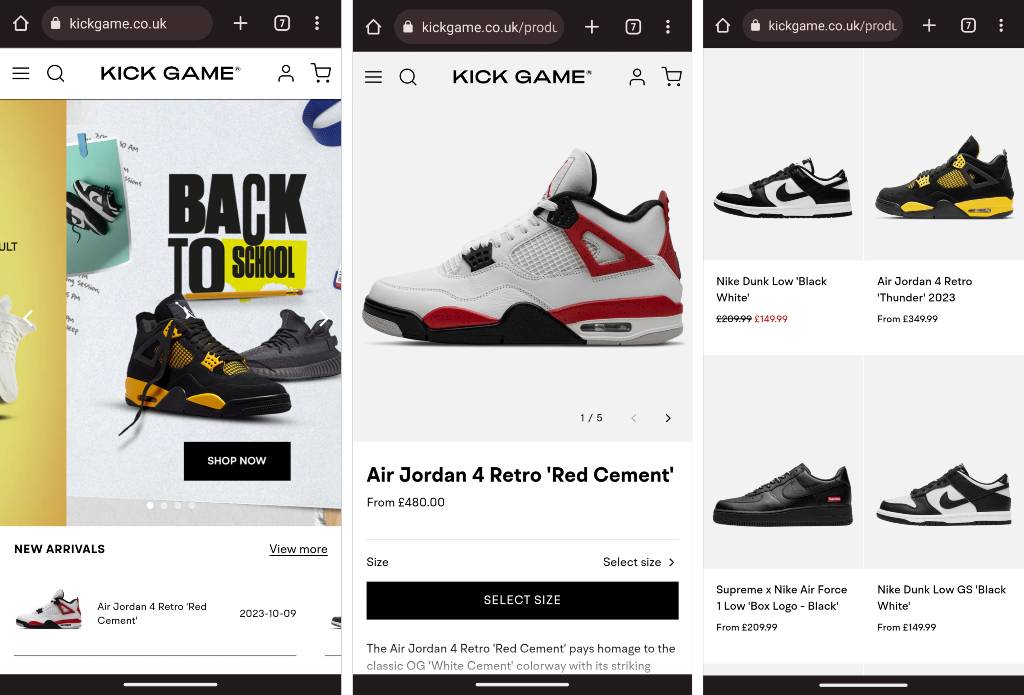 The checkout process is also very efficient, with payment options displayed immediately within two taps of adding a product to the cart. Cumbersome checkout processes are one of the biggest drivers of lost revenue, with studies over the last decade putting cart abandonment rates anywhere between 56.82% and 81.4%.
The key challenges restricting your growth
There are a myriad of unique factors that have an impact on every business, but if you're an ecommerce retailer it's likely one of these five key challenges are restricting your growth in 2023.
1. The competition from Amazon
A key challenge for brands across all sectors is how to beat the competition, but in the ecommerce market there's one business that reigns supreme: Amazon.
As of June 2022, Amazon dominated the US ecommerce market by such a large margin that it exceeded the combined market share of Walmart, Apple, eBay, Target, The Home Depot, Best Buy, Costco, Kroger, Wayfair and Macy's.
Amazon dominates the UK ecommerce market too, although not by quite as large a margin: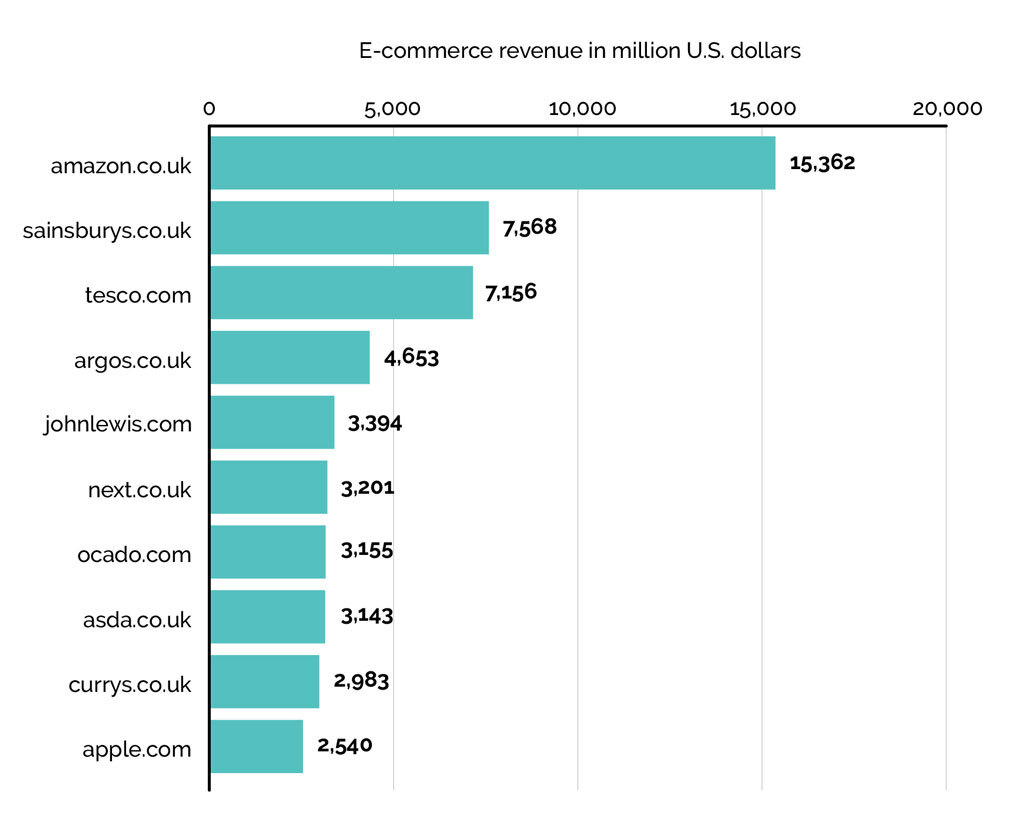 The impact of Amazon on the wider ecommerce market has been so great it's got its own name: the 'Amazon Effect'.
There are three primary side effects of this.
1. It's harder for smaller ecommerce retailers to stand out
The dominance of Amazon isn't restricted to the economic landscape but the search one too.
Google a product and an Amazon listing won't be far away, regardless of whether that's electronics, DIY equipment, children's toys or beauty products. The ecommerce giant appears in Google Ads listings, organic search results and is often the first Google Shopping result, and this was demonstrated in a 2021 Searchmetrics study of the search landscape of seven ecommerce verticals.
The graph below, comparing the organic traffic of Amazon versus the UK's largest retailers, illustrates this organic stranglehold: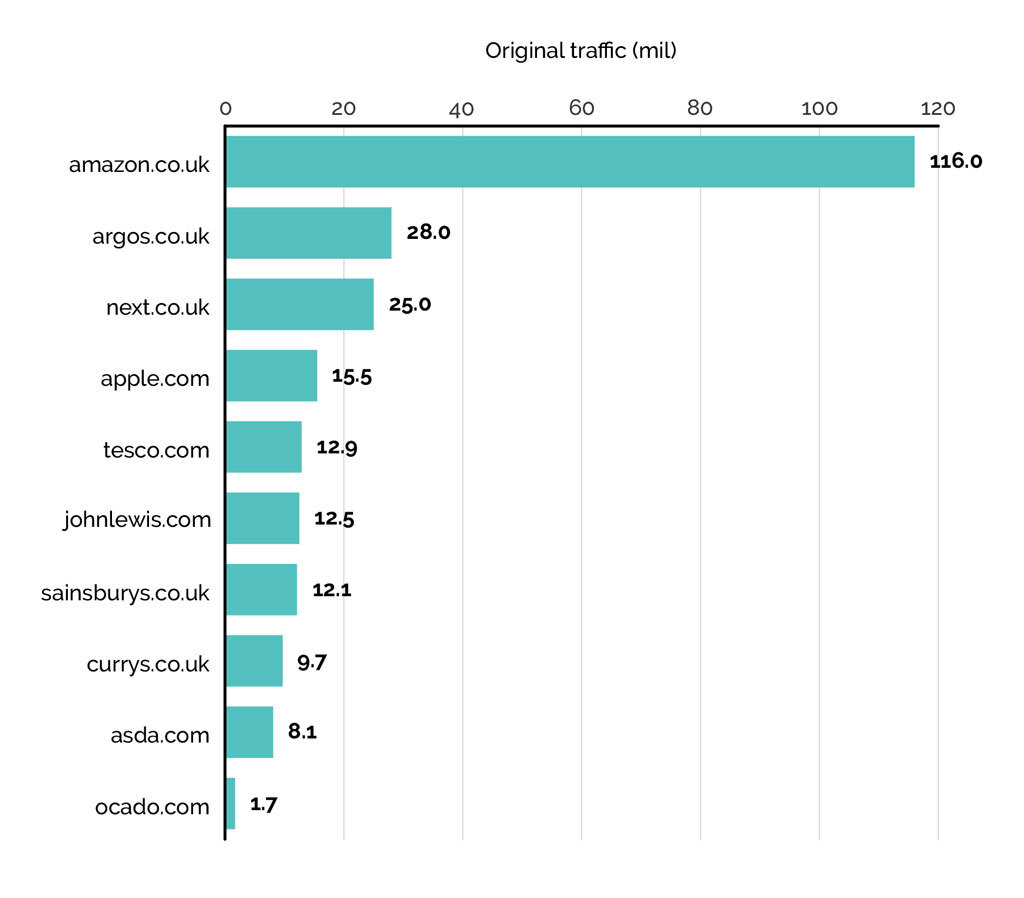 Their market share might not be as high in comparison to the US market, but this domination over the SERPs shows how hard it is for the big players, let alone smaller ecommerce retailers.
Amazon came out on top in four of them (Apparel, Beauty, Health and Sporting Goods), while it was second in the other three (DIY, Furniture and Electronics).
This means that, unless someone is already aware of your brand, it's going to be hard to get discovered online in the first place.
2. The expectation of cheap / free delivery
Although not available for all products, Amazon Prime has changed the game when it comes to delivery. Free next day delivery (and in some cases same day delivery) is no longer seen as exceptional, but it's simply not economically viable for many standalone ecommerce retailers.
If consumers can buy the same product from Amazon and receive it 24 hours later free of charge, why would they pay for slower delivery?
3. It's hard to compete with Amazon on price
Amazon is an aggregated marketplace and this means it can connect consumers with the products they want at the best possible price. What's more, the scalability of a corporation as big as Amazon means it can work to much smaller margins compared to standalone ecommerce retailers.
The cost of living crisis will be adding to this pressure, with consumers more likely to prioritise price over other factors such as brand loyalty. Consumers might prefer to support local and/or independent retailers, but with household finances tight they're more likely than ever before to choose the cheapest option.
2. The cost of living crisis
The majority of Britons are feeling the pinch at the moment, with the cost of living crisis and soaring interest rates impacting households across the income spectrum. A report looking at how the crisis has affected UK, US and German consumers published by Digital River found that less than half of UK adults (47%) reported being 'currently financially comfortable', compared to more than a third (35%) 'getting by' and 17% who are 'struggling'.
As mentioned above, the growth in ecommerce sales slowed in 2022, with 41% of consumers saying that online purchases would be one of the first expenditures they'd cut if they needed to reduce their spending.
However, soaring interest rates and inflation will have hit your ecommerce business in other ways too, with increasing overhead costs and high interest rates making new hires and investment more of a risk.
3. Customer expectations around sustainability
Given the economic climate, price is one of the primary decision factors for consumers right now, but it's not the only decision factor.
We're more aware of how our actions and choices affect the environment than ever before, and this is driving one of the most critical trends in global ecommerce: sustainability.
Ensuring sustainable business practices can mean additional overhead costs to retailers, specifically around manufacturing and distribution, but it's also an opportunity to de-risk your business.
For decades, globalisation and the low cost of production overseas has seen local manufacturing decline, but the pressure on global supply chains caused by Covid-19 (and Brexit in the UK specifically) and increasing transportation costs mean more and more companies are returning to local production.
What's your background in the ecommerce space?
Aira has worked with ecommerce brands just like you before—and we've got receipts…
Discover how we helped ecommerce retailers just like you to increase their revenue, including average order value and customer lifetime value.