What size of agency do you work for?
Taking out freelancers and contractors, the most popular size of the agency was 10-25 people at 24%.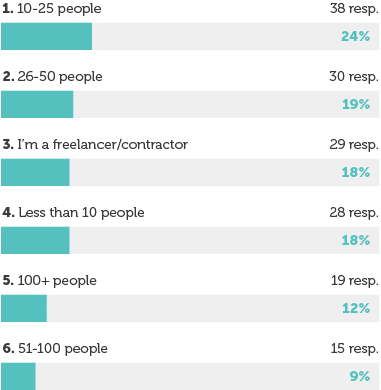 What kind of pricing model do you use for your clients?
We wanted to find out what pricing models agencies and freelancers used when it came to charging for link building services. Multiple answers were allowed here to account for different pricing models for different projects.
The most popular answer was a retainer fee at 55% of responses. The least popular form of charging for link building services was a cost per link at 9%. These responses were very consistent with what we saw in our 2020 survey.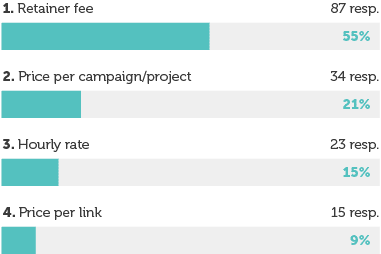 What the experts think…
At 15%, the share of agencies/freelancers charging per link is worryingly high, considering it's not something anyone can credibly guarantee.
Cost-per-link pricing—while understandable—often incentivizes the wrong things. It's far better, in my opinion, to pay for time and expertise.
Do you set a target in terms of the number of links for each client or campaign?
A new question for 2021, we wanted to learn about setting targets for link building either at the campaign level or client level.
Responses were fairly evenly split here, with yes getting the slight majority with 53%.

Do you provide any services on a performance-based model?
On the same theme of pricing models, we asked agencies and freelancers whether they used performance or bonus models for link building. The vast majority (80%) said no with only 20% saying that they did work on an incentive model.

Do you offer your clients any kind of guarantee for link volumes or metrics?
The majority of agencies (73%) said that they do not offer any kind of guarantee when it comes to the volume of links they build, or metrics associated with links.

What the experts think…
It's great to see that 27% of agencies share the risk with their clients and offer a guarantee 🙌

When we first introduced the guarantee back in 2014/2015, we had many conversations with potential clients who confused it with buying links or with a bare minimum situation. The former led to conversations around 'which sites we could guarantee links on' and the latter revolved around the cost per link based on the minimum we guaranteed.

It took some education to explain what we were trying to achieve with guaranteeing a minimum number of hard-to-get links but we can see today that clients are a lot more likely to not only understand but also ask openly about the guarantee from the get-go.

The way I see it, it's only fair that we define clear and measurable KPIs we will be accountable for, especially when it comes to content-led campaigns. The days of "sometimes it works and sometimes it doesn't" are over as more clients look for consistency and in some cases, define their own metrics to measure the value of links.
If I'm not mistaken, guaranteeing links is often associated with suspicious link building tactics, but that might not always be the case.

Occasionally, you hear clients say that "another agency we spoke to gave us a guarantee", but upon probing it comes to light that a guarantee is 10 links or something like that. Well, maybe if you don't promise the world, but promise a target you know that you/your team can achieve for a given client in a given industry - maybe you should just go for it.
In your experience, how has the demand for link building services changed over the last 12 months?
Whilst it has clearly been a strange 12 months and this should be taken into account, the majority of agency respondents (59%) said that demand for link building services has increased. Only 10% said it had decreased over the last 12 months.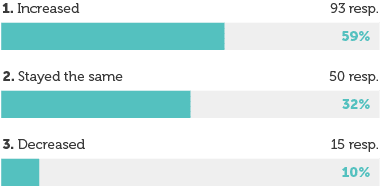 What the experts think…
Although certainly instigated by the pandemic, this felt like the result of a skills-based sea-change that has been predicted for a number of years. Most of the in-house decision makers I've been dealing with asking for these services are new to the role and already have experience with SEO. I'm having to have less conversations about why this is important, and more about how best to achieve it.
This tallies with my experience, the demand for our digital PR team is really high at the moment and you can tell this is the case in other agencies too as there's so much recruitment going on at the moment.
I wholeheartedly agree with this and think we have seen a real shift in demand for digital pr over the past 12 months. The industry is growing at a rapid pace and this has been highlighted in the recruitment efforts of agencies across the sector. Businesses are becoming increasingly aware of the importance of link building for their strategy and this is being reflected in the increase in demand we are seeing today.
Which of the following industries do you think are the hardest to build links in?
Another new question for this year was trying to get insights into which industries were the hardest from a link building perspective for agencies. Respondents said that the healthcare and pharmaceutical industries were the hardest to build links in, with 33% saying this. This was followed by Law (28%) and Accountancy, banking, or finance (26%).
What the experts think…
The pandemic has really shifted the landscape for link building in the healthcare and pharmaceutical industries. I am not surprised to see this industry voted as the hardest to build links to since any campaigns released in the past year have had to strike a balance between being relevant to the current news agenda whilst also being sensitive to the devastation which the pandemic has caused.

Law being listed as the second hardest is interesting to me because my first client in Digital PR was a law firm and I have always found this to be one of my easier client to build links for. With the broad range of services generally offered from law firms, there are often opportunities for newsjacking, particularly in the employment sector.
I'm really surprised that healthcare came out on top here. It's one of my favourite spaces to build links in because things like healthcare and legal are areas where journalists are often very much not qualified to comment and definitely need experts.

So the fact this was deemed the hardest sector to build links in amongst respondents surprises me. And on the other hand, I'd say I have a harder time with areas like computing and IT where the survey's respondents don't often find it as tricky.

I think it highlights the fact that we all have different experiences, we're probably using different tactics and approaches.
Which of the following industries do you think are the easiest to build links in?
On the opposite side of the coin, we also asked agency respondents to tell us which industries were the easiest to build links in. According to 29% of our respondents, the easiest industry to build links in is Leisure, sport, or tourism. This was followed by retail (24%) and Marketing, advertising, or PR (20%).
What the experts think…
I'd have had healthcare at the top of this one again. And hats off to the almost a third of respondents finding it nice and easy in tourism, which I've found harder than healthcare for some time!
This list is indicative of the pandemic affecting different industries, and about a tactical approach regarding relevancy. Sports links from sports journalists can be difficult because of the volume of content available throughout the year. With the pandemic halting play, PRs were able to exploit the gap in the crowded schedule. Otherwise a year with the Olympics, Euros and regularly scheduled leagues should have been more difficult to gain links in, not easier.