Which of the following best describes the company that you work for?
This year, we also wanted to learn more about the type of businesses that in-house marketers worked for. We began by asking what type of business best described them. The most popular response (39%) was national business, followed by Enterprise and Funded startup, both at 27%.
Very few respondents (7%) described themselves as local businesses.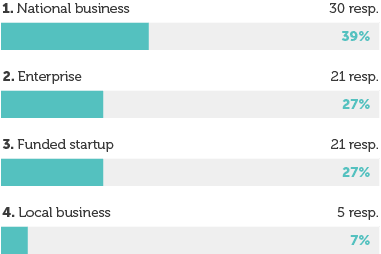 Do you use external agencies, freelancers, or contractors for link building?
Responses were fairly evenly distributed here but tilted slightly towards in-house marketers not using external agencies or freelancers for link building at 56%.
This is a slight reduction compared to 2020 where 63% of in-house marketers said that they didn't use agencies for freelancers for link building.

What the experts think…
This is interesting to see. I was expecting a lot of in-house teams to outsource their link building efforts, especially if testing the waters before building a business case for a full time person. As this is such a solid part of SEO strategy, it'll be interesting to see how this number shifts next year once a lot of companies have hopefully steadied financially after the past year.
Working in-house, I've found it much more scalable to hire an external agency as our Digital PR one stop shop rather than build out the internal team. Reason being, is that budget-wise, it's difficult to get resource for data analysts, designers and devs to support on campaign work internally.
Regardless of whether off-site activity is outsourced or delivered with the resources available in-house one thing remains true, there is no substitute for the time that must be invested to deliver great results. Therefore it's unsurprising to see a relatively even split in the results between both approaches.

On the one hand to truly see the benefit of working with a third party they must be fully integrated into your brand, it's processes and customer goals. It's a common misconception that outsourcing to a third party is an easy way to guarantee results. High quality off-site SEO is so ingrained with other marketing channels it's not simply a case of paying a retainer and waiting for the links to roll in.

With the in-house approach on the other hand you may need to spend time upskilling team members in outreach to deliver against your preferred strategy for achieving great coverage and links. As outreach requires significant time and effort to deliver it can so often be the optimisation that is deprioritised when the client is accountable across the whole spectrum of SEO.
How much budget do you invest in link building each month for external suppliers?
Those who answered yes previously (34 respondents) were then asked how much budget they invested in link building per month.
The most popular answer was a budget of $1,000-$2,500 per month (27%) but this was closely followed by a large step up at $10,000-$25,000 per month (21%). We should note that the absolute number of responses here is fairly low but nonetheless, interesting to see.
Overall, very few (12%) spent less than $1,000 per month with external agencies or freelancers on link building.
What percentage of your overall marketing budget is dedicated to link building?
To add some more context to the previous answers, we then asked what percentage of the overall marketing budget is dedicated to link building. This question was open to all in-house respondents, to capture answers from those who use budget but not on external suppliers.
The most popular response was less than 10% of the overall marketing budget (60%) which is almost the same as the answers we received from respondents in 2020 (61%).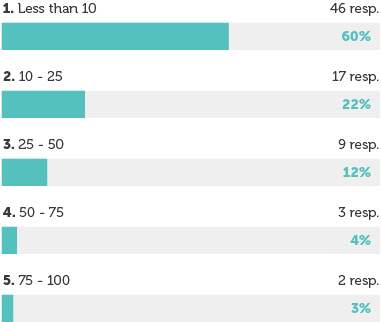 What the experts think…
Link building's perceived importance in SEO and web marketing remains extremely high, yet budgets remain remarkably low. It seems that businesses would still much rather pay per acquisition (so long as it's measurable) than put money into higher ROI but harder to prove channels. I think there's a competitive advantage to be had for those who don't fall into this trap.
I was surprised to note that 23% of respondents indicated that they have no budget at all for link building, when 71% of all respondents either agreed or strongly agreed that Google are still heavily reliant on the link graph from a ranking perspective.

I wonder if perhaps this is at least in part due to the challenges associated with concrete measurement for this type of activity - i.e. it can be very difficult to prove ROI from link building, and as such, perhaps, it's hard to make the case for investment in this area. As an industry we clearly still have work to do on this front.
More than 50% say they spend between 0 and <10% of their budget on link building. I think that makes sense since the majority of professionals stay away from buying links.

At the same time, I think it's misleading for someone who's thinking of starting a link building campaign for the first time to think that it's going to cost almost nothing.

The reason why someone links back to a website is that they found something of value there, that's worth sharing with their friends, readers, followers etc. So there are two things that need to happen for someone to link back to you: you need to produce something of value and you need to make sure others see it.

Producing something of value always has a cost. Sometimes that means spending time and calories, not actual budget, but there is a cost. Depending on the existing resources and goals (not all links are equal, it depends what you're looking to get); sometimes it's better to keep the activity in-house, or it makes more sense to actually carve out budget and have an agency do the heavy lifting.

Promoting that valuable resource is also really important. That can happen organically. For example, at HubSpot, I see that we do get a lot of mentions (and backlinks) organically because relevant content ranks well in search results. That creates a sort of flywheel where we don't need to actively promote a piece to get new backlinks (even in this case, there is a cost of keeping that content up to date and relevant). But if visibility in SERP is not something you can rely on, then again, you need to spend time and effort looking for relevant opportunities.
Web marketers can rejoice that 61% of respondents spend 10% or less of their budget on link building, because it represents an opportunity for everyone else. Link building doesn't guarantee success, but it sure beats wishing.


Following on from this, are you expecting this to increase, decrease or stay the same next year?
We then dug a bit deeper into budgets and asked how this may change or not change over the next year. Nearly half of the respondents (49%) said that they expected their budget to stay the same, whilst closely behind was 48% of respondents who expected it to increase.
Very few (3%) expected their budgets to decrease. This is a continuation of the trends we saw in 2020 and almost perfectly mirrors the answers we saw a year ago.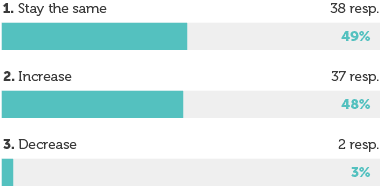 Working in-house, to what extent do you struggle to get buy-in and budget for link building activities?
A new question for 2021 was drilling into the challenges faced by in-house marketers when it came to getting budget sign-off for link building activities. Responses were fairly evenly spread across the difficulty levels here.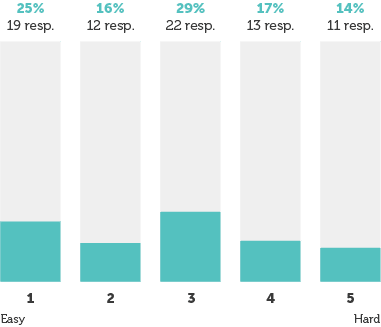 What the experts think…
What's interesting here for me is that almost as many people rated it (fairly) easy (2), as they did extremely hard. My interpretation of this, demonstrates that there is still a long way to go to convince some businesses about the value of link building.
In my experience, getting the 'initial' buy in was extremely difficult because it required a full education on the importance of Digital PR. But once it was signed off and I had resource onboard - it was very easy to maintain sign off for renewal and embed it as part of my SEO process.