Do you use any of the following metrics to measure the authority and/or quality of a link?
When it comes to measuring the authority or quality of a link, the most popular metric used by respondents (61%) was Domain Rating from Ahrefs. This was followed by Domain Authority from Moz with 49% of respondents using it.
What the experts think…
At Moz we'd tend to recommend people use Page Authority above Domain Authority to evaluate a page that might link to you.

Keep in mind that deep or orphaned pages on authoritative sites can have just as low a PageRank as a prominent page on an obscure domain.
This is a tricky topic. We all know the weaknesses of standalone metrics like this and we've probably all seen plenty of examples where a high DR/Da does not correlate with great results at all.

But we have to report, right? And while I'll always try and steer away from these metrics, you sometimes simply have to just deal with the fact that some sort of simple, tangible measurement metrics has to be a part of the process.

I'm not sure there's a single great way to report on the quality of a link and so much of "quality," is completely subjective. I do wonder if, over time, we'll see more people devising their own internal metrics.
As someone who works closely with companies that produce these metrics, our best advice is typically to focus on page-level metrics when link building over domain-based metrics.
If you could only choose ONE metric to measure the authority and/or quality of a link, which one would it be?
We then pushed respondents to select just one metric that they would use if they could only select one. Again, Domain Rating from Ahrefs was the winner here with 36% of the votes, again followed by Domain Authority from Moz with 30% of the votes.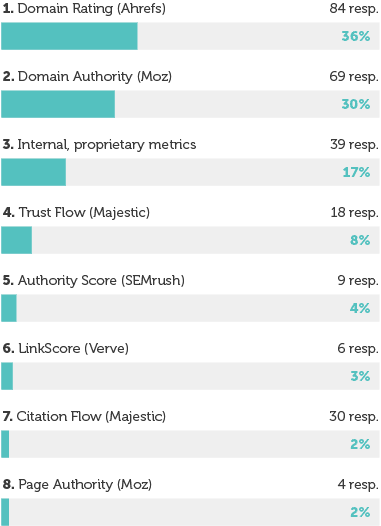 What the experts think…
Glad to see no real dominant leader here. These are all various forms of smoke and mirrors so until there is some kind of industry standard, I'm happy to see linkbuilders use what works for them.
What is the primary KPI you use to measure the effectiveness of link building?
Next up, we asked respondents which three KPIs they used to measure the effects of their link building work. The most popular response (53%) was rankings, followed by the volume of linking domains at 40%.
What the experts think…
A bit odd to see rankings so high up, considering digital PR is likely only responsible for boosting one ranking factor - links, while site rankings are affected by a myriad of factors, a lot of which are outside our control.
Both quantity and quality of linking domains are the easiest things to 'report' on but they're not your main KPI. Tying them to traffic or leads isn't as easy especially when link building is only one 'factor' alongside technical and content.
This will always depend on what sort of agency/team is responding, I think. An out and out PR agency might well have no responsibility over rankings or traffic of any kind, for example.

This highlights the real importance of tying everything back to an objective. If someone is going to be measured on links only and they achieve links but nothing improves in terms of overall SEO performance, you get this situation where someone is giving themselves a pat on the back for hitting their targets while the client/business owners are just out pocket for the project with no return.
Very happy with this result - rankings and organic traffic is what we're doing all this work for so it's great that people are joining up their work with the actual SEO impact.
Do you report on nofollow links (including sponsored and UGC attributes)?
Here, we were keen to learn if respondents reported on nofollow links or not and 66% said that they did. This is an increase from the results of our 2020 survey where 48% of respondents said that they reported on nofollow links.

What the experts think…
Today any link, regardless if it is nofollow or not, is now a potential ranking "hint" for Google, so it makes more sense to report nofollow links in 2021. To be fair, even "followed" links are probably only hints.
Although it's great the majority are reporting on nofollow links, a 1/3 of people not is such a shame.

I'm very much in the camp that I think the SEO impact of nofollow links are negligible, but I still report on them as they still can get traffic and if the link has been placed through digital PR then it's likely the coverage is still a fantastic piece of PR coverage.
If achieved, no-follow links should also be reported, maybe with a caveat that they are no-follow, but the client ought to know the campaign results in full.

Especially if a no-follow link happens to be a link from a great publisher (as they sometimes do), why not report it? It may not count towards the KPI, but chances are your PoC or their bosses might actually enjoy seeing their company linked to from a big publisher.
Do you count nofollow links, including sponsored and UGC attributes toward your overall link target?
Leading on from this, we asked respondents if they counted nofollow links toward their overall link targets. 61% said that they did include nofollow links in their overall link target.

What the experts think…
I'd agree with this, we still count nofollow links as part of our link target. HOWEVER I think you have to be conscious that if you're building links to boost your rankings, nofollow links are likely not going to help much with that. Because of that, if I was seeing a large % of nofollow links for a campaign, I'd perhaps continue outreaching past the target to redress the nofollow/follow balance.
Do you report on brand mentions (i.e. no link) that occurs as a result of link building activity?
Leading on from this, we asked whether respondents also reported on brand mentions and 66% of them do.

What the experts think…
This is a surprising statistic to me since I feel that brand mentions are still worth reporting to a client, even if they are not a primary KPI. Brand mentions can build awareness and visibility for the brand, be used for link reclamation and provide an opportunity to pick up organic links from other relevant sites.
Regardless of whether you believe it affects results, report on everything that has happened as a consequence of your campaigns. Social, print, or mentions, brands are built in multiple channels, and whether it happened deliberately or accidentally, it still happened as a result of your work!
I think it makes sense to report on all types of links (including nofollow links) and mentions and differentiate by the value assigned to each (which has the potential of changing over time).

I would definitely include them in reports and evaluations of campaign performance.
I do digital PR, so for me brand mentions are a nice thing to report back on as it's a standard thing to do if you do PR, though I'm transparent with the client that there is not concrete proof that they will affect rankings.
Do you think that brand mentions influence organic search rankings?
This question drilled into whether mentions of a brand (i.e. no clickable link) could influence organic search rankings. 74% of respondents said yes, they felt that brand mentions would influence rankings.

What the experts think…
I'd love to know whether the people responding "No" here are only thinking about a direct effect (i.e. Google looking for mentions to use as a ranking factor).

Even in the absence of a direct effect, brand mentions are a valid way of bolstering the visibility of your brand, which filters through into organic rankings in a myriad of indirect ways.
Wow I'm really surprised at these results! Personally I don't talk about brand mentions influencing search rankings.