What techniques do you use for link building?
As we saw in 2020, the most popular technique was content marketing to specifically generate links (76%). Over half (54%) of respondents said that they carried out competitor analysis to generate links, whilst 50% use brand mention reclamation as a technique.
Guest posting has dropped down the list a little compared to 2020 with 42% of respondents saying they used it, compared with 51% last year. Respondents who said that they used paid links stayed the same as last year with 27% saying they used this tactic.
What the experts think…
It is interesting to see that newsjacking is so far down the list, with just 33.5% of respondents saying they use this technique. I personally would have expected this to be higher, especially as the number of industry professionals discussing their tips and tricks on newsjacking have grown over the past 12 months. With the unpredictability of the news agenda over the past 12 months and many agencies having to pivot their campaigns during the pandemic, it is surprising that newsjacking was not utilised more. I am predicting that this will increase in popularity this year.
Surprising that almost as many used paid links (I'm guessing this means advertorial content?) as influencer outreach. Also, directory submissions in 2021 - that's a blast from the past.
For me the major surprises here come towards the end of the list - 18.5% are still engaging in press release syndication , and 17.6% are still using article syndication. This is much higher than I'd expected. As an industry I think we're perhaps guilty of assuming these tactics don't work, however given that a fair proportion of respondents are still doing this stuff, I'd love to know how well or otherwise these tactics are actually working.
Shocked to see digital PR / influencer outreach so low. The effectiveness of PR for earning the kinds of links that move the needle is, IMO, unmatched. Not that other tactics can't work, just that few can match the ROI of digital PR.
It's great to see that creating "link-worthy" content is still the chosen tactic for the majority of us in this space. There is only so much we can do in terms of link reclamation and unique, interesting content is definitely the way to go in such a cluttered landscape.
I think this is super interesting as "foundational" link building still sees pretty wide use despite the dominance of content marketing in the thought space.
It comes as no surprise to me to see that content for links remains the most prevalent tactic in use. But I'm quite surprised that Reactive PR isn't more in line with this. Those doing content for links are often doing a ton of outreach around this and the reactive PR side of things lends itself to the same skill set. So I would expect longer term that this would be something we see more of.
In terms of efficacy (and likely this is what's driving popularity), it's hard to argue that content marketing is among the top techniques currently in play among link building teams. Content marketing (which regularly blurs the lines with more traditional PR content and data studies) offers direct value when presented to well targeted prospects. In a sense, the game and the value are both known among the participants and so it is generally a matter of whether the link building team delivers enough value (and relevance) to earn the link placement or coverage. Compare this to guest posting, which has seen a decrease in popularity, largely because the guest post doesn't offer the intrinsic value of high quality content. Therefore, in that space, you're seeing the overall reception to guest posts decline as the tactic is used (and often abused) by an increasing number of SEOs, combined with a rise in the amount of bloggers who want direct monetary compensation for guest blog posts on their site.
Do you use any of the following tools for link building purposes?
At this point, all respondents were directed back to the next few questions relating to tools that they use for link building purposes. For this question, we wanted to know what tools people used the most and the spread of different tools.
When it comes to using tools for link building, the clear winner again this year was Ahrefs which is used by 81% of respondents. Following behind was a fairly close split between Google Sheets (55%), SEMrush (48%) and Moz (43%).
If you could only use ONE tool to help with link building, which one would it be?
We pushed our respondents a little harder here and asked them which one tool they would use above all others. Again, Ahrefs came out on top with just over half (51%) of people saying they'd choose this tool above all others if they could only pick one.
In a big change from 2020, coming in next was BuzzStream which 12% of respondents named as the tool they'd pick if they only had one choice. Last year, 5% said that BuzzStream would be the one tool that they'd pick.
What the experts think…
This was a mean question ha! But I'd have been in the Ahrefs camp as well, I think because the value in understanding what assets across high performing sites are building links is huge. This lends itself to all kinds of link building longer term from helping guide PR strategies to knowing what sites to reach out to to build any kind of relationship and understanding what resources are most often linked to.
AHREFs mindshare here is staggering.
Personally, Buzzstream is the tool I use above all others and the one I would find it difficult to do my job without. I feel that once you start using Buzzstream, you become incredibly reliant on it since it speeds up the outreach process so significantly. I am actually surprised the result for Buzzstream is not higher.
We're obviously extremely pleased to be among the top tools link builders turn to when they need to get results. I think the increasing necessity for a tool like BuzzStream becomes more apparent as the value of well-targeted outreach continues to grow. The days of spamming lists and expecting results are over, and teams need a way to stay on top of their outreach in a way that offers clear visibility for both the people sending outreach and campaign managers. While mass outreach becomes more difficult as time goes on, targeted outreach that is personalized where it makes sense is a competitive advantage for teams; and the ability to build a repeatable process and scale it for that approach will ensure consistent results.
In terms of your usage of link indexes, which of the following tools do you trust the MOST when it comes to link data? i.e. quality and quantity combined.
When it comes to link data, Ahrefs again was the clear winner here with 61% of respondents saying that they trusted their data the most when it came to link building. This was followed by Google Search Console with 17% and Majestic with 9%.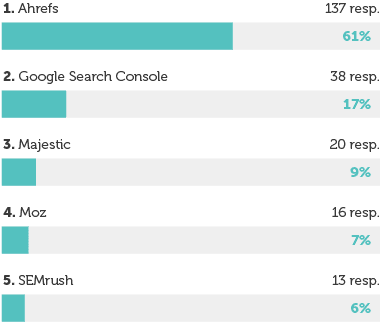 What the experts think…
Poor Moz. They might have the proveably best index, with the largest numbers and best correlation, but they've never been able to convince the market that's true. I think those few years where they weren't as good as others still lingers in link builders' minds. Changing brand perception might be even harder than building a new brand!
Completely agree with this one - find Ahrefs my go to for both tracking what links we're securing for our clients but also have a sneaky look at where our competitors are getting their links from too.
It seems like Moz banging constantly about the chonkyness of their index is not resulting in much traction. Curious if SEMrush will explode here with all their cash.
Do you maintain a Google Search Console Disavow file for the domains that you're responsible for?
This year, we asked respondents to tell us if they used a Disavow file or not in Google Search Console. Answers were fairly evenly distributed with Yes being the most popular by only a narrow margin.

What the experts think…
Disavowing in GSC is another one that I've personally seen draw both positive and negative feedback across social media. Those who've taken part in questionable link building techniques in the past may find value here.

My observation is that more recently, that opinion of the disavow tool has swayed towards negative, with marketers feeling that it potentially isn't as useful as it used to be - but is that a sign that people aren't using it as effectively as they could be?

With that being said, of course Google knows more than us about the links pointing to our domains, so blindly disavowing has the potential to cause harm. I can see why this has split opinion here.
Very surprising result, given Google's advice that most sites don't need to disavow, and their touted ability to simply ignore bad links. While I was once personally a big proponent of the Disavow Tool when it first came out, personally, I hardly every use it today.