What size of agency do you work for?
First up, we asked respondents to tell us how big their agency was in terms of headcount. 25% of respondents were freelancers whilst the agency size was a pretty even split between most responses.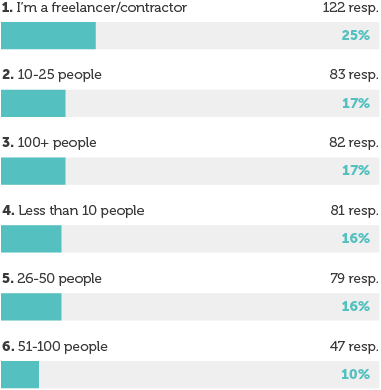 How do you typically structure your budgets for technical SEO work?
Interestingly, the top answers here were pretty much evenly distributed with agency SEOs saying that they structured projects with an ongoing retailer (41%) and a one-off fee followed by an optional retainer which came in at 40%. Bottom of the list came a one-off fee followed by a mandatory retainer at 9%.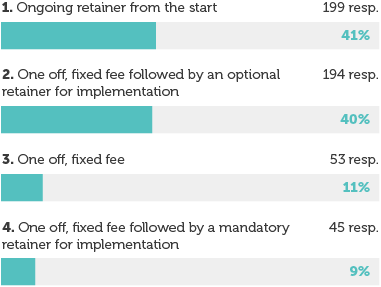 What the experts think…
As a freelancer I would definitely say that the majority of my budgets are like the first two as well. It gives both sides the flexibility and also allows for the client to actually work with you and get things done, with SEO guidance, rather than do something and then walk away. I find that clients prefer ongoing if they trust you and understand that SEO isn't just a fix and leave process - and that's so important for both sides.
No task in SEO workflow is a one-off. Every single task in SEO comes as recurring and technical SEO is no exception. Though the majority of the technical SEO work is done at the beginning of the engagement, there are high chances that you get to do technical SEO cleanup very often on the website. The plugin might break, it might stop supporting, the client might not inform you about the URL changes (You read it right - you get hired for your expertise but often get ignored!) So no wonder the ongoing retailer model is on the top.
I prefer offering clients optional retainers because it helps me structure these retainers better once I have the results of my initial technical SEO audit. I can then estimate the resources needed for implementation. It helps give more clarity to the client and manage expectations better.
How do you typically price a technical SEO audit of a single website?
Leading on from this, we asked how agency SEOs price a technical audit. Nearly half (48%) said that they use time-based pricing which means estimating the days required and using a day rate charge. This was followed by a fixed fee but not tied to days (39%) and in last place with 14% was value-based pricing.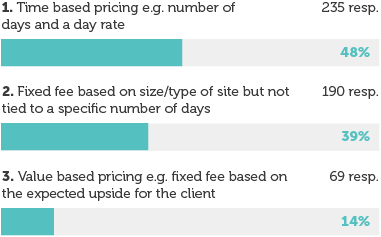 What the experts think…
I find that time-based pricing penalizes an expert for working faster. For example, I create processes for myself to make my work more efficient. It means that what used to take me 8 hours might end up taking 4. With time-based pricing, I'd need to charge less for the same value I provide which does not make a lot of sense. So I think a project or value-based pricing is more beneficial as it concentrates on the outcome rather than the number of hours spent.
Time based pricing sounds more ideal as no one is aware of the problems one can unearth after starting with Technical SEO audit. The size and the type of the website would give you an idea, but each website might through you new challenges and issues to identify and resolve. Typically, a large volume of agency clients' technical SEO audit will be part of the monthly retainer package unless or otherwise, there is a separate ask from the client for a one-off technical SEO assessment.
I'm not surprised at all with this one! It's what works for both sides.
In your experience, how has the demand for your technical SEO services changed over the last 12 months?
A positive response to this question with the majority (69%) of agency SEOs saying that demand for their services has increased over the last 12 months. Only 5% said that demand had decreased.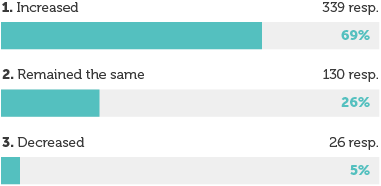 What the experts think…
There definitely is a massive boom at the moment. Whether it is freelance and consulting demand or open roles for (technical) SEOs. A very good time to be (not only) in SEO :)
I find that there is a tremendously growing need for quality technical guidance, especially more recently, following the high number of recent Google Algorithm updates that have stirred the SERPs up a bit. It is essential that clients get the best possible information to ensure that they stay ahead of Google. In a nutshell, the more businesses that are opening, and the more websites that are made, the more need there will be for a robust technical SEO foundation with which to build upon. As more websites use the JS framework to build interactive websites, technical SEO becomes vital for its SEO performance and even crawlability and findability.
Absolutely! COVID saw people have to turn to online to solve almost all of their problems without leaving the house. Funny enough that meant that Search had never been more important. SEO has seen a big uplift in interest over the last 12 months and we've been privileged enough to win quite a bit of new business. However, this has been coupled with 'the great resignation' and a huge gap in talent in the industry. I suspect this is partly due to there being more in-house SEO roles than ever before
Please order the following in order of which ones you spend the most time on. With the task requiring the most time at the top.
Agency respondents said that the top task that they spend the most time (54%) was examining the site to look for issues. Second in the list of where they spent their time with 32% was the proactive improvement of known issues. Then there was a tie in third and fourth places between reactive handling of issues introduced by site updates and working on incremental improvements/testing of new opportunities which both had 7% of respondents say was their top task.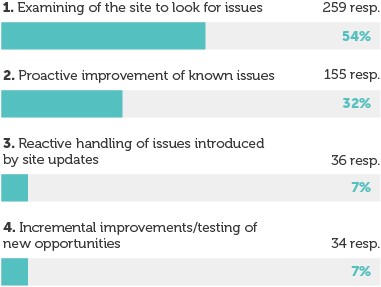 What the experts think…
Clients and agency specialists are always keen to kick off the creative, off-page link building. But in my experience, it's absolutely essential to spend a decent chunk of time up front checking that the site is structurally sound, otherwise the site will not receive the full benefit from all of the great links that your digital PR and content teams build into the site.
How do you typically handle implementing technical SEO tasks that require developers?
Agency SEOs were asked about implementing technical tasks and the most popular answer (44%) was that they worked with in-house developers whilst nearly a third (32%) said that they handled it within the agency.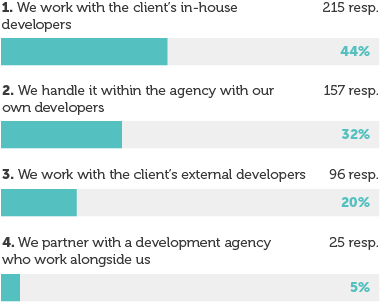 What the experts think…
In my experience, I am inclined towards the agency's web developers as both the SEO and the dev team from an agency are tied up to the results and performance. There are always a few advantages like the easy accessibility, doing the implementation audit right after things go live, collaborative environment, etc.
What's the longest time frame you've had to wait to get a technical SEO change made for a client?
This was a question that we asked to in-house SEOs too and the answers are fairly similar with over 12 months being the most popular answer at 26% for agencies and 23% for in-house.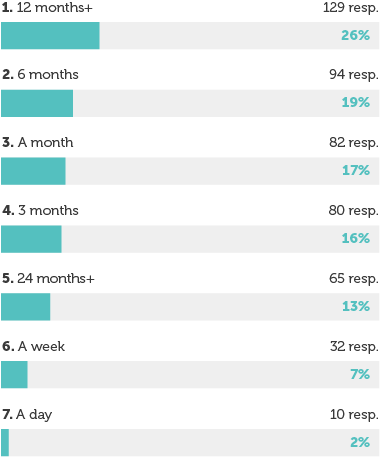 What the experts think…
I would love to see just how far over 12 months some of the individual answers would have been here. I have been in situations where actions weren't taken after 3 years (not from want of trying).
I'm very intrigued by what I'd call the "persuasion gap" between inhouse and agency SEOs.

Yes, 12+ months is the longest for everyone - we've all had BIG, strategic asks that the org takes a long time to implement.

But the second most common longest-time for inhouse SEOs is a month (18.8%) vs. 6 months for agency (19.1%.)

Are agencies making bigger asks, as a rule? (I doubt it!)

On the whole, we ALL need to work on improving our ability to shop our roadmap, influence stakeholders, and get impactful work done in a timely manner. But it appears that agency SEOs need more help here, relatively speaking.

Aside: I am SHOOK by these "1 day" answers. The longest you had to wait was... one day? What magical place do you work? Are they all just... extremely easy tasks? My requests often take more than one day to build, much less deploy!
Fully agree with this from my experience - in house, especially if you use your own in house dev team, takes less time to get fixes implemented for sure, whereas I've found agency side the toing and froing between both sides and account teams etc adds on an extra communication layer (including creating business cases to prove why these fixes should be implemented). I would have expected that the agency side would have taken longer than in house than this - ie the difference of 3% would have been much bigger, but it really does depend on what the fixes are.
The results comes as no surprise. Technical SEO recommendations for many clients in agencies forever remain as JIRA tickets with the status as pending!
What's the typical timeframe across most clients for seeing a technical SEO change made?
Following on from this, we asked agency SEOs what the typical timeframe was for a technical change to be implemented and the most popular answer at 39% was around a month. Only 2% expect to wait more than 12 months.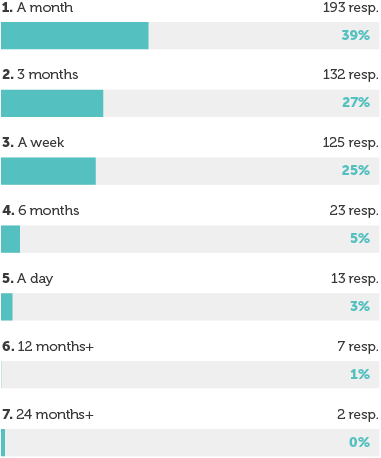 What the experts think…
Interesting that this skews to longer than for the in-house SEO. In my experience when you have an in-house working with an agency you will get faster results by having 'boots on the ground'
What was the main blocker in getting changes made to the site?
In terms of the reason why changes don't get made sooner, the most common reason (63%) was the existence of non-SEO development tasks which we found to also be the case for in-house SEOs.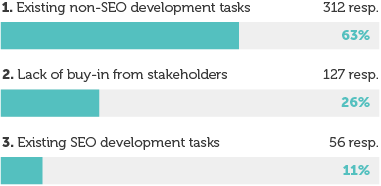 What the experts think…
It's interesting to me that agency responses mirror those from in-house respondents. As I mentioned previously, whilst the majority of respondents cited "existing non-SEO development tasks" as the main blocker; I can't help but feel that this is a symptom rather than the real problem.

Why are those non-SEO development tasks given higher priority? It's likely that those tasks/projects have stronger buy-in (and/or commitment) from internal stakeholders. Again, I can't help but feel like we have more work to do in terms of making stronger business cases to secure the levels of buy-in that other internal teams enjoy.
Isn't it fascinating that 25% of agencies will have gone through an entire pitch process to then still not have enough stakeholder buy-in to get changes made! Lack of implementation is the worst crisis in the SEO industry right now! #hiremoredevs
I'm not surprised about this at all. Unless a client has a dedicated SEO developer resource, and the client knows the impact of the work, they almost always prioritise non-SEO tasks (and more than likely non-UX and non-CRO tasks as well!)
What is your preferred method to present your technical SEO recommendations to your stakeholders?
The top answers here were pretty much even at 31% with Google Sheets/Excel and Google Slides/Powerpoint sharing the top spot. Interestingly, the most popular answer to the same question when asked to in-house SEOs was Dev tickets which only 10% of agency SEOs agreed with.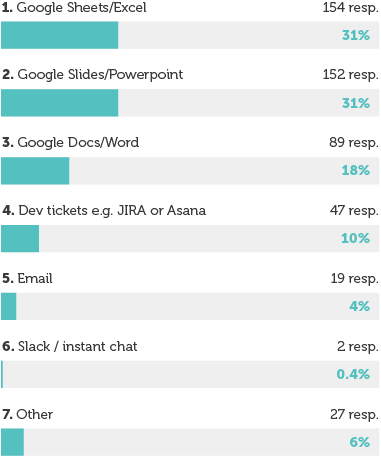 What the experts think…
While working with a client as a consultant, I need more buy-in from them before tasks are created in JIRA or other task management system. It means, I first need to present the recommendations and explain why they are important, align them with the business goals and only then create anything in the task manager.
This makes a lot of sense as agencies spend more time speaking to more generalist marketers about recommendations than directly to developers who just need the excel information. Maybe this is where we struggle as a service provider as it's often so difficult to speak directly to the people that make the changes.
I find here that fewer clients allow agencies to access PM platforms such as JIRA or set up tickets, for sure. And this seems to mainly be about trust. There are some great work arounds where agencies/freelancers can create tickets to be checked by someone on the client side to then push through to the dev queue (and add prioritisation), however, I find that if the client is lacking PM resource then that is less likely to happen/be prioritised.
Absolutely Google Sheets/Excel Spreadsheets. That will enable me to show multiple use cases with Vlookups/Excel functions. This helps build the problem statement and educate the client on the importance of prioritizing the implementation.
Obviously the nature of the engagement, and the client's requirements will likely shape how agencies are presenting their recommendations.

It doesn't surprise me that most agency SEOs aren't jumping straight to creating dev tickets - most of the time this probably wouldn't be appropriate, as there would likely be a sign off stage prior to dev tickets being created.

That said, I am surprised that more agency SEOs aren't presenting recommendations (by presenting, I mean creating a slide deck or similar); instead what they're doing looks more like submitting their recommendations.

Whilst in some contexts this is doubtlessly entirely appropriate, I can't help but feel like there's a real disconnect between the way both inhouse and agency SEOs typically work, versus other types of teams - e.g. marketing, product, etc.

In my experience, other teams like marketing typically present the work they're proposing (they keep this very high level - essentially they're making a business case). From this, they secure buy in, and only then do they begin to do things like submit tickets.

Are we missing a trick here? We're jumping straight into the detail of how this work should be completed, but are we giving stakeholders compelling reasons to care about, and prioritise this work?
Quite an interesting result, especially in terms of the "longest time to implementation" question for agency SEOs.

Though it's very possible that agency SEOs over-rely on Excel as a whole, and that they are trying to tell an "SEO story" in Excel vs. using Excel to present data to tell a story about.

In other words, Excel is sometimes the right place, but only for data, and almost never for the "storytelling".
Do you also schedule a call or meeting with clients to discuss your technical SEO recommendations?
The vast majority (94%) of agency SEOs said yes, they do schedule a call to discuss their recommendations. This is noticeably higher than the same answer from in-house SEOs where 79% said that they scheduled a call.

What the experts think…
Clients who take SEO efforts and investments seriously engage very well in the conversation. I see many clients include their dev/eng team in the call rather than just forwarding the findings/call recording with them. Most of the time, these calls end up becoming productive ones. With the right stakeholder on the call helps to find the right low-hanging fruit as most of the time, SEOs will not have visibility into the website backend/CMS.
How do you prioritise technical SEO tasks in terms of implementation?
Nearly half (44%) of respondents said that they prioritise technical SEO tasks by looking for quick wins which we refined as a big impact but with little effort. Again, this differs from the answer from in-house SEOs where the most popular answer with 42% was expected impact on KPIs.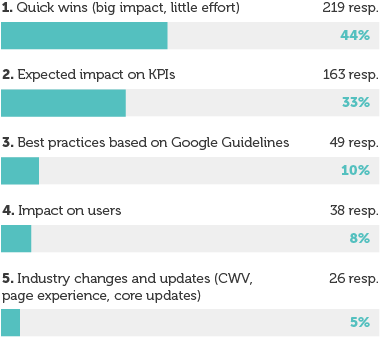 What the experts think…
As an SEO and content strategist in an agency, I'm always thinking about how we can make the client look good by producing the quickest wins to communicate higher up in their business. However, I will also have eyes on the longer-term vision, which are the KPIs that we will be judged against. If there are things that might be in the way of us producing results, such as technical fixes that will hinder the impact of links, then I will always prioritise and maintain the focus around technical SEO fixes that will supercharge link building results.
It is interesting to see the difference in response between in-house and agencies. Agencies are often under pressure to show instant value and showing results from quick wins often helps build trust that will come in handy when you are trying to get buy-in for changes that require significant investment.
I like to use a traffic light system and have a table at the end of the Google Slides that outlines the tasks, a brief description and the priority, high, medium and low.

This works very well as clients can refer to this page (which is also a Google Sheet) and work through them in an orderly manner without feeling overwhelmed.
Sad, but this makes sense to me as a gap - agency SEOs have to "show" wins more quickly to keep clients around (vs inhouse people, where the org most likely already trusts the role/impact enough to make a full-time internal hire in the first place.)

I would hope that there would be a broader focus after the initial "trust earning" process.
I suspect that the reason agency SEOs seemingly prioritise based on quick wins, rather than KPI impact is down to the nature of these engagements.

In my experience there's often pressure early on in a project to deliver some results quickly - if you don't, you'll likely lose the client.

Plus, it's often the case that securing a quick early win gains you trust, which makes it easier to get more complex projects implemented later on in the engagement.
This is really interesting how it differs from in-house. Agencies know we need to show results as soon as possible to buy the trust of our clients so Quick Wins are always a buzzword. The other interesting difference is the importance of industry changes - in-house SEO's seemingly have more time to get swept up in the buzz of things like CWV and prioritise that activity. Speaking for just myself and my team, we see stuff like CWV but if you've already been trying to do good SEO/UX/Speed then these are just titbits rather than priorities
I'm not surprised by this one! Agencies like to show BIG impact - whether it affects internal KPIs or not. The good agencies and freelancers make the effort to help internal teams to hit their goals, and work alongside them to get there. Others may just want to prove that they are doing a good job/their money's worth. This isn't always the fault of the agency, and will vary depending on the relationship with the client and the agency's contact(s) there.
The decision is tied to the engagement model in an agency environment. Most of the SEO clients are with a monthly retainer model where the quick wins create trust and validate the agency's expertise. Where the performance-based engagement model is in place, the "Expected impact on KPIs" makes a lot of sense as it has clear timelines and expectations defined well in advance.
Typically, are your technical SEO recommendations deployed to a client staging environment prior to live?
When it comes to deploying technical SEO changes to a staging environment prior to live, 62% of agency SEOs said that they did this.

Do you carry out any form of A/B testing to understand the impact of technical SEO changes after they've been deployed?
At the moment, the majority of respondents (69%) said that they don't do any form of A/B testing to understand the impact of technical changes that have been made.

What the experts think…
Most clients don't have the budget to waste on testing if something works before rolling it out. Plus I don't think AB testing for SEO is useful for all industries / website types.
I'm not surprised at all by this. Testing can take time and be expensive. Whether in house or working with a client, time can be restricted and stakeholders usually see testing as a 'waste' of time and money, rather than a method of proving whether something will work or not.