A lot of things are going in the wrong direction—but your revenue doesn't have to.
Soaring inflation, rising interest rates, low growth, the constant spectre of recession—suffice to say, it's arguably the worst time for consumers and businesses since the 2008 financial crisis.
The double whammy of Covid-19 followed by the war in Ukraine has led to unprecedented pressure on global supply chains and commodity prices, and this is significantly impacting the prices consumers and businesses are paying for goods and services. The unpredictability of these macro issues are leading to delays in investments, with greater scrutiny of purchasing decisions.
The SaaS sector is feeling significant pressure, and across the industry this is manifesting in reduced sales, pressure to reduce cost and a need to maintain existing client relationships. Meanwhile, some of the biggest players in the industry have had to make significant layoffs.
According to Layoffs.fyi, at the time of writing almost 800 separate companies have laid off over 210,000 employees. This includes approximately 12,000 at Google, 10,000 at Meta and 10,000 at Microsoft.
Many of our clients in this sector are feeling their own versions of this pressure—no doubt your organisation is feeling the strain too.
In this article we're going to take a look at what SaaS leaders are saying about the current situation, the big issues you're probably facing and, most importantly, how you can deal with them.
Want the highlights? Download the report's executive summary.
The view from the top - what SaaS leaders are saying
The threats in the current economy can't be denied, but when Salesforce President & CMO Sarah Franklin, Box CMO Chris Koehler, and Attentive CMO (and ex-Twilio CMO) Sara Varni came together for Mutiny's The Second Lever conference, the message was clear: this is an opportunity for SaaS vendors.
Inevitably, your potential customers are anxious about inflation, supply chain disruption and labour shortages, but SaaS can actually help businesses meet these challenges.
"The three CMOs were also unanimous in the response to whether now was the time to cut marketing budgets—100% no."
"The good thing about SaaS businesses is that technology is the solution our customers are seeing as the way that they're going to automate themselves, get more productivity, more efficiency, and just help businesses run better," said Franklin.
Chris Koehler agreed that difficult economic conditions don't mean that the pain points your software can solve are going away: "It doesn't matter if you're an SMB…or a large enterprise: You're trying to figure out, 'How do I create a better customer experience? How do I engage my customers? And quite frankly, how do I make my employees collaborate in a world that is very hybrid?'"
The three CMOs were also unanimous in the response to whether now was the time to cut marketing budgets—100% no.
"Let's not talk about how we cut; let's talk about how we can be more efficient…Cutting marketing is very short-term thinking, and that's what's going to cut your future growth," said Franklin.
SaaStr founder and host Jason Lemkin agreed: "When you cut marketing you cut the medium term. You're cutting off your pipeline in one, or maybe even two years."
This isn't to say you shouldn't be making sure you're spending your marketing budget more wisely.
At SaaStr 2022, 6sense CMO Latané Conant explained her approach to ensuring marketing campaigns are performing: follow the red.
"Whenever I see an underperforming metric in my marketing dashboard, I proactively investigate to see what needs to be done to turn it green."
These SaaS marketing leaders might be preparing to double down on their marketing in the wake of the current economic crisis, but are they in the minority?
Many SaaS organisations will take the opposite view to the CMOs we've looked at here and, while exercising prudence during tough times is always wise, there are some common mistakes businesses make that will only make things worse…
6 issues SaaS leaders are facing… and how you can tackle them
Issue #1: Marketing budgets under pressure
During challenging times, marketing is often one of the first departments to be scaled back. Many organisations view marketing as a luxury and instead prioritise core operational expenses they deem essential to keeping the business running.
There's also the argument that, if consumers and businesses are investing less money anyway, marketing to your prospects at the same level as during good times is a waste of money.
It's a common reaction, but research suggests that doing so hurts organisations in the medium term.
A study conducted by McGraw-Hill Research (now part of S&P Global Market Intelligence) in 1986 found that 'firms that maintained or increased advertising during the 1980-81 recession averaged significantly higher sales growth during the recession and for the following three years than those which eliminated or decreased advertising.'
Note the reference there to 'the following three years'. Increasing marketing spend during an economic downturn might not lead to immediate results, but you're laying the foundations for success when the recovery begins.
In the wake of the 2008 financial crisis, Peter Steidl highlighted data which supports this from the Profit Impact of Marketing Strategies (PIMS) in his book 'Survive, Exploit, Disrupt: Action Guidelines for Marketing in a Recession'.
The PIMS database showed that return on capital employed (ROCE) increased by 8% for companies that increased marketing spend, by 9% for companies that maintained spending, and 10% for companies that cut spending. Fine margins, but that would suggest you should cut your marketing spend, right?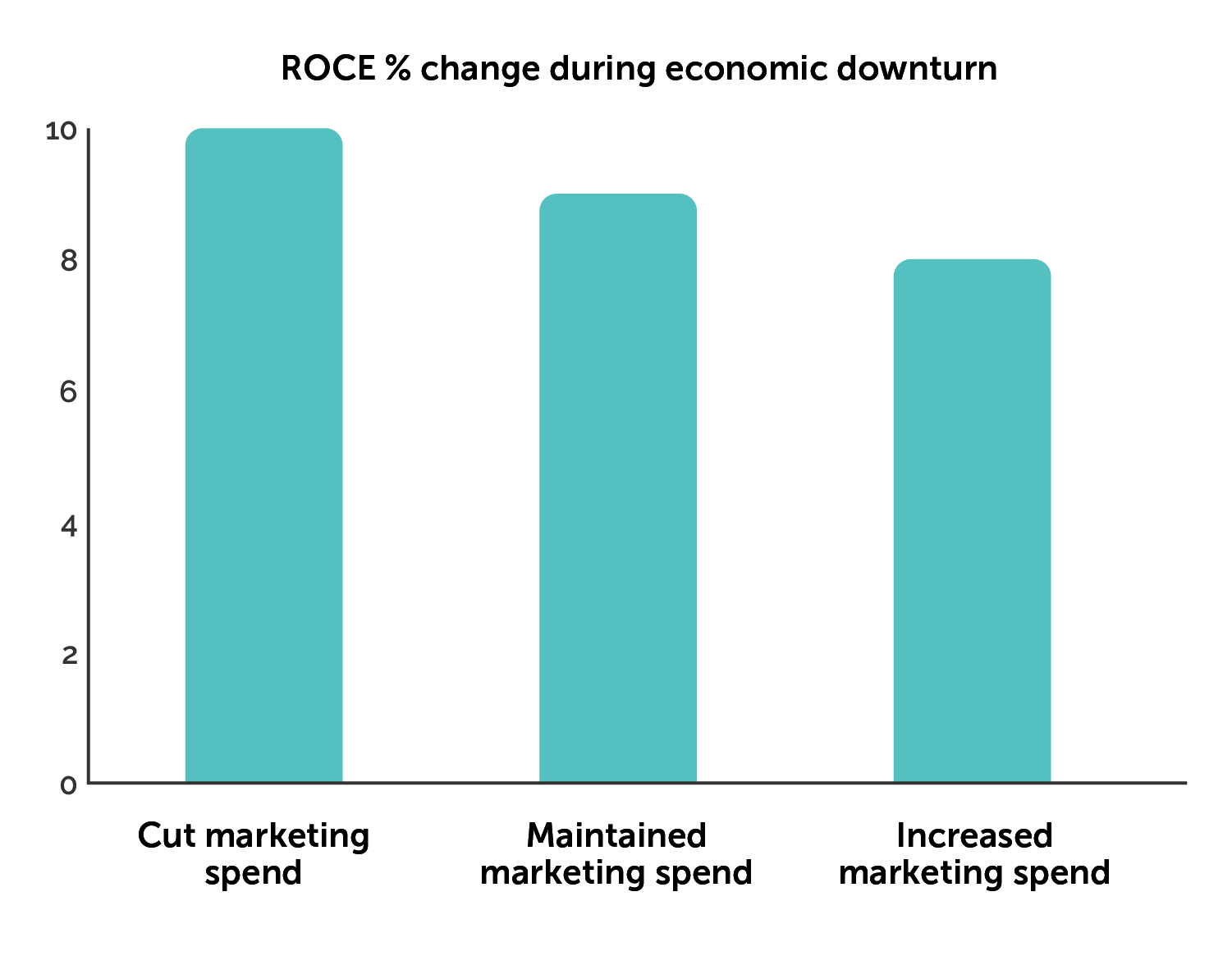 However, when you look at the difference in performance once the recovery begins, it's clear who comes out on top. In the first two years following a recession, ROCE increased by 4.3% for organisations that increased spend, compared to just 0.6% for companies that maintained spending, and a drop of 0.8% for companies that cut spending.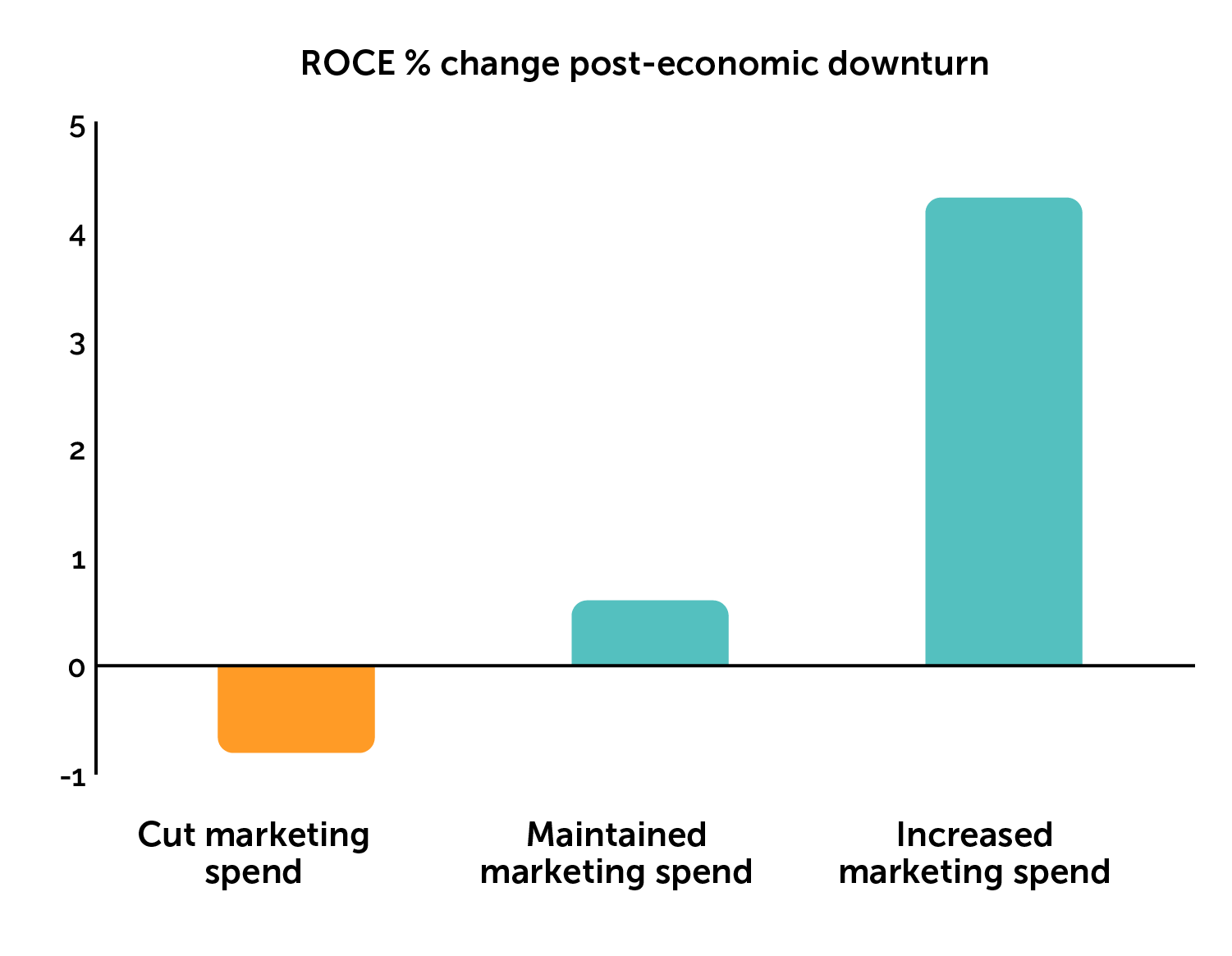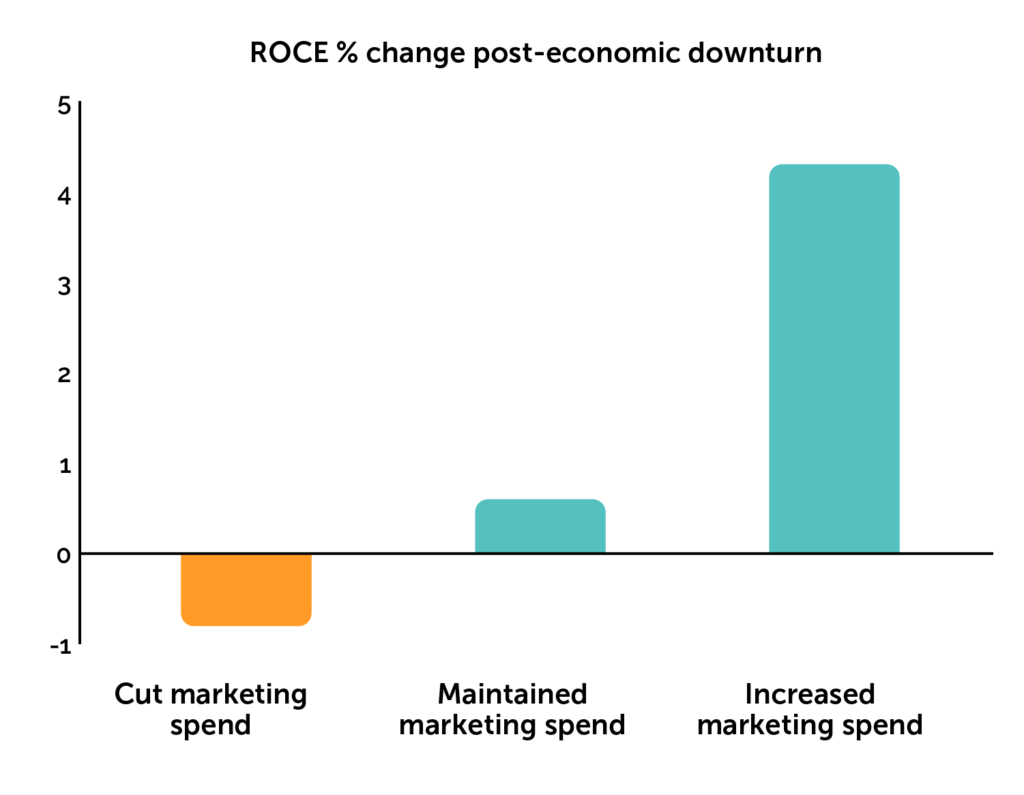 There's a great example from recent history that demonstrates this dynamic.
In the wake of Covid, the travel industry was among the biggest losers. National lockdowns and travel restrictions were in place throughout 2020 and 2021, but Airbnb and VRBO responded very differently.
Airbnb slashed their ad spend during this time, but VRBO stepped it up. Between January and February 2021, VRBO spent $90.8million in advertising, while Airbnb spent just $8.9million.
The result?
VRBO's bookings recovered by 61%, compared to a 15% drop for Airbnb in the same period.
"Be fearful when others are greedy, and greedy when others are fearful."

— Warren Buffet
How to tackle it: Don't talk about how you can cut, talk about how you can be more efficient
You don't necessarily have to take VRBO's approach and increase marketing spend, but the mistake is thinking in terms of cuts rather than efficiency.
You need to get forensic in looking at your current marketing and identifying what's working, what's underperforming and what's flat-out failed. Shift budget towards ad campaigns that deliver the highest ROI, be more discerning in the events you sponsor and scrutinise every penny spent—but don't just implement a blanket cut in your marketing budget. Pulling money from marketing and taking decisions that aren't backed by data is just as likely to cost the organisation money as save it.
Issue #2: Neglecting the decision makers
If you're selling to a B2B market, who's the person you need to convince to invest? Is it the employee(s) who will be using your software every day, or the CXO controlling the purse strings?
Of course, there will be multiple stakeholders in a B2B sales process, but the final decision maker is typically at board level. That's not a profound statement, but then why do so many SaaS vendors prioritise the user buyer in their marketing messaging?
You talk about specific features and why your software is easier to use than your competitors' products.
Valuable points to make, but the economic buyer doesn't care about that fancy widget that no other software offers. They care about how your product is going to impact the top or bottom line.
How to tackle it: create messaging for both user and economic buyers
In B2B SaaS sales cycles the user buyer is often the person conducting the initial research. They'll also be the first person to make an enquiry, so it's essential you have compelling marketing messages ready for them.
However, the further you get into the sales process, the more economic buyers will get involved. Once in the room with CXOs, you can't just deliver the same messaging as with user buyers.
These two groups have unique challenges and you need to be able to show your solution delivers for everyone's needs.
How to sell to user buyers
In many ways, user buyers are your reason for being. Making their day-to-day job easier is what your product is designed to do, and this is how they're going to judge your solution.
This means they want to evaluate user experience and operational impact. Testimonials and reviews from satisfied users are great here, but the best way for them to do so is through hands-on experience of the software via demonstrations and free trials.
How to sell to economic buyers
If you've got a list of target accounts you can either start by trying to get in front of user buyers, or go straight to the decision makers. This is harder, but can be a faster route to sale.
Lots of organisations are trying to secure meetings with the same economic buyers you are, and they're getting reached out to a lot. This means you need to give them a very good reason to take a call or book a meeting with you.
Generic elevator pitches won't cut it. Make sure you've got some quantifiable benefits you can offer straight out of the gate to grab their attention.
For the sales pitch itself, remember that economic buyers aren't solutions experts like the user buyers you're trying to sell to, and they don't have the time to be. In the majority of cases, they simply want to understand the potential return on investment.
During sales pitches, economic buyers love to see case studies and examples of where you've helped businesses like theirs increase revenue and reduce costs.
It helps to get straight to the point with economic buyers too, so avoid padding your presentations with information that's not going to interest them, such as company history and culture. The specifics of your SaaS solution are important for user buyers, but economic buyers don't need to understand how the platform can be used day-to-day, so communicate this with user buyers when the economic buyers aren't in the room.
Put together an org chart
Every stakeholder needs to be considered and engaged with for a B2B SaaS sales pitch to go smoothly. We've talked about both economic and user buyers, but there are key differences within these groups you need to have visibility of.
A detailed org chart will map out everyone within the business and what you need to do to get them onboard: what pains are they experiencing, what are they trying to achieve, what objections might they have to your solution?
This will take some time to research, and you might need to get the support of your Champion within the organisation to make sure it's accurate, but it'll be worth the time investment.
Issue #3: Pressure to prioritise the bottom of the funnel
When generating new revenue becomes more of a concern, SaaS vendors often focus more of their efforts on the bottom of the funnel. This isn't a mistake. In fact, we recommend to the SaaS companies we work with to start at the bottom and work backwards, prioritising tactics that will deliver the fastest ROI.
The issue is when you only focus on the bottom of the funnel. Afterall, 96% of visitors that come to your website are not ready to buy.
Sales teams abandon value-led comms in favour of outbound efforts with cold calls and emails. Marketing stops creating awareness-level content and instead focuses on pushing features and benefits of their software.
It's not a mistake to focus more of your efforts on the bottom of the funnel. The issue is when you only focus on the bottom of the funnel.
There are two problems with this strategy.
Firstly, outbound sales can work for you, but it's hard. Developments in tech and automation have simplified the process in recent years, but response rates have reduced dramatically. Tools, people and economic state make this an expensive—and not always predictable—channel to facilitate growth.
Secondly, neglecting the top and middle of the funnel will see your pipeline dry up in the medium to long term. Event sponsorships, gated content and brand awareness efforts won't necessarily drive sales today, but they do drive the leads that will become new customers tomorrow.
Further to the above statistic highlighted by the Adobe eBook on lead generation, a 2022 study published by LinkedIn's B2B Institute and the University of South Australia's Ehrenberg-Bass Institute for Marketing Science found that just 5% of a business' total addressable market has intent to buy. Further to this, research by Gartner revealed that 83% of a lead's journey is not spent with a sales rep. The final 17% is where a lead is closed and becomes a customer, but they'll never get there without being nurtured throughout the funnel.
83% of a lead's journey is not spent with a sales rep:


That 5% might be where the money can be found today, but neglecting the remaining 95% is going to cost you opportunities in the future.
How to tackle it: implement a multi-channel marketing strategy
If growing revenue quickly is a priority, putting more resources into the bottom of the funnel isn't a mistake, but it could be if it's at the expense of all your other channels.
Make sure you continue with a multi-channel marketing strategy. That means keep posting on your social media channels. Continue creating educational content that helps your prospects understand the solutions to their challenges.
Sales' time will be much better spent reaching out to warmer leads, and it will also help to ensure your pipeline is healthier in 6-12 months. Additionally, utilising both brand building and performance elements in a campaign often increases overall return on ad spend compared with spending on performance channels alone.
Two great examples that demonstrate the impact of brand building - specifically content marketing - are Lumen5 and Moosend.
Lumen5, a dedicated social media marketing tool, went from 25,000 website visits to over 500,000 in less than a year thanks to content marketing—but they also created multiple content offers that captured leads who were at different stages of their buyer's journey.
For Moosend, a marketing platform specialising in email marketing, a full funnel marketing strategy increased their organic traffic by 10X, while they've also created a number of gated resources for converting that traffic into leads, including webinars and infographics.
Issue #4: It's hard to stand out in a crowded SaaS market
You've identified your user's pain points and solved them with an effective SaaS solution. Your pricing is competitive and the UI is slick.
But guess what? You're not necessarily as special as you think you are.
Back in 2012, the average number of competitors for SaaS firms was three. By 2017 this increased to nine, and the SaaS market is still growing rapidly. The global SaaS market is expected to hit $720.44billion by 2028.
Your solution might be the best around, but don't overestimate your USPs and expect them to speak for themselves.
This isn't just about the specific features of the software. For example:
Your solution might have the most comprehensive functionality, but if your onboarding and knowledge base is poor people won't be able to use it.
You might be the lowest cost solution on the market, but you don't offer a free trial.
How to tackle it: effectively differentiate yourselves from the competition
In order to ensure your SaaS product stands out from the crowd, you need to understand what the crowd is offering.
Conduct thorough competitor analysis to identify their strengths and weaknesses, and user research to discover what your prospective customers actually want from a SaaS product.
From this research you should develop (or refine) your ideal customer profiles (ICP) and buyer personas.
Note that these aren't the same thing.
ICPs are only relevant to B2B SaaS vendors, and describe what your perfect customer looks like—a fictitious company that boasts all of the qualities you'd want from a customer that's the best possible fit for your products or services.
Help me define my ideal customer profiles
By contrast, buyer personas are a semi-fictional representation of the people that buy from you. For B2B SaaS sales, they refer to the decision makers involved in the sales cycle, including both user and economic buyers.
Help me define my buyer personas
Having a clear understanding of what motivates your customers will help define your marketing efforts, as well as how your product and processes can be optimised.
If you're best-in-class in one aspect of your solution make sure you're emphasising that during sales meetings. If you're lagging behind in another, put more effort into improving that aspect of your offering.
In a crowded SaaS market differentiation is essential, and this requires an organisation-wide effort to understand and communicate where the value in your solution lies.
Also remember that businesses and consumers make decisions based on subjective criteria too, so it's not enough to simply push software features and neglect to consider how your marketing and sales strategy makes your target audience feel.
There's also a connection here as to why cutting marketing budgets is a mistake. Reducing your presence in the market will give your competitors an advantage in the fight for your target market's attention, and it might be hard to recover when the economy improves.
Once you've clearly identified the needs and challenges of your target market, and how you stack up against the competition, you need to nail your value proposition to ensure you're standing out in your market and speaking directly to your personas. Again, this requires input from multiple teams—not just marketing. Sales, account managers and customer success reps will all have valuable input here in helping marketing to craft messaging that answers the target market's pain points, having engaged with them throughout different stages of the user journey.
Issue #5: Pressure to focus on new leads/sales at the expense of existing users
We get it.
Growth is slowing down, the economic forecasts aren't looking good and you're worried about hitting your revenue targets. It's time to focus all our efforts on generating new leads and closing new customers, right?
This isn't just a common mistake that SaaS organisations make—it's a mistake businesses across sectors make.
Yes, generating new business is crucial to growth, but it's your current users who are the foundation of your annual recurring revenue (ARR).
If the organisation neglects existing users you're going to see an increase in churn and find it even harder to meet those growth goals.
Current users who are the foundation of your annual recurring revenue (ARR).
Kevin Stoll, Vice President of Capgemini told SaaStock: "You still see large organisations overspending in areas that aren't related to retention of customers.
"They still have too many focuses: they're trying to break into multiple geos and launch new products."
But what might this 'neglect' look like?
Cutting the Customer Success and Service teams and trying to manage existing users with less resources.
Focusing all of your marketing efforts on new business and not sharing product updates, special offers and educational content with existing customers.
Focusing all of your sales efforts on new business and missing out on upsell and cross-sell opportunities from existing customers.
How to tackle it: Work closely with Customer Success teams to ensure you're driving retention and long term usage
New business will (almost) always generate greater net new revenue, but you're not going to grow MRR and ARR without a satisfied existing customer base, and there are three key reasons for this:
Increased customer churn
A 2022 survey of 110 private SaaS companies found that the median gross dollar churn for the sector is 14%.
The more you shift your focus from existing users to new business, that 14% is only going to increase, but you'll also see an increase in involuntary churn: the result of expired credit cards, technical issues etc. It's estimated that as much as 40% of churn could be caused by losing customers who don't even want to leave.
Fewer positive reviews and referrals
One of your most powerful sales tools are existing users.
G2's 2021 Software Buyer Behavior Report found that '86% of software buyers, across segments, use peer review sites when buying software', which means your potential new customers will be deterred by negative reviews—or a lack of positive ones.
This is the rationale behind HubSpot's Flywheel model.
It explains the momentum gained when the entire organisation is aligned around delivering an exceptional customer experience.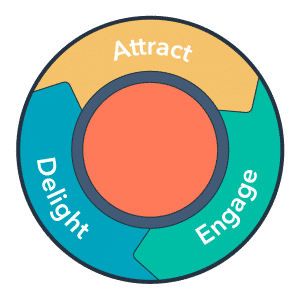 Existing customers are also a new revenue opportunity
As mentioned above, a new customer will probably always offer a larger net new revenue opportunity—but upsells and cross-sells from existing (and, most importantly, satisfied) customers might be easier to close.
"The cost of acquisition is quite a bit lower. You already know their preferences and what they do, and they know how they use your product," said Kevin Stoll.
They already know your product, hopefully understand its value, and will be more open to investing more money than someone who's never used the software before.
Issue #6: It's hard to find the right marketing partner
The vast majority of organisations—from B2B to B2C, from SaaS to ecommerce—use similar strategies and market themselves across the same platforms. So, as long as you're working with marketing experts, you're in safe hands, right?
Not really.
A marketer or marketing agency who doesn't specialise in a particular niche (such as SaaS) might be an expert in Google Ads, SEO, copywriting or social media, but they don't necessarily know your market, understand a SaaS sales cycle or the KPIs that matter most to you.
How to tackle it: work with SaaS marketing experts
If you're looking to make an internal hire or employ the services of an agency or freelancer, make sure they have experience in the SaaS market. If it's the latter, ask for case studies and testimonials from SaaS organisations they've worked with.
Not every agency will be able to back up their claims with examples that demonstrate genuine results. Some can...
Three years after the outbreak of Covid-19, the way we think about work has changed forever. Following the shift to remote and hybrid working, companies had to quickly figure out how best to support a remote workforce, and this accelerating a shift to cloud based HR solutions, as demonstrated by ISG in their HR technology trends survey for 2021.
HR professionals and the C-suite are looking for HR SaaS solutions that can help them adapt to the new ways of working, whilst looking after employees and providing them with a frictionless experience when it comes to HR. The shift to remote and hybrid working has been welcomed by many people across industries, but it's created challenges too. Around 20% of employees struggle with loneliness while working from home, while 67% say they feel less connected with colleagues.
The turmoil in the jobs market over the last few years that has boosted the search demand for HR software is significant, with the rapid development of AI tech starting to influence the recruitment process. Indeed, 92% of HR leaders are planning to increase use of AI as a solution for rising talent challenges.
However, very few providers are capitalising on this demand with an effective SEO and content strategy. Some are succeeding and taking a lion's share of the traffic on offer, but still leaving money on the table for others to take.
Below, you can read our research into the HR SaaS market. Find out who's winning and importantly, how you can claim more of the growing revenue on offer from an industry currently valued at $24billion and expected to reach over $35billion by 2030.
The tldr: who is winning, why, and how to beat them
Of the 25 firms that we researched, Gusto is winning in terms of the sheer volume of traffic that they are generating from organic search, particularly in the United States. They appear to be doing this via:
A large marketing team of over 50 people, many more than competitors

A relentless focus on producing content for their target audience

Very strong brand awareness via broad, popular keyword rankings

Excellent customer support content which also brings a lot of search traffic

Genuinely useful, free online tools and calculators for their target audience to use

Strong backing from a range of investors
How you can compete with them without hiring 50 marketers
Whilst hiring 50 marketers would help, it's not something many of us are able to do overnight. Also, hiring lots of people will count for very little if you don't have the right strategic approach in place. The good news is that you don't have to do this in order to start grabbing hold of some of the opportunity to acquire more customers and grow your market share. You can do this by focusing and executing on a few key areas:
Connect the key features of your HR software with the pain points of your ideal customers, then map these features to a robust content strategy, backed by SEO data and insights.

Split your content strategy into targeting for customers who will use your software every day and customers who hold budget and influence over the decision making process.

Create unique tools for your target customers which go beyond day-to-day HR issues and capitalise on our changing world, such as tools for team wellness and remote working.

Connect your content strategy to marketing automation tools, utilising gated content for lead generation and nurturing for your sales team.

Leverage a thought leadership approach, backed up by industry reports and data to establish your credibility and brand awareness on relevant publishers.

Build relationships with key journalists and bloggers who write about HR software on a regular basis.
Or, just hire us and we'll do all of this for you.
Now, let's get into the details and show you why this is the right approach to grow your organic search traffic.
The organic search landscape
Using data from Ahrefs, we're able to see who is the organic search market leader based on the volume of keywords that they rank for globally, combined with the estimated number of visitors they are getting from those keywords each month. Here is the top 10: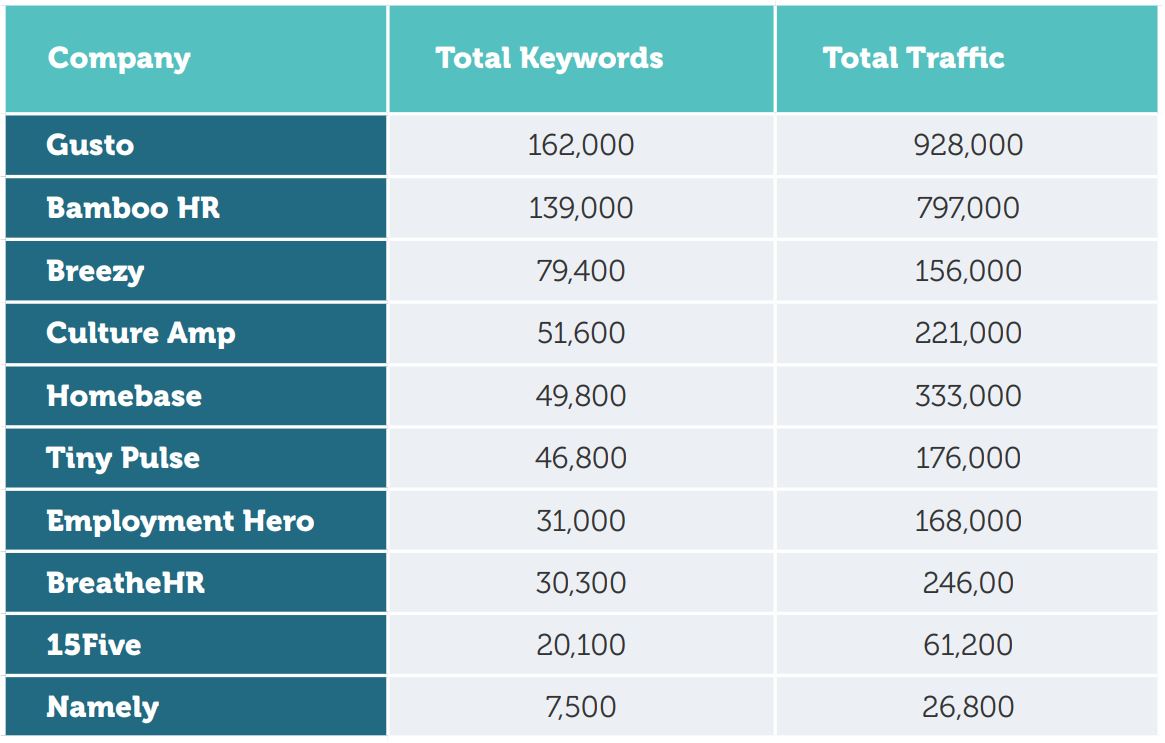 As we can see, Gusto is far and away the leader when it comes to the overall number of keywords that they are ranking for, plus the estimated amount of traffic that they are getting as a result. Let's take a closer look at them and what they are getting right.
Gusto is generating most of their traffic from the US market which is one of the larger markets and it appears to be where they are most active. They also seem to have a large marketing team of over 50 people and they are producing a LOT of content via their blog and resource sections.
The marketing team is certainly doing a lot of things right when it comes to content. One example is their Resources section which includes things such as Business Planning calculators and Employer Tax calculators which HR professionals may use and bookmark. Placing your brand front of mind with HR professionals by providing something of value is a great way to build your brand via search and increase the likelihood of them becoming a future customer.
These tools and calculators appear to generate a decent amount of traffic whilst also attracting links to the domain with 405 linking domains to the /resources/ section alone. This means that they are not only attracting traffic, but they are also increasing the strength of their domain which in turn, will help attract more search traffic.
It's also worth noting that they're not the only ones enjoying success here. CharlieHR hasn't scaled the idea as much as Gusto, but do have a holiday calculator and holiday pay calculator which ranks well and gets links. This approach seems to work well in this sector and whilst this can make it harder to stand out with such an approach, it is worth considering for a brand wanting to capitalise on what is working for others. With the current changing landscape, HR software firms need to be asking themselves how they can provide valuable tools that can help with hot topics such as remote working and employee wellness.
Gusto also has an extensive blog section which alone generates a huge chunk of their traffic and, given that they rank for over 200k keywords (far more than competitors) we can safely assume that they get a lot of long-tail traffic too.
Alongside these sections, they have a very detailed support subdomain that ranks for over 30k keywords on its own - this appears almost by accident because many keywords are similar to those they rank for on the blog.
Whilst they are doing a lot of things right, a byproduct of their success appears to be that they are generating a lot of traffic which may not be leading to potential customers. For example, some of their most popular keywords in terms of traffic generation are:
[gross pay]

[pay stub]

[what is net pay]
These keywords are related to what Gusto provides but if we assume that their target market is business leaders and those who work in HR, these people are unlikely to be Googling these types of words.
Therefore, they are probably generating a lot of traffic which isn't necessarily leading to conversions or customers. This isn't to say that they are actively doing things wrong here, but when it comes to analysing their success, we need to bear in mind that a lot of their traffic may not be the traffic that you'd also like to target.
Aside from Gusto, we can see that BambooHR is second in our list of HR SaaS companies winning with their SEO strategy. BambooHR has closed the gap significantly on Gusto in the last few years, and now receives just ~14% less traffic than Gusto receives (still mostly US focused). Like Gusto, they are doing a good job with content production.
Their blog generates a lot of traffic and they have smartly created a glossary section that not only attracts traffic but also generates links. They seem to suffer from a similar problem to Gusto here in that the glossary will generate a lot of traffic but much of this traffic isn't likely to be decision-makers in the HR or business leadership world.
Another area where BambooHR performs well is their webinars, which are run regularly and touch upon trending topics that are likely to appear to their target audience. They are also allowing previously run webinars to be accessed on-demand, and gating them to ensure they continue to generate leads. Many webinars are in partnership with related, non-competing companies which almost certainly gives each webinar more reach to a relevant audience.
Alongside webinars, BambooHR has a range of other gated content. Not only is this content generating leads, but some of these pages also rank well in organic search.
For example, thanks to its range of resources, BambooHR are ranking on page 1 in the US for the following keywords:
[compensation trends 2022]

[experience report]
[rethink recruitment]
[work from home expectation vs reality]
Whilst these keywords do not have lots of search volume, they are likely to be used by HR professionals who may become customers for BambooHR.
The organic keyword landscape
Whilst a relatively niche sector, keyword search volume in the UK and the US is pretty substantial. Our research showed that even if we just take the top ten most searched for keywords, the total number of searches per month is over 4,000 in the UK and nearly 12,000 in the US: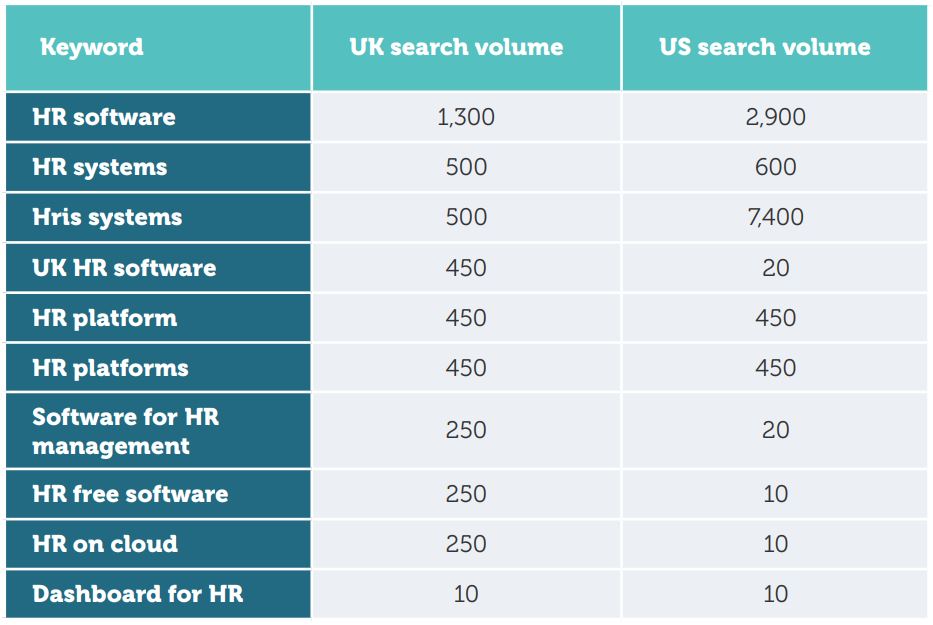 This is just for a small sample of ten keywords which shows the sheer size of the opportunity available to companies who are able to take advantage and get their SEO strategy and execution right.
The advantage of keywords like the ones above is that the intent behind them is very, very clear. Someone conducting a search for [HR software] is likely to be researching their options for trialling and onboarding HR software. Contrast this with the keywords we discussed earlier such as [gross pay] and [pay stub] that Gusto are ranking for and we can see a clear difference with intent.
The value of these keywords
We can understand more about the importance of targeting these keywords from an organic search perspective if we look at how much it would cost you per click to get traffic using Google Ads: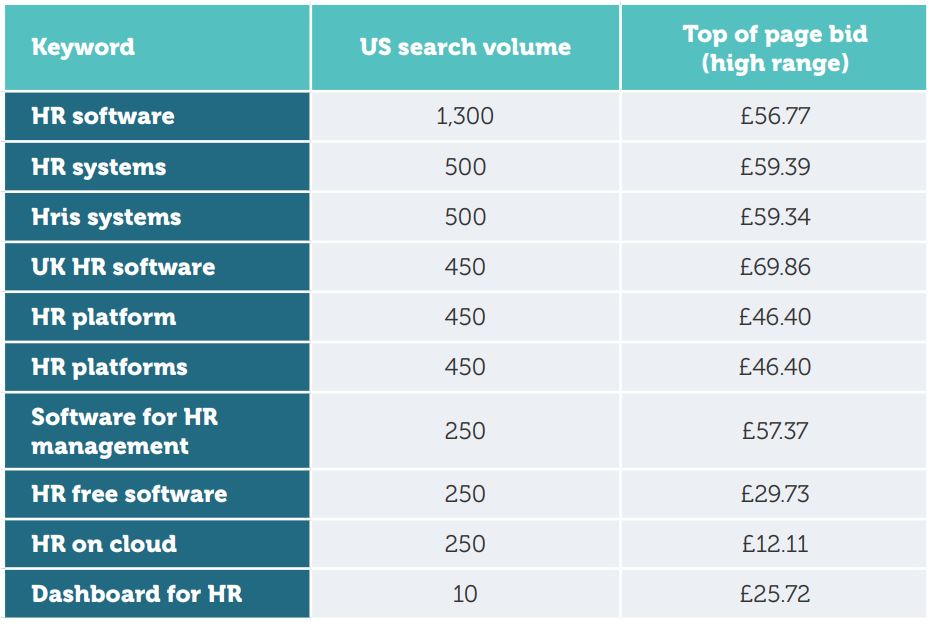 We can see that we could be paying up to £69 per click to get traffic for these high commercial intent keywords.
Here is how the picture looks for the top keywords in the US: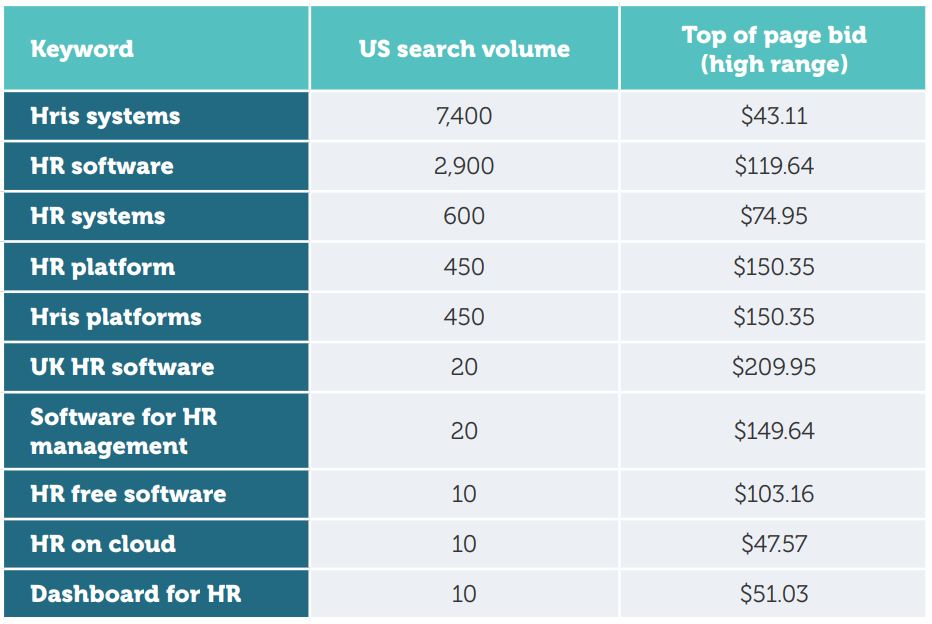 Here, you could be looking at paying up to $210 per click for these types of keywords.
Whilst paid media should be part of every brand's digital marketing strategy, this shows the need to not be overly reliant on paid traffic and that organic search needs to share the load. Not to mention that as the market becomes more competitive, the costs for paid traffic are likely to increase every year. Indeed, the US CPC has increased by almost 300% in less than two years.
Who is winning with these keywords?
In terms of who is winning SEO if we focus on just keywords with a high level of commercial intent, this is how the list looks when we checked the rankings for over 200 keywords: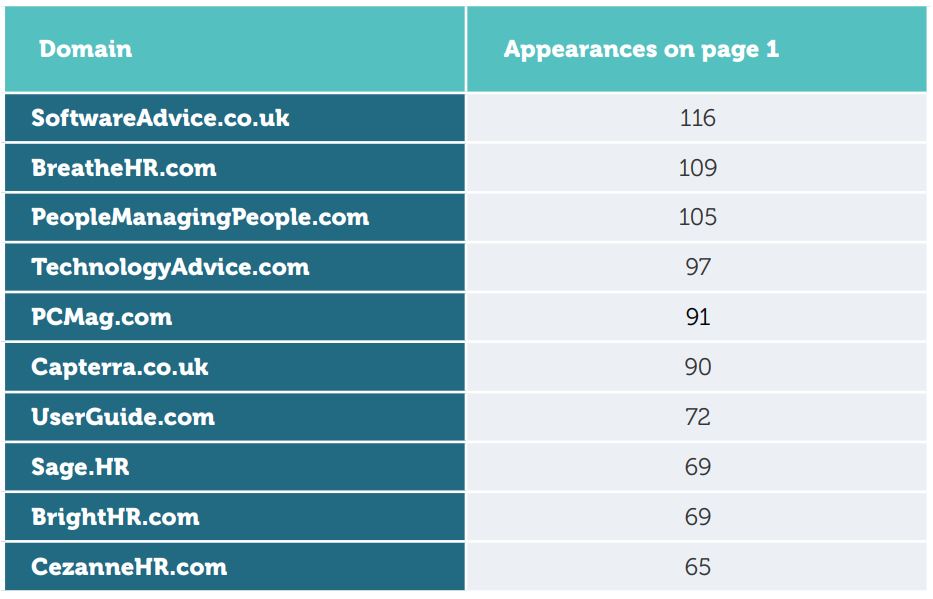 What you'll notice here is that very few of the companies who are getting the most traffic overall, such as Gusto, perform as well when it comes to high commercial intent keywords. This presents an opportunity, but not the only opportunity. This data also reveals another element that needs to be part of your SEO strategy - publishers.
This list includes publishers who have written content on the topic of HR software—including these articles from PC Mag and Tech Radar—as well as comparison sites like SoftwareAdvice.co.uk, TechnologyAdvice.com and Capterra.co.uk.
This tells us that Google wants to show a mix of software providers and publishers on page 1, meaning that sometimes, users are looking for different types of results. In terms of SEO strategy, this opens up another avenue for us to grow our business. Not only should we try to rank directly for these types of high commercial intent keywords, but we should also build relationships with publishers who produce content related to our product.
The paid media landscape
So far we've looked at what HR SaaS companies are doing with organic search, but what about paid media? Organic traffic is great—after all, it's "free"—but, as we touched on earlier, a lot of these companies are ranking for terms that might not be quite right in terms of search intent. An effective paid media strategy should get your brand and value proposition in front of the right people.
How much are HR SaaS leaders spending?
Gusto might be winning on the organic search battlefield, but the picture is different when we look at Google Ads—at least, they're not competing as hard.
While Gusto were ahead on total HR software-related ranking keywords, and organic traffic, they're a long way off the biggest Google Ads spenders in this space.
Let's take a snapshot of this by looking at the activity around search terms related to 'hr software' in December 2022. The below table shows the five biggest US Google Ads spenders compared to Gusto.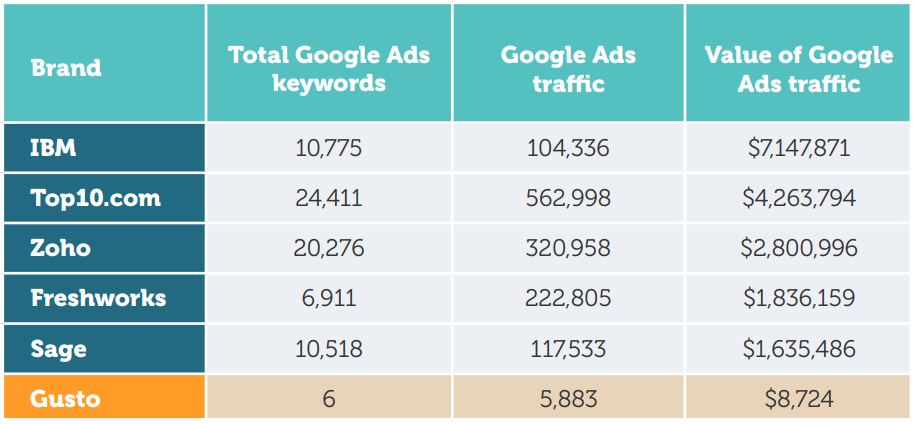 Clearly, Gusto has a much smaller budget than the likes of IBM, Zoho and Sage, but they've clearly prioritised what to bid on. According to Semrush, Gusto was bidding on just six keywords in December 2022, but those keywords yielded an average of ~1,000 sessions each. By comparison, IBM's keywords are yielding an average of just ~10 sessions each.
We were a bit surprised to see IBM appear at the top of the list for Google Ads spend. After all, the American corporation is known for hardware and IT software, not HR solutions.
The landing page IBM is sending people to is for IBM Watson Orchestrate, a 'personal digital worker' (which they're also referring to as 'digeys') designed to provide HR, sales and operations professionals with their own interactive AI to help with mundane and mission-critical tasks. It's not really a competitor to the other companies we've reviewed, but it's interesting to note they're spending on what appears to be very top of funnel keyword terms tangentially-related to the product.
Interestingly, of the 10 HR SaaS companies performing best for organic, only three appeared in our paid media report for December 2022 in the US (BambooHR, Culture Amp and 15five), while just two appeared in the UK report (Employment Hero and Culture Amp). Are the organic HR SaaS leaders choosing to rely on that organic traffic, rather than commit budget to Google Ads? Unless their organic traffic is converting at a high rate, this could be a missed opportunity.
What content is being promoted?
Let's take a closer look at where this Google Ads traffic is actually being sent, as well as what content is being promoted on social media.
Google Ads
Below shows a selection of the advertisers bidding on the search term 'hr software' in the UK: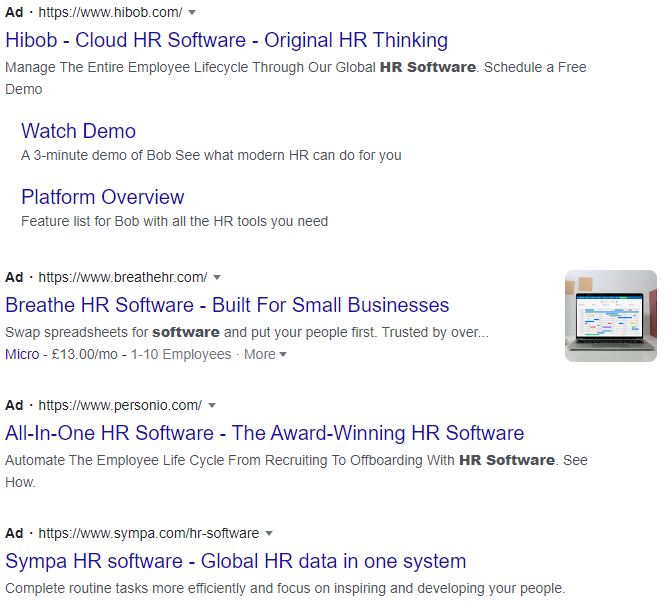 Unsurprisingly, given the intent of the search term, the ads here are directly promoting the software. As such, all four ads lead to landing pages detailing the specific features of the platforms, as well as offering software demos.
Facebook
Gusto is also currently running ads on Facebook. From what we can see in Gusto's Facebook Ads Library, all of these ads are bottom of the funnel: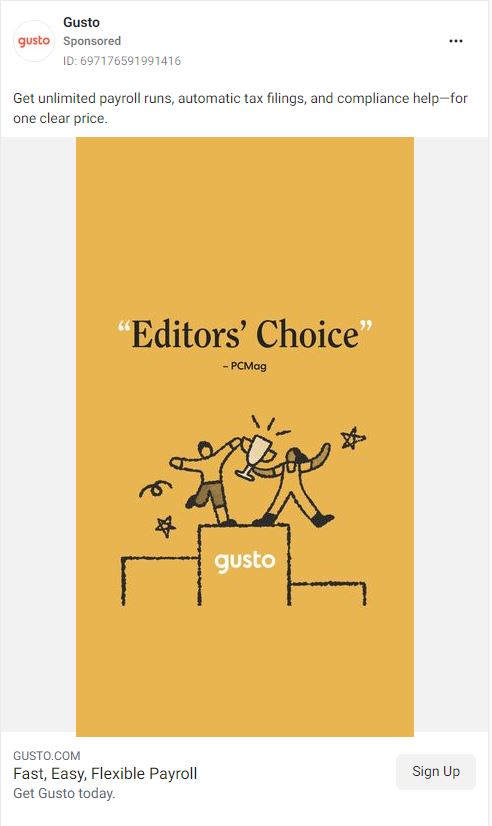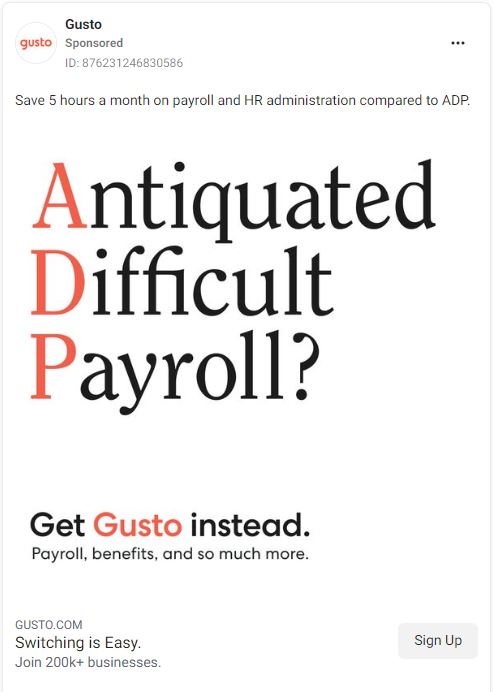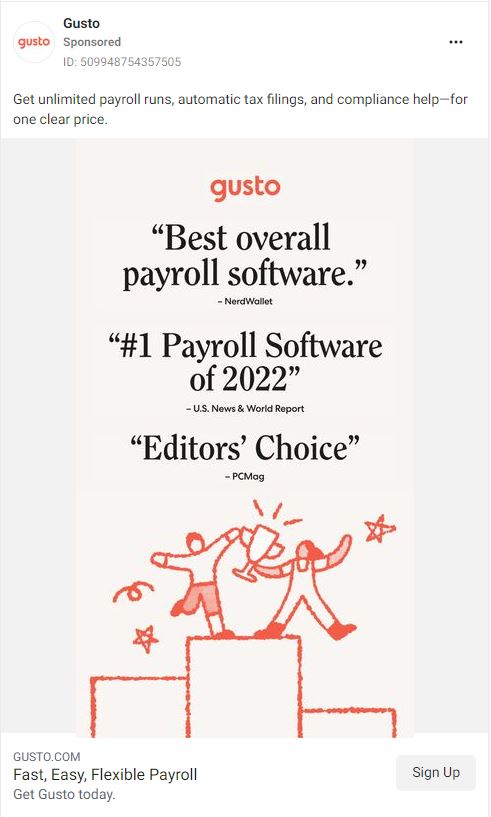 It's possible that these are remarketing ads only being shown to previous website visitors, but regardless, Gusto are potentially missing a bit of an opportunity here. Social media marketing is often at its best when brands provide valuable and engaging content to their target market, and exclusively running BoFu ads isn't taking full advantage of this.
Like Gusto, BambooHR is running some BoFu ads, promoting the platform's free trial. However, BambooHR is also running ads to gated content: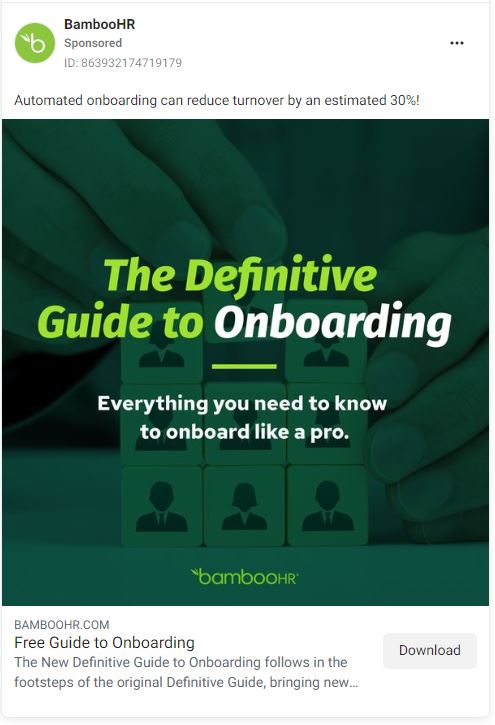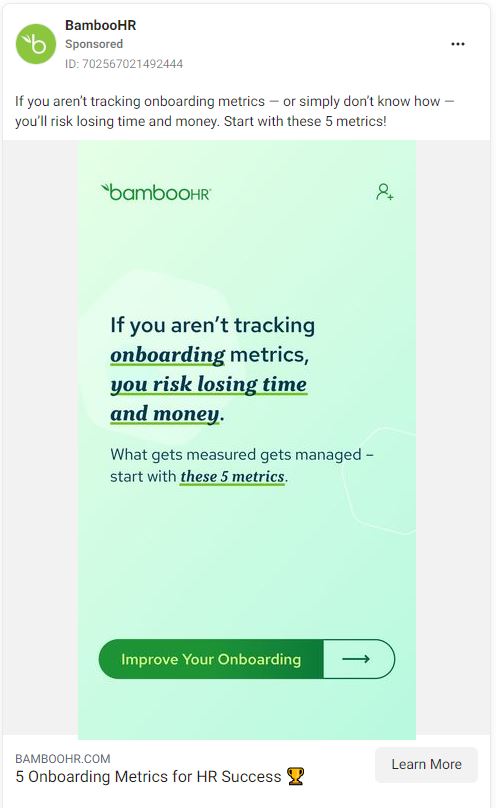 Although we're unable to see the results of these ads, it's important to include ToFu and MoFu content in the mix to avoid alienating a social media audience with sales messaging.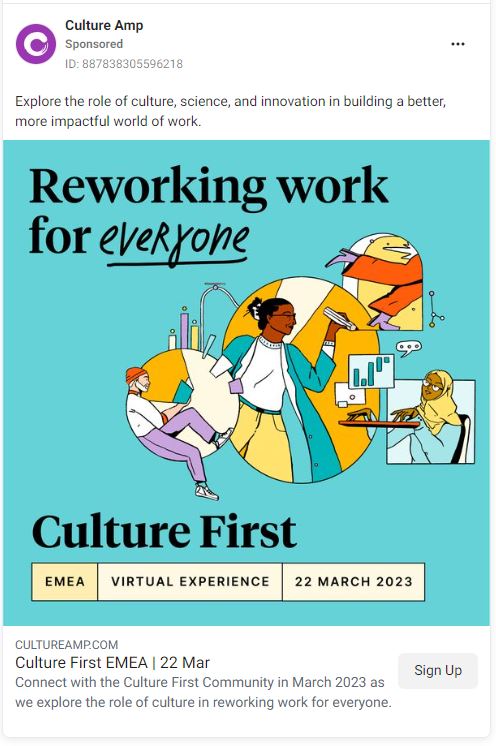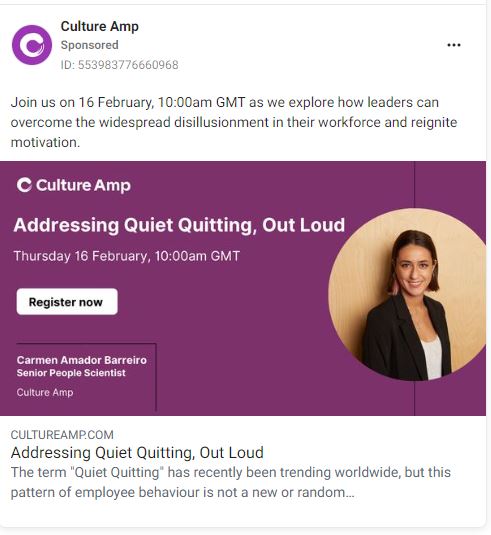 If your organisation is following in Gusto's footsteps and simply pushing a sales message on Facebook, it might be time to consider promoting content that's going to offer value too.
LinkedIn
On LinkedIn at least, Gusto are mixing up its ads with some value-led content: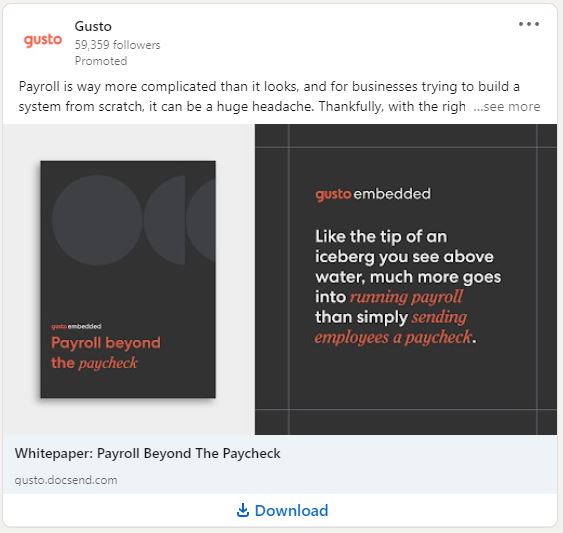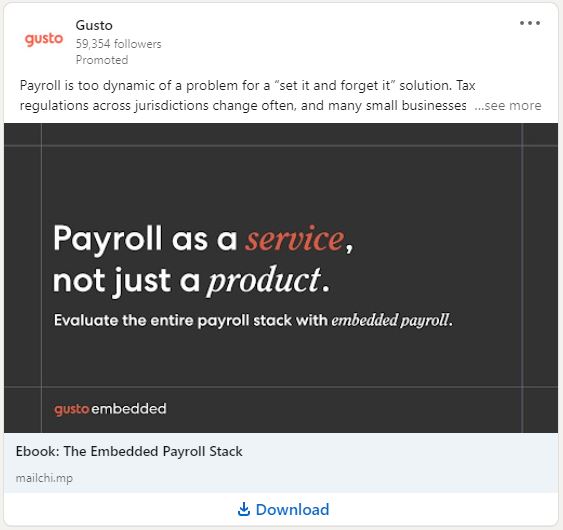 On the face of it, this seems to be a more holistic mix than what they're offering on Facebook, but it's important to note we're making some assumptions based on what we know about best practice.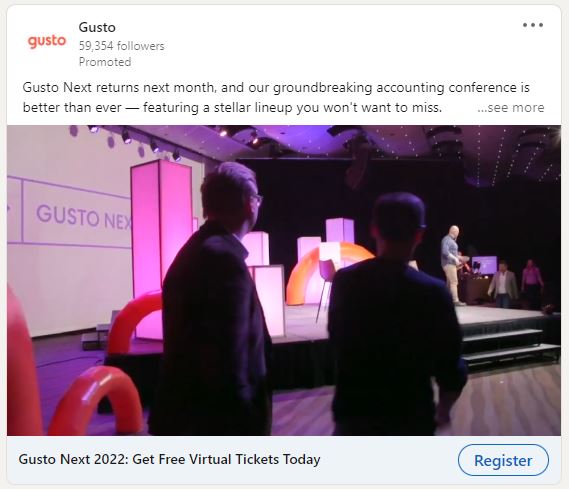 On the face of it, this seems to be a more holistic mix than what they're offering on Facebook, but it's important to note we're making some assumptions based on what we know about best practice.
How to win if you're a HR SaaS company
Let's bring all of this together and look at what you need to do to acquire more customers via search and ultimately grow your market share.
At the moment, there is no one in the UK who is doing anywhere near the level of activity that we can see from Gusto. There is an opportunity for someone to use a similar approach, leveraging their own USPs and digital expertise to grow their share of organic search traffic.
The picture is a little different in North America, where the likes of Workday and Zenefits are putting a lot of effort into their content output, while the Germany-based Personio are doing the business in Europe, but there's a big opportunity in UK market for a company to become the leader in the same way Gusto and others are doing. Here is how to do it without hiring 50 marketers like Gusto has.
Content strategy
You're fortunate to be working in an industry that thrives on great content. HR professionals work with people and are often passionate about doing a great job, meaning that they are almost always looking for ways to learn and do a better job. The SaaS companies who are winning are ones who produce content that ties directly to:
Customer pain points and problems

Different buyer types within your target customer list, such as user buyers (those who use your software every day) and economic buyers (those who sign off budget and renewals). Hit those economic buyers with content that demonstrates the value of your software to their organisation.

The customer journey from awareness of their need, right through to considering their options and finally, making a decision - you need content and landing pages across the entire journey
This should lead you to a core set of ideas and topics that you can produce, driving KPIs across your business:
Organic search traffic

Leads for your sales team

Brand awareness

Industry credibility and authority
There are other parts of the puzzle that will ensure more than just organic search traffic.
SEO strategy
Producing content is only the first step in a successful strategy. This content needs to be supported by SEO data, research and insights so that what you end up with is likely to rank well and bring the kind of results that your writing deserves. Every piece of content that you produce should be briefed by an experienced SEO who will advise on things such as:
Which keywords to focus on and include in your content

How to make use of structured data to help your content stand out in search results

What internal links to your key features and related content should be included

How to make the best use of headings and subheadings

Guidelines on what ranks already and how to replicate what is working for them
This isn't designed to get in the way of your creative writing and expertise—it's designed to ensure that as many people as possible see your content and that your time doesn't go to waste whilst your content disappears into the myriad of other content that is produced every day.
Lead generation and nurturing
Once you have visitors coming to your website, you need to ensure that you give yourself the best chance possible to convert them into customers. There are a number of ways to do this and one of the most scalable and efficient ways to do it is to use a CRM and Marketing Automation tool such as HubSpot which will allow you to:
Drive visitors to leave their details by giving them something of value, such as advanced content, an eBook, a tool or a webinar.

Customising the calls-to-action that a visitor sees based on where they have come from and what content they have viewed before.

Scale and automate your email activity, sending relevant content and messages to your list whilst you're working on something else (this is where you can

act

like a company with 50 marketers!)

Track how many people visit your product pages after landing on a piece of content.
This, combined with a solid SEO strategy, will ensure that your content strategy adds real value to your business and moves far beyond "blogging".
Promotion strategy
Finally, the missing piece of this is the requirement to tell the world about what you're doing and build relationships with industry contacts who will be able to help you. This can take many forms, with the most effective methods for a HR SaaS company being:
Find the publishers who regularly write about and review HR software (we've found a bunch for you already above) and start to build relationships with their writers.

Take hero content pieces and promote them to industry publications and start to establish yourselves as a source of industry data and insights.

Have an "always-on" approach to digital PR and watch for opportunities to comment on mainstream and industry news related to people and the workplace.
The combination of these approaches will help you achieve growth within your target market, whilst scaling your marketing without the need for huge headcounts by hitting the sweet spot between focusing on growth opportunities and automation.
The Aira team is delighted to welcome Robin Lord as Head of Innovation.
Robin has a rich digital agency background at places like Distilled, where he progressed from Analyst to Senior Consultant, and Brainlabs, where he was Acting Head of SEO.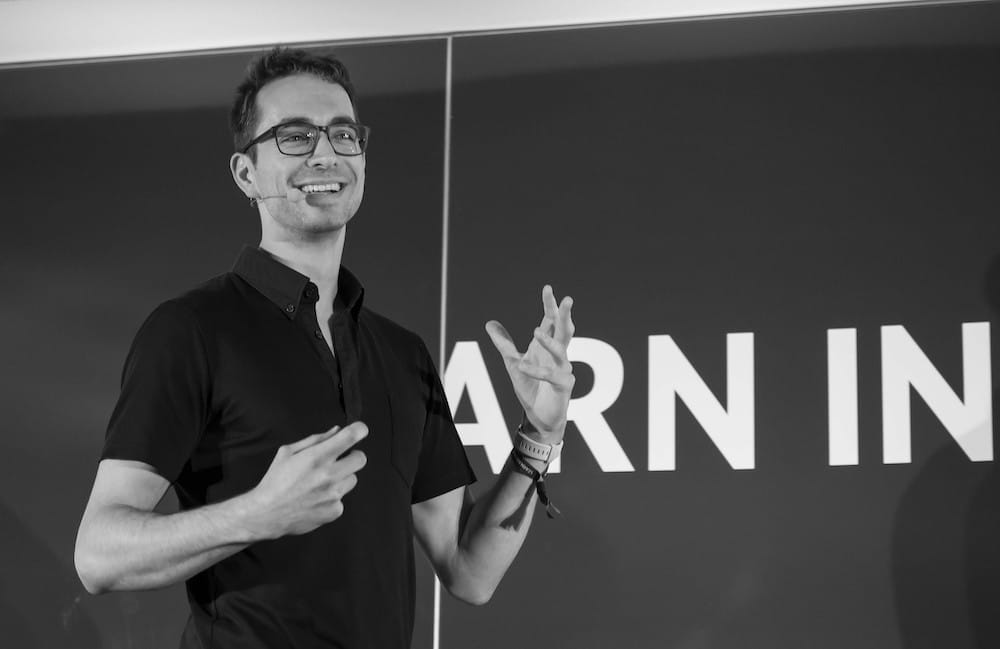 Digital marketers will probably also recognise Robin from his widely published writing for sites such as Moz, and his talks at industry events like Learn Inbound, Searchlove and SMX.
He joins us to supercharge innovation at Aira, creatively pushing us to be the best we can be across all services - from SEO and paid media to digital PR, inbound marketing and beyond. 
Robin will be focusing on anything and everything that can help us get faster, better results for our clients. Whether that be automation, technical knowledge, consulting practice or strategy. 
Robin said:
'I'm very excited to join such a talented and passionate team. Aira already has a lot of awesome projects in the works and I can't wait to be involved.'
Matthew Kay, Aira's Growth and Strategy Director, commented:
'Bringing on someone of Robin's calibre is a leap forward for Aira. He'll add something that we've not had before - working across teams to help create tools and enhance existing processes that improve efficiencies and outputs which will lead to one thing - business and revenue growth for our clients. Welcome Robin!'
Google Analytics 4 was launched rather quietly two months ago, considering the complete sea change it will be for marketers, webmasters and analysts alike.
Without much fanfare, Google announced Google Analytics 4 - an analytics package that rewrites online data stories for over 54% of all websites on the internet, according to w3techs.com.
GA4 incorporates a new data model, new backend, new interface, new tagging, and many new tools.
It also comes with a new name, yet it appears Google spent little time on that, simply choosing the in vogue naming convention of numbering the latest version - think iPhone 12, PS5 or the Tesla Model 3.
Historic change
So yes, GA4 is the 4th version of the software. And the first to use an events-based data model.
Considering Google Analytics is only 15 years old, it has come a long way from the purchase of Urchin Analytics on 14th November 2005, followed by Classic Analytics in April 2011 and then by Universal Analytics in October 2012.
Speaking of Urchin Analytics: One of Aira's clients, Latona's, recently had a brilliant chat with Scott Crosby, one of the founders of Urchin Analytics before it became Google Analytics. Have a listen here.
These three versions worked off the same hits-based model, focusing on server hits and translating that into the traditional pageviews, sessions, and engagement factors we've been over-analysing for years.
Eight years later, Google haven't just updated the platform, they have completely reimagined it with an events-based model.

This is an important distinction - with a new data model focused on events, the interface and reporting tools also put events front and centre, helping users of the platform focus on and get better data on macro conversion performance over the old micro conversions setup, with the likes of pageviews, sessions times and bounce rates.
So not only will we all have to get to grips with a brand new system, we will have to reimagine our own analysis, turning our attention to the bigger picture - the customer-centric interactions that truly drive business objectives.
From pageview counts to events per page focus - pageviews are a vanity metric. We should focus on the interactions on each page instead to see how effective the website is.
From sessions to engaged sessions - instead of focusing on the number of overall sessions, we should focus on engaged users as they are the users that matter.
From broad segments to specific audiences based on engagements with the site.
Here are some introductory insights as to what the new platform holds for users moving forward.
So what is GA4?
GA4 takes Analytics of old and merges its seamlessly with Firebase (for apps) so you have a one stop shop for all your online analytics needs
And there have been changes. A lot of changes. I've been using Google Analytics daily for over 12 years, and my first look at GA4 was eye opening, and I've only just scratched the surface of all the changes and new features.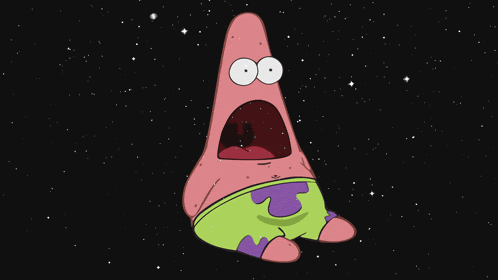 Here's some of the coolest changes I've seen so far!
New interface: Gone is the old style interface based on the ABC reporting model of Acquisition, Behaviour and Conversions, to a far more interactive dashboard style focused on the customer journey to and through your website or app.

From the old graph and metrics style: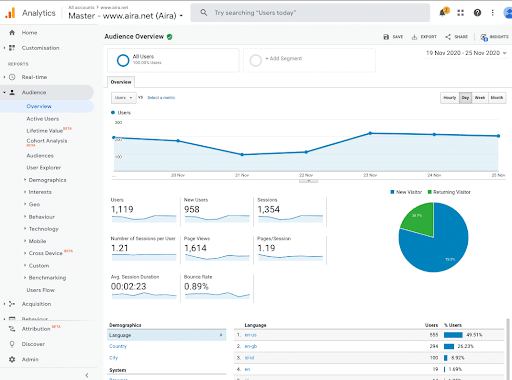 To the new interactive, customer-centric dashboard style: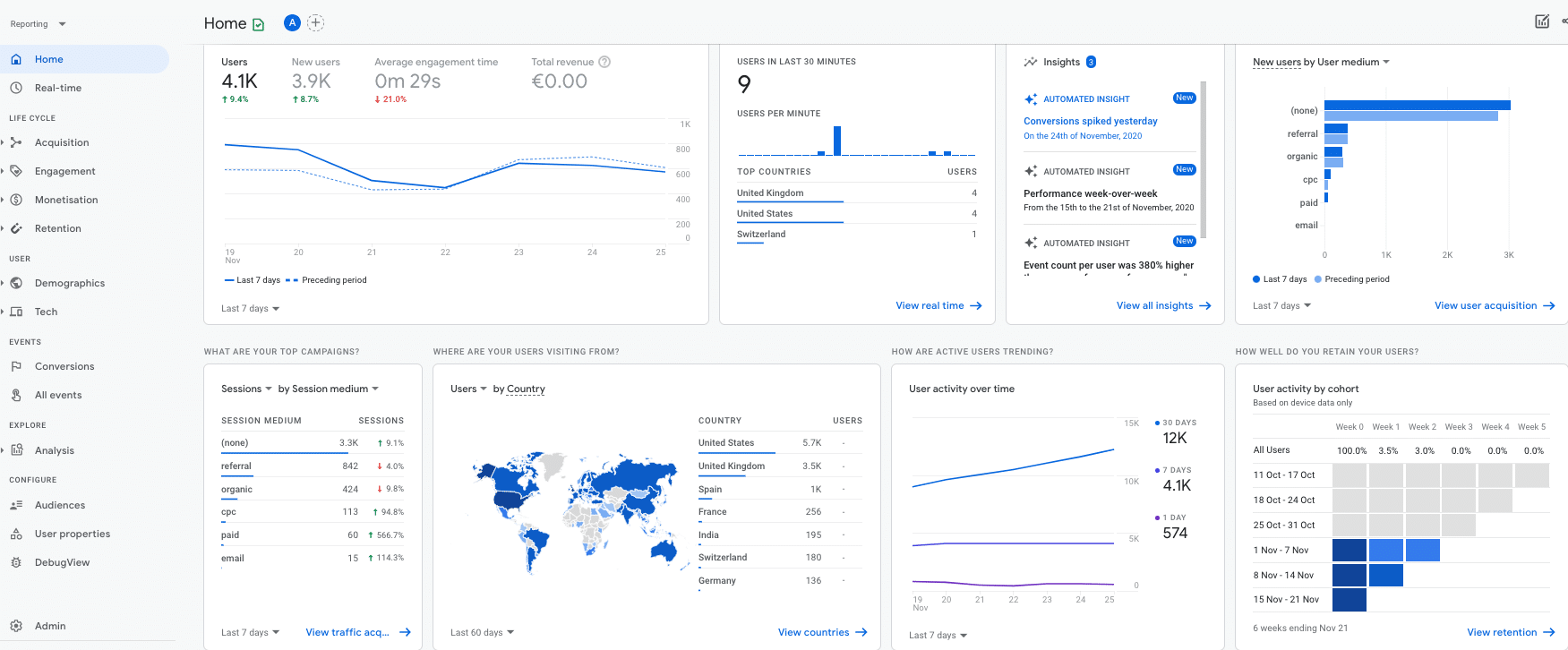 This single change will be felt most by regular users who like certain reports and metrics, many of which have been replaced for this new age of analytics.
Good riddance bounce rate! But that's not all, here are some missing elements I've found (or not as the case may be): Details below accurate as of 4th January 2021.
| | |
| --- | --- |
| Bounce Rate | Removed |
| Conversion Rate | TBC |
| Page load times | Removed |
| Average session duration | Replaced with average engagement time |
| Google Ads, GSC & social report sections | TBC |

Automatic measurement: GA4 is geared up towards automation and ease of use. Google has simplified the set-up further by including a range of event types as automatically collected via the GA4 data streams.

Now pageviews, scroll tracking, outbound clicks, site searches, video tracking and file downloads are all included as standard!
That leads me to the far simpler setup needed to get rolling with GA4....
GA4 setup: GA can be complicated for less experienced analytics users to set up, but not so with GA4. If you use Google Tag Manager, you can add one simple configuration tag and bam, you're straight into a magical world of events-based data goodness.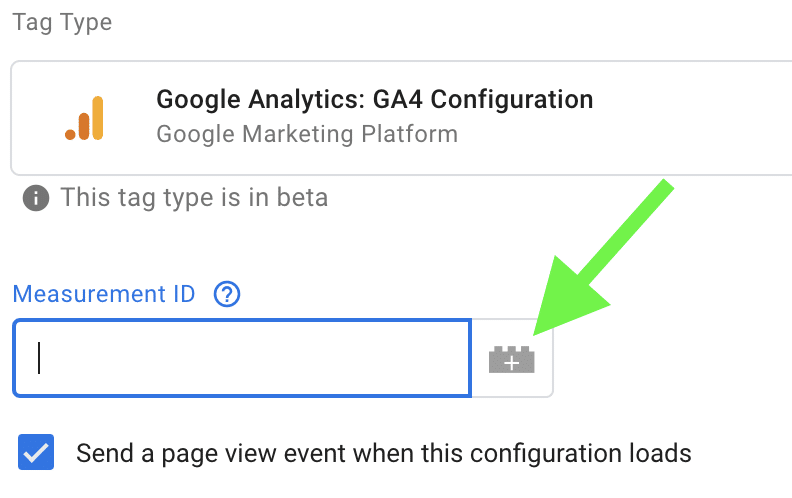 Debugging view: And with a new GTM preview mode and the debugging view in GA4, you can ensure your setup is working correctly, both simply and quickly. This feature will be even more useful when you look to create more advanced events setups.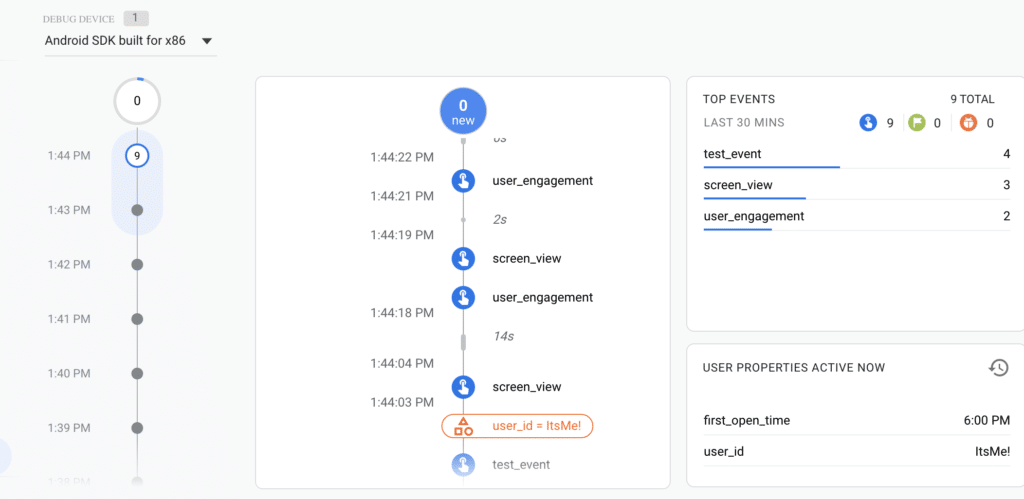 Real Time: This has been beefed up to provide more metrics and data points so you can get a better view of current website usage. This could be crucial for the identification of issues during key periods such as Black Friday sales or new product launches for ecommerce websites.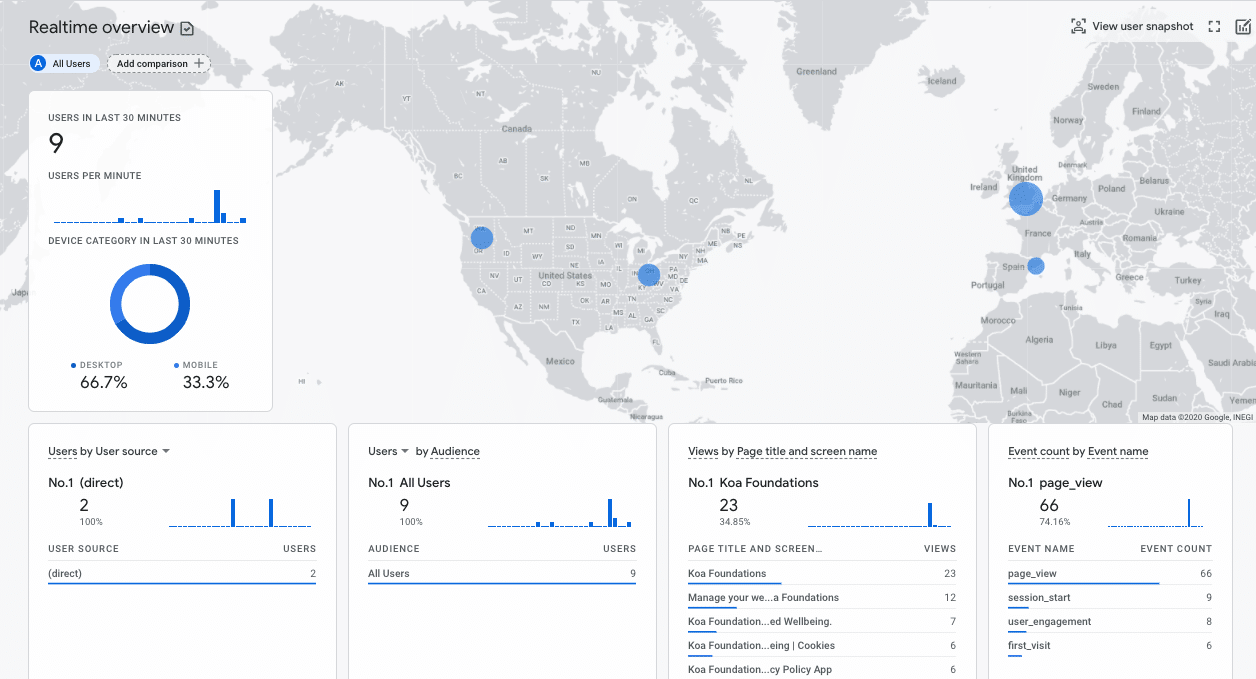 Speed and sampling: GA4 is fast! Like Usain Bolt fast compared to the plodding middle aged weekend jogger that Google Analytics can be when surfacing chunky amounts of data.
Gone are the days of the loading bar crawling along as GA grabs a hefty chunk of data that ends up being sampled.

Sampled data in GA4 is no more - you will get all of the data from your site or app as collected as the new model does away with sampling for all standard reports.
Conversions: Strictly speaking conversions are no more - it's all events. But you can convert selected events into conversions and these are far more flexible compared to Analytics of old. Instead of a limit of 20 conversions total per view in GA, you can now have up to 30 slots per property, and these can be turned on and off, with off goals not counting towards your limit of conversions. (Sidenote - views are no more! But let's not get bogged down here.)
That's great for seasonal or campaign-based goals.
Events are more prominent in GA4 but have changed too! Gone is the previous setup of the Event, Event Category, Event Action and Event Label. In are event_name, and up to 20! event_parameters.
Audience Builder: Delving in a little further to some of the new features, we can see that the traditional segments of past versions have been replaced by audiences. You can build any audience, including audiences representative of your buyer personas, using a combination of dimensions and metrics as you could with segments but you can now go much further.
These audiences can be used with all features and the data shared across reports. So you could build audiences such as users who completed checkout within five minutes and use that to compare against users who entered checkout but didn't complete.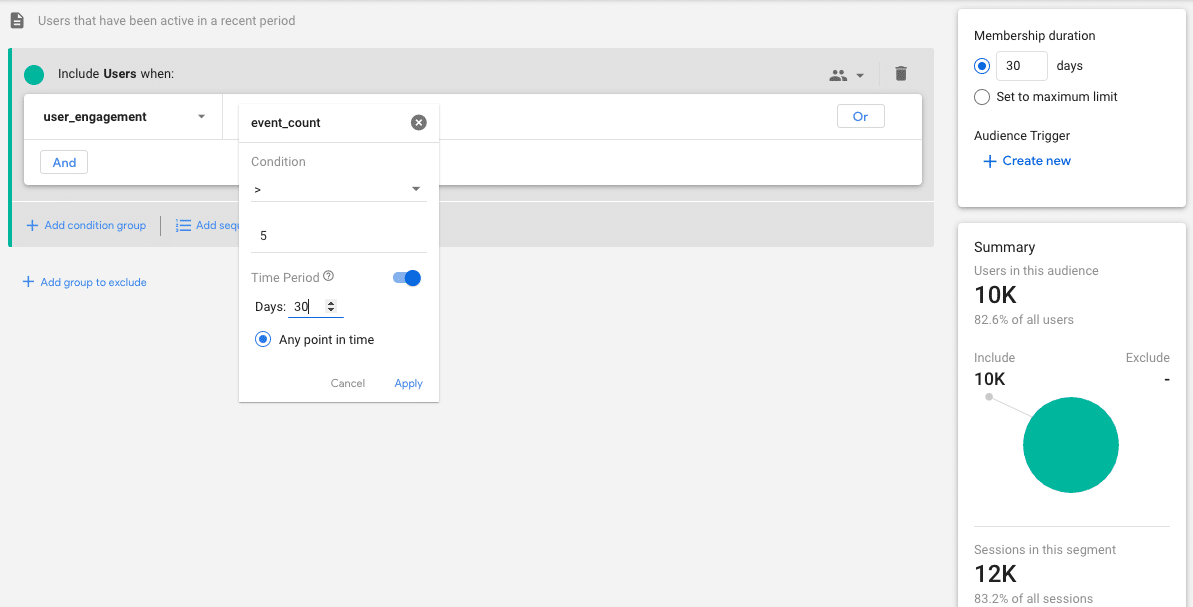 Pathing reports: behaviour and event flows have been merged into this feature, Which gives you a clear visual representation of the customer journey to a completed action.
Coupled with the ability of going into minute detail, GA4 goes a step further and shows this journey back to front you can see all the steps a site visitor took to get to the event, from the event. This is immensely useful to understand performance and work out the most effective paths to success.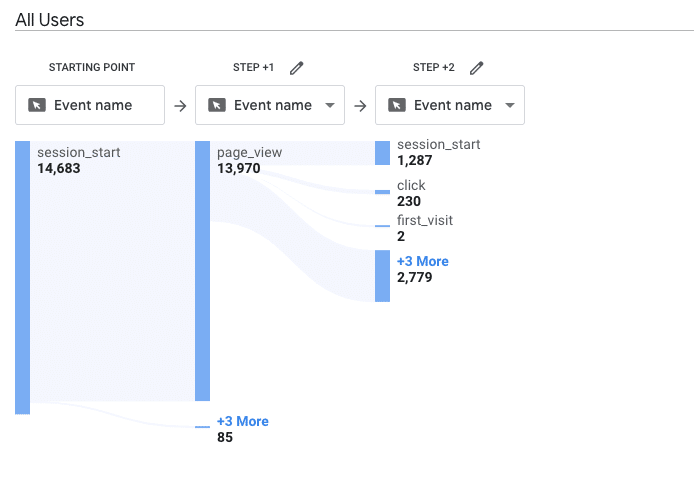 Funnel reports: have been improved massively with on the fly data capabilities so you can analyse any website journey element instantly and understand how effective your site is at getting users to complete a goal action.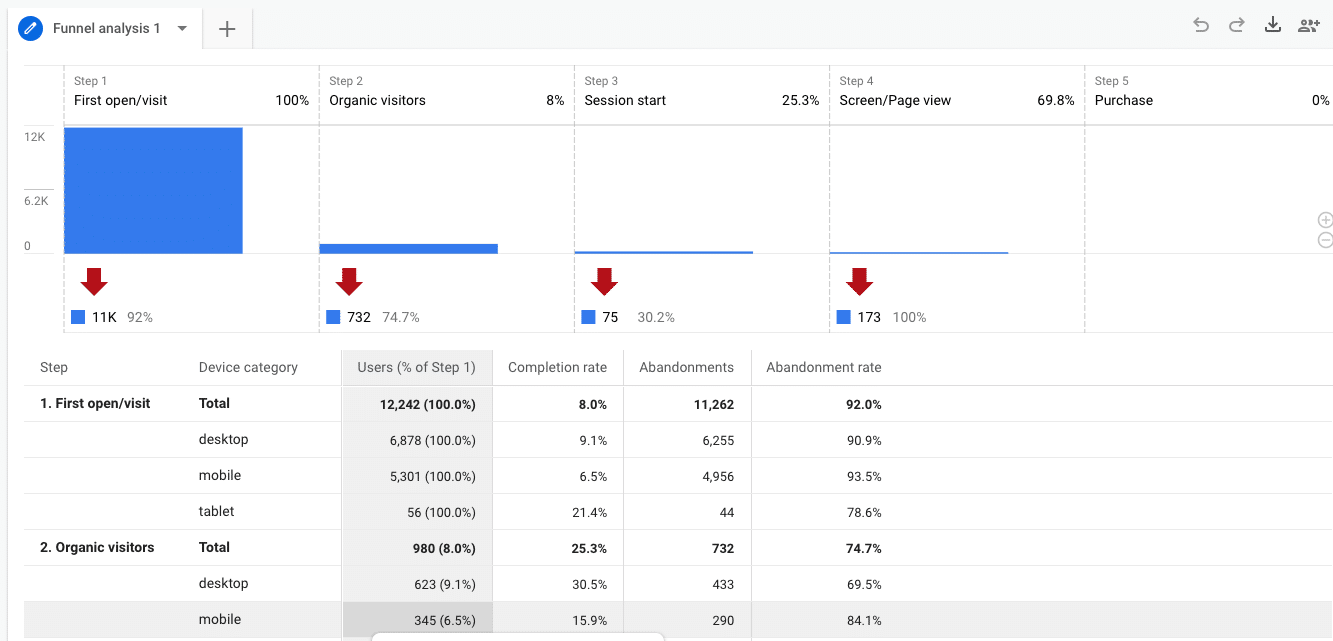 Projections: Saving the best new feature for last - GA4 will use artificial intelligence and machine learning to provide you with a range of projections - from traffic, to audiences most likely to convert. That information can be shared with other channels but the potential here is huge.
Imagine being able to target users as an ecommerce company, based on their behaviour and the endless benefits possible - from better targeted advertising to greater stock control.
This (if it works! Still a big if) could close the customer journey flywheel for marketers, by providing data on all elements of a user lifecycle and allowing you to harness the power of AI and machine learning to continually improve your site, app and marketing campaigns so they convert time and time again.
Again the above features are just the tip of the iceberg, and I wanted to give you insight into why GA4 is going to be a complete sea change in Analytics. I haven't even touched upon cross-device reporting and GA4 being 'futureproof' in terms of cookies and data protection - that'll wait for the follow-up blog...
The next steps
You may be reading this thinking 'great, where do we sign up?' Well, it is recommended to proceed with caution! Don't rush to move over to GA4.
Why? Well the platform is still under heavy development - things are likely to be unstable as Google continues to work on the product, hence the quieter launch!
We can also see that elements such as ecommerce tracking, products and filters are not fully integrated yet.
Crucial too, it seems the interface still only has a basic reporting function - more elements are being rolled out week after week. Many account linking elements are also missing, such as the Google Search Console integration, which is not there yet and Google Ads reporting was only rolled out a couple of weeks ago.
Coupled with that and the fact it is a shiny new toy, there is understandably little support documentation out there. It would be like trying to build a Lego Death Star model with no instructions - not impossible but very, very difficult indeed.
Oh and for those who use Google Data Studio to report, the data connector with GA4 is very limited still.
Aira's approach - dual tagging
Ok, so maybe we shouldn't jump on board right away, but we can dual tag.
GA4 can be tagged simultaneously with your current setup (with just the addition of one GTM tag!) and you can explore the new platform, safe in the knowledge that your precious data is being collected ready for when GA4 is ready to take over the analytics world.
This approach is exactly what Google suggested at launch:
'The new Google Analytics is now the default experience for new properties and is where we're investing in future improvements. We know there are capabilities many marketers need before fully replacing their existing Analytics setup, so we encourage you to create a new Google Analytics 4 property (previously called an App + Web property) alongside your existing properties. This will allow you to start gathering data and benefit from the latest innovations as they become available while keeping your current implementation intact.
Vidhya Srinivasan - Google Analytics' Big Boss
Note for those of you who are setting up Analytics for a brand new website - GA4 is now the default platform so you won't be able to wait. Hey, at least you'll be seen as trendsetters (and we're here to help!).
So there you have it, like a ship captain who can see a perfect storm of data brilliance brewing on the horizon, get yourself ready for GA4 - a complete and utter sea change to how you have collected and reported on your online marketing data. It will be worth the wait.
If you have any questions on GA4 or would like to know more about a future rollout, please email me at brendan.gilbert@aira.net, get in touch with the Aira team or find us on Twitter to chat analytics, SEO and digital marketing.
Website traffic is key to any online business as it leads to conversions, which ultimately provides leads or revenue.
But what if your website is getting little or no traffic? How can you identify what the problem is?
There are a number of reasons why this could be, from not knowing your target audience to not having an inbound marketing strategy. This five step guide will help you understand some of the key indicators that could be preventing users visiting your website and provide recommendations on how to increase traffic.
1. Target audience
Do you understand who your target audience is? Without knowing who you want to target, you won't be able to fully understand the reasons why your website isn't getting any traffic (or increase your traffic), so this is a great place to start.
In short, your website won't get any traffic if your target audience either doesn't know that it will provide a solution to their needs or can't find it when they are searching. 
You need to identify who your target audience is, what their needs and concerns are and how your business provides a solution. You can do this by using buyer personas.
Start with research - this process can be as comprehensive as you like from using your existing customer database to lead capture forms and analytics data. You need to look at who your customers are, where they are coming from and why they need your products/services.
You can use one of our buyer persona templates (both B2B and B2C), available in our comprehensive buyer persona guide, to start identifying who your buyer personas are.
Once you've used your research to create your buyer persona, as well as the different lifecycle stages your prospects go through in the buyer's journey, you will be able to adapt your website to suit their needs following the next four steps and drive more traffic, conversions and ultimately sales.
2. Brand awareness
Brand awareness is another reason why your website may be getting no traffic. If your target audience isn't aware that your product or service exists then they won't associate your brand with being a solution to their problem. To improve this you can implement inbound marketing tactics.
Inbound marketing attracts qualified prospects to your website with the aim of turning them into leads or customers. To effectively implement inbound marketing in your business you need to consider all elements of the decision-making process and use the right channels for your target audience.
Each stage of the inbound marketing methodology requires something different from inbound marketing. 
Currently you want to improve brand awareness and drive traffic. In the awareness stage you need to use appropriate channels to provide relevant information to attract potential leads to your website. You can do this through creating relevant content, improving SEO, leveraging social media and even creating a Google Ads campaign if your budget allows. 
To take your lead to the next stage of the buyer's journey once they're on your website, you need to encourage your visitors to engage with your brand through channels including chatbots, calls to action and forms.
Using emails, workflows and your CRM integration (if available) you will be able to nurture these leads to make them into customers, before asking them to fill in surveys and feedback on Google My Business or social channels, leading them to promote your site and attract new visitors.
3. Keywords
Keywords not only play a key role in your site's ability to rank well, they are a key traffic driver as they connect what your audience is searching for to your website content. What keywords are you trying to rank for through your current content? Do they fit what your target audience is searching for?
If your current keywords are very popular, this could be a contributing factor in your lack of traffic as popular keywords are harder to rank for. Equally, if the search volume is too low, you are also running the risk of driving no traffic to your website.
Using a keyword ranking tool such as Moz's keyword explorer you can begin with your seed keywords - the terms you expect your audience to be searching for. A keyword tool will provide you with the search volume and how difficult it is to rank for each keyword. You will then be able to discover other similar keywords related to your search term that are also popular.
Take a look at the long-tail keywords that your audience is searching frequently for and optimise for them. These are more specific search terms that have intent behind them - e.g. rather than searching for 'digital marketing agency' you might search for 'digital marketing agency milton keynes'. 
To drive more traffic, you want to try and rank for seed keywords with low competition and long-tail keywords with high volume. Why not take a look at Moz's beginner's guide to keyword research to learn more. 
4. Technical on-page optimisation
On-page SEO is key to driving traffic to your website. On-page SEO consists of technical elements such as page titles, meta descriptions, alt tags and URIs as well as the on-page content of a page. All of these elements should reflect the chosen keywords for each page.
Firstly, check that all of the technical elements above are correct for your key pages.
For example it is very clear in Aira's page title in the below search result what the company does and where we're based.
Secondly the meta description has been altered so it doesn't just pull from the page content to include the keywords of Milton Keynes, digital marketing as well as a range of services that are offered that a user may also search for along with these terms.

Doing this will be beneficial for driving traffic to your site as Google will understand what your page is about and therefore this (in time) will help improve rankings, and your target audience will also be able to identify how your website can provide a solution to their problem. 
5. Content
Irrelevant on-page content may also be limiting your website's traffic. You need to ensure the content on each page of your website is relevant to the user intent of the search term. This will link your keywords, your technical on-page optimisation and content together. If your landing page content isn't relevant then the user will exit your site quickly, leading to a high bounce rate.
Here are our top tips to ensure your content is relevant:
Make sure your content is detailed

Think about page structure - use H1s and H2s to organise your content clearly

Don't duplicate content from elsewhere on your website

Ensure your keywords are woven into your content

Consider who your target audience for this page is and where in the buyer's journey they are
If you have a blog, you also need to consider the content strategy behind this. Your blog should produce content that will attract users to your website, be informative and help your potential customers in their decision-making process. 
Your blog should showcase that you are an expert in the products or services you provide, providing trustworthy and authoritative content. Your content strategy will help you target a specific stage in your buyer's journey and provide relevant content to help provide a solution.
Getting traffic is important, but getting quality website traffic is vital if you want those visits to turn into conversions. This means you have to attract the right visitors - those who are interested in what you have to offer.
Whether you're building a new site or you've seen a sudden drop in traffic and want to start working to improve those numbers, it all comes down to attracting the right kind of traffic. We all love a graph that goes up-and-to-the-right. But how?
Make sure that you are found
First of all, if you're nowhere to be found for important search queries to your business, then people can't visit your website. There are a few ways to check whether the basics are in place for search engines to crawl and show your website.
Check out Search Console
Having access to your own Search Console is always useful. This is a free tool that offers you plenty of data and configuration control. It can show you whether Google can find your website and it alerts you if it finds any issues.. The tool will alert you to any indexing problems, spam or other issues on your site and will troubleshoot for mobile usability and other search features. 
Besides that, it will give you a lot of information about your visitors, like traffic data, how often your site appears in Google and for which search queries. More importantly, it shows you how often searchers then click through to your website for those queries!
To make sure you are found, have a look through your search console and check for any errors. Fixing those will be a great start to make sure search engines can list your website in their search results.
Set up your robots.txt file
The robots.txt file - it sounds so techy and complicated, right? It really isn't! The robots.txt file is uploaded to your website, to show search engines which pages they should and should not be crawling. 
This file is easily overlooked, and that could result in search engines being blocked from crawling the website at all. When this happens, it's almost always completely accidental. Simply check out your robots.txt file on your website (normally on: www.yourdomain.com/robots.txt) and make sure that the following rule is not in place:

If it is, you'll need to remove the disallow rule and resubmit your robots.txt file through Google Search Console and the robots.txt tester.
What does your sitemap say?
Your sitemap exists so that search engines can easily consume information about the URLs that are on your website. It's a way of saying to search engines: "These are my website's pages. I would like you to crawl these so that they can rank for all my desired keywords."
Make sure that all of the URLs in your sitemap are current and not returning an error, so that search engines show your live pages and not any old ones (or worse, a page that returns a 404 error!)
Understand who your target audience is
Having a good understanding of who your target audience is crucial in digital and inbound marketing, and will help you create relevant content on your website.
Who is your target audience? Have you defined your buyer personas?
Knowing who your customers are helps you strike the right tone of voice and share useful information with them. To help get a full picture of what your buyer persona looks like, feel free to make use of our buyer persona template:
What does the buyer's journey look like?
Take the time to understand what questions your buyer personas ask in different stages of their buyer's journey. Having an overview of what the buyer's journey looks like can help you review what questions you are already answering on your blog, and which ones you can write up next!
Align your digital strategy to your target audience
Now that you have a clear overview of what you are offering and who you are offering it to, you can align your digital strategy to your target audience. SEO is about ensuring that your website has a strong foundation to be found by search engines, as well as on-page optimisations and content creation that genuinely helps your audience.
Keyword research and understanding search intent
Start with keyword research for topics surrounding the services you offer, and the questions your buyer personas ask. 
When you are done, review your website to see where you have already covered topics, or could improve or expand them, and which topics you can start writing about. That way, you're creating content based on queries your potential customers are searching for!
Decide what channels you want to use
Digital marketing encompasses many channels, so it's important to think about which ones are right for you. Just because it's the done thing to have a paid Facebook campaign, doesn't mean it's right for your business. Go back to your buyer personas and review where they tend to go online.
Organic traffic
This is the traffic we want! People find your website organically if you are giving them the answer to their question or problem. This is the goal.
Paid search
Experimenting with paid advertising could very well be worth doing, particularly if others are already doing so. In today's search engine landscape, the first organic search results can be quite far down the page!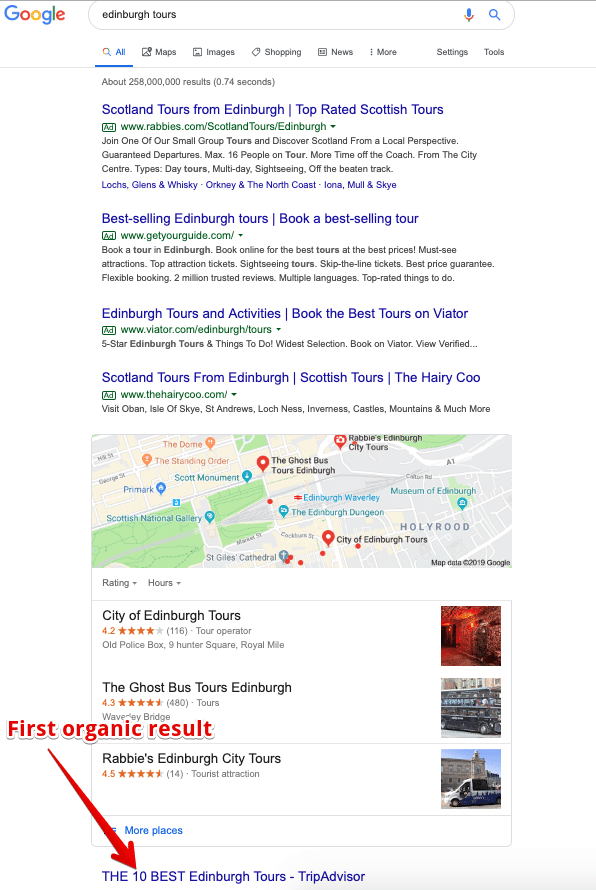 Google Ads can be highly profitable when set up thoughtfully. Not only can you target specific keywords, you're also able to actively target to your audiences, based on geography, time and many other criteria. You'll deliver your relevant content to those searching for it!
Social
Getting traffic through different social channels means that what you are sharing is resonating with those seeing your posts. The different channels (Facebook, Twitter, Instagram, LinkedIn and others) tend to get their own type of audience (LinkedIn is good for B2B, getting professionals to see your post, whereas Instagram is great for visual ads targeting a younger demographic).
Referral
Referral traffic is visits to your website from websites that are not search engines or social media platforms. For example, you may have written a guest post on an industry blog, where they link to your website. Any visitors that clicked from there will be reported as referral traffic. It can be a valuable source of traffic and can also show that you are a trusted authority in your field.
Email
After people have left their details with you - through a contact form for example - making sure you stay in touch is more important than ever. Sharing appropriate and relevant information can help point people in the right direction and guide them through the buyer's journey. These people will already know your brand and coming to your website is a sign that they may be ready to purchase, or enquire about your services. In short, a well-planned email marketing campaign can be an effective way to re-engage with those who have visited your website in the past.
Conclusion
The main take-away from this post is that not all traffic is quality traffic, but by creating thoughtful content, that actually helps your visitors, you will get in front of the people most likely to purchase from you in the future.
The most common cause of a sudden drop in website traffic is a recent search algorithm update. Penalties, redirects, incorrect robots.txt rules and ranking losses are all other legitimate reasons why you may see a drop in website traffic.
Fortunately, in most cases, if you're affected by a sudden decline in traffic there are a couple of things that you can check in addition to what I've mentioned above. Hopefully, by the end, you'll be able to diagnose why things might have changed.
Website traffic loss checklist
Here are 11 points I like to check over if I notice that a site is experiencing lower monthly visits or a sudden decline in traffic:
1. Algorithm updates
Google doesn't hide away from the fact that it releases multiple updates throughout the year, some more significant than others. Unfortunately, trying to get solid details of the changes is quite frankly like trying to get blood from a stone.
However, an easy way to gauge whether your site may have been impacted by an algorithm update is to keep a close eye on confirmed changes from Google themselves
But, by far the easiest way to get information on algorithm changes is to make use of tools such as Mozcast - from Moz.com and the SEMrush Sensor from SEMrush. If neither of those takes your fancy, Algoroo is another algorithm tracking tool available free of charge.
If you find that there has in fact been a recent update, I'd highly recommend spending some time analysing the sites that have been affected the most. Try to spot any correlation between them and ensure that your site doesn't suffer the same fate.
2. Tracking errors
Even now, I'm amazed at how many webmasters and site owners manage to pull their tracking codes from the site and wonder why traffic nosedives.
Fortunately, it's a mistake that can be easily fixed, but in the long run, you will miss out on data - so the quicker you spot this and get it sorted, the better!
If you notice that there's suddenly no sessions being recorded in Google Analytics or a Tag isn't firing then chances are the tracking codes either have an error or have been removed entirely. If you have access, check to make sure that the code is present and correct.
Alternatively, contact your developers and confirm that the tracking code is where it needs to be and is working.
3. Incorrect robots.txt rules
Are you sure that your site isn't blocking search engines from crawling in the robots.txt file?
It isn't uncommon for developers to leave robots.txt files unchanged after migrating from a development or staging website. Most of the time, when this happens it's completely accidental.
Go to your sites robots.txt file and make sure that the following rule isn't present:

If it is, you'll need to remove the Disallow rule and resubmit your robots.txt file through Google Search Console and the robots.txt tester.
4. Redirect errors
Most sites, especially large websites will have redirects in place. They're most frequently added via a .htaccess file, or if you're using WordPress, a plugin to make life a little easier.
Whenever you add a new permanent redirect (301) to your site, I'd highly recommend testing it before pushing it to a live environment, even more so if you're adding large quantities of redirects.
To make sure that redirects are still working as they're expected to, I simply use a web crawler (my preference is Screaming Frog) and using the list mode (Mode > List) paste my list of URLs that are being redirected and crawl them, then analyse the response codes and final destinations: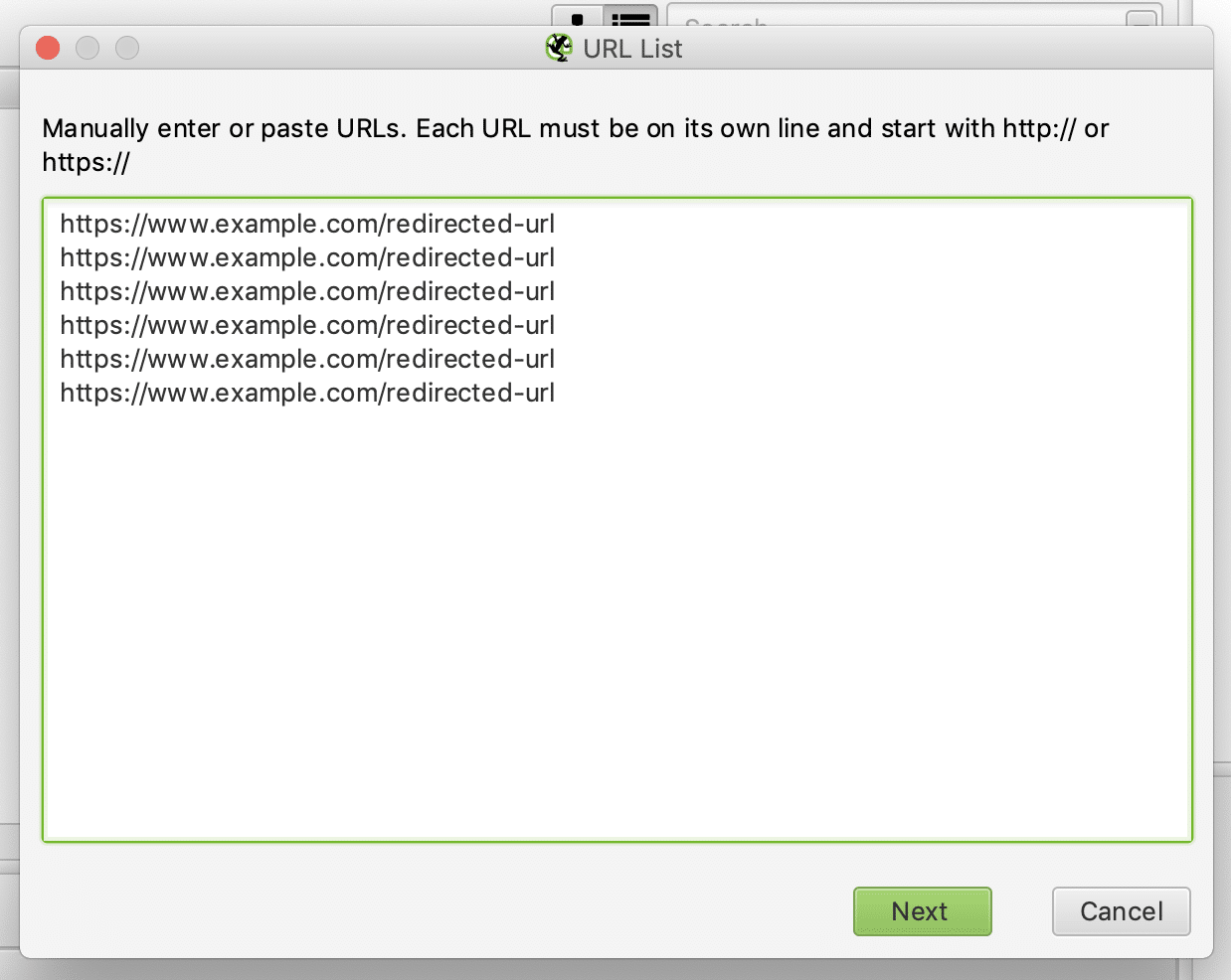 5. Crawl errors
Using the new Search Console, open up the Index Coverage Report and check for any URLs that have an Error.
Any URLs in the coverage report that have an error associated with them won't be included in the index. Typical errors that are found in this report include:
Server errors
Redirect errors
URLs that are blocked by robots.txt
URLs that are marked with a noindex tag
Soft 404 errors
URLs that return an unauthorised request
URLs that aren't able to be located (404s)
Crawling errors
More information on these reports can be found here.
6. Ranking losses
Another really common reason for seeing website traffic decline is due to a loss in organic rankings.
Now, if you're tracking your performance using a rank tracker, then troubleshooting this will be a lot easier. If you're not, then utilising data from Search Console will be your best bet.
I use the following process to get an idea of any ranking changes:
Using Google Analytics and Search Console or your preferred rank tracking tool (my preference is AccuRanker), identify when traffic started to drop
Take an export of the ranking keywords before and after the drop
Using Excel or G Sheets create a table and paste in the data side by side
Compare the change in positions
Retarget dropped terms with keyword research and mapping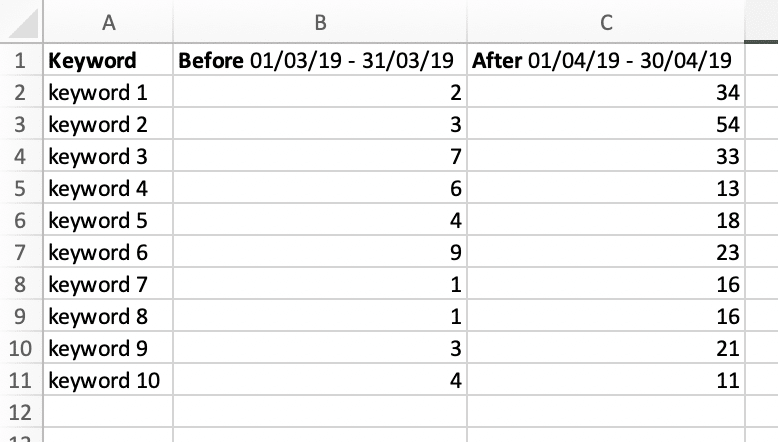 Alternatively, tools such as SISTRIX are also really useful to help identify keywords that have dropped from page one or even the top 100 results.
Here are some more technical SEO tips to help your site rank, if you'd like to read up a little more on the subject.
7. XML Sitemap changes
If you're an SEO you'll know (hopefully) that only URLs that return a 200 response and are indexable should be visible in your sitemaps, unless you've purposely left redirected URLs to ensure that search engines find them quicker.
One reason why you could be seeing traffic plummet is a change in your XML sitemap.
Crawl the sitemap URLs and ensure that they all return a 200 OK response and that any new landing pages or articles are included too. If your site contains 200 URLs and there are only 50 in the sitemap you'll want to regenerate and resubmit it using Search Console.
8. Manual actions and penalties
A manual action will be issued against your site if one of the eagle-eyed human reviewers finds content on the site that goes against Google's guidelines. You can find more information on their webmaster guidelines here.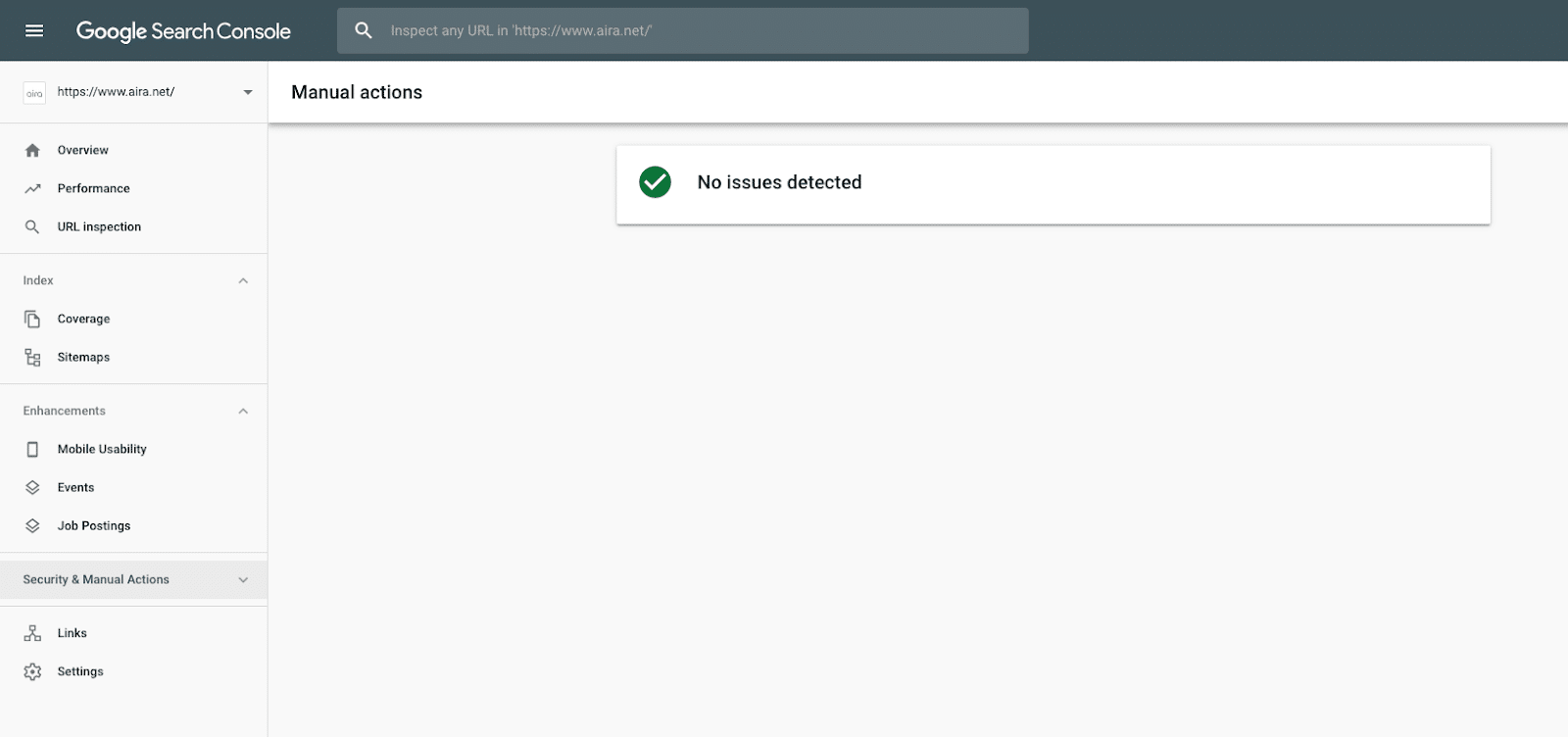 You can see if your site has been affected by manual actions by using the manual actions report in Search Console.
9. URLs being de-indexed
Google recently Tweeted about a reported 'de-indexing' bug that was causing sites to see important pages appear to be removed from the index almost overnight. But this isn't just a recent problem.
Finding those important URLs are no longer available in the search results can be a massive factor when investigating a sudden website traffic loss.
Check the index coverage report in Search Console for any errors
Using the URL inspection tool, check that important pages are still in the index
If not, use the 'REQUEST INDEXING' option in Search Console
10. Keyword cannibalisation
If you've recently created a lot of new content around a specific topic without considering the keyword targeting, you may have accidentally fallen victim to a keyword cannibalisation issue.
Cannibalisation occurs when a website appears for a keyword with multiple URLs. For example, Ahrefs.com has a lot of content around broken link building: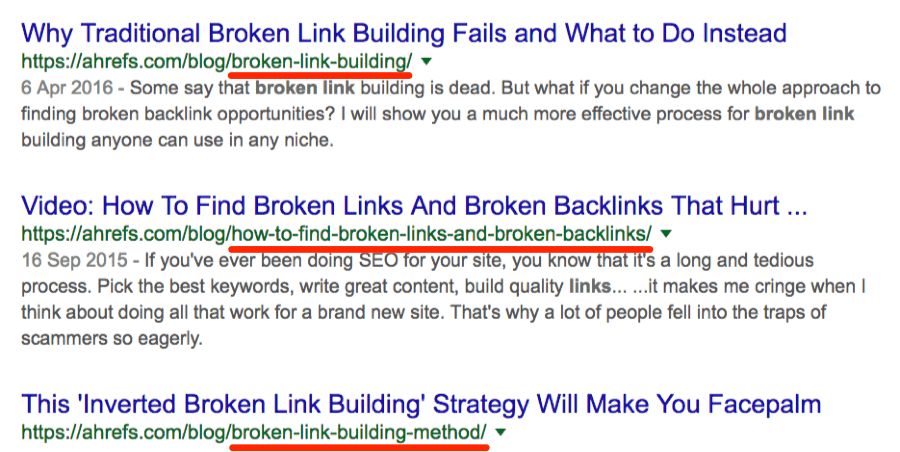 Source: Ahrefs.com
If traffic is being spread across multiple pages or posts, you could be losing valuable organic traffic. The easiest way I've found to highlight cannibalisation errors has been through the use of BigMetrics.io and the cannibalisation report.
Simply create an account (trial or paid version) and connect it to your Search Console property and export.
11. SERP layout changes
A recent change in the way Google and search engines display organic results can have an impact on your traffic levels. So making sure that you're adaptable and willing to make changes will go a long way.
Google, in particular, has made a number of changes to the way results are displayed; showing Featured Snippets, Knowledge Graphs and making ads more prominent to name a few, making life for SEO agencies and professionals very frustrating.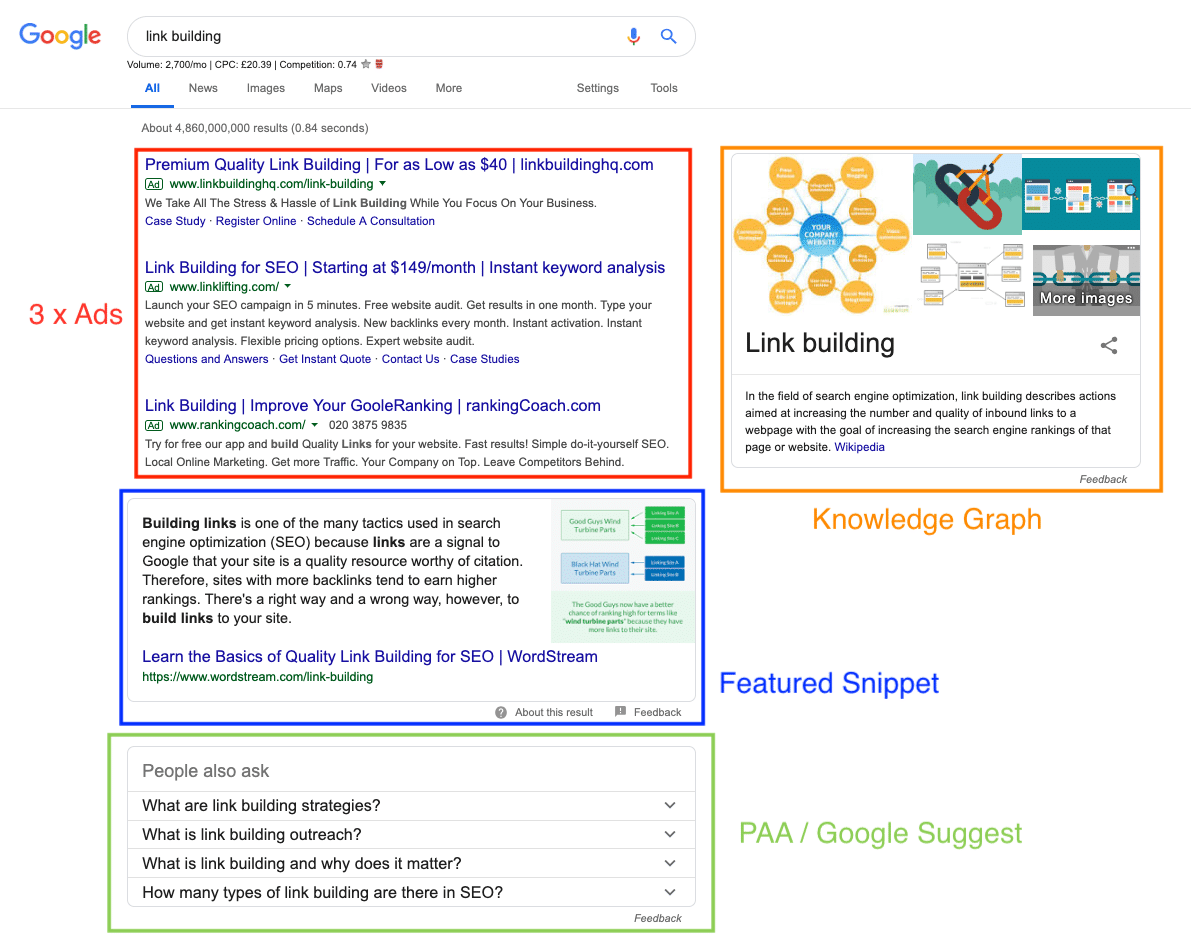 In the screenshot above you'll see that before you see any sign of an organic result you need to compete with Ads, Knowledge Graphs, Featured Snippets and Google's Suggestions. This doesn't even take into consideration a number of other SERP features.
Analyse the keywords that you're targeting; just because they once weren't triggering a SERP feature doesn't mean that they don't now. AccuRanker's SERP checker is great for this.
If the keywords you're targeting are triggering featured snippets and instant answers, and you're not the featured snippet, you're going to be losing clicks and traffic to your site.
Summary
Seeing website traffic drop can be very disheartening, but there is always a reason why, and if there's a reason, it can usually be fixed.
If you take one thing away from this post, it's that a sudden decline could be due to a number of reasons combined, or even just one key traffic-rich page that has fallen from the index.
Make sure that you investigate every possible avenue, and you'll quickly discover the cause and get a recovery plan in place.